KSR Today: NBA Combine, UK Athletics, Congratulations(s), and Smoke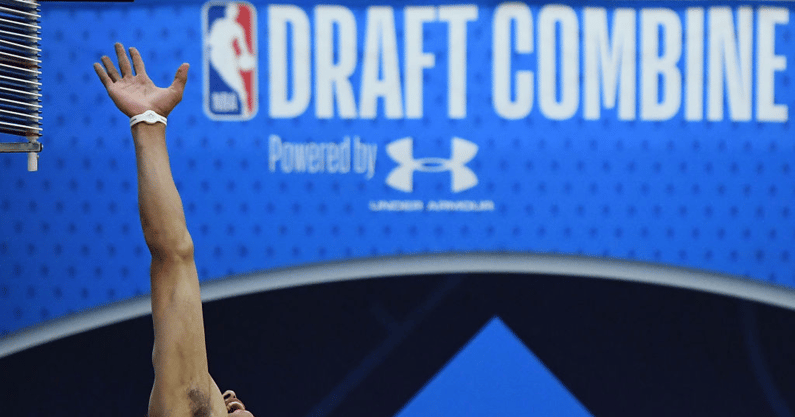 Mornin' from the back porch where the smell of maple cherry smoke and two big pork shoulders on Smoker Phillips (that's the name of my smoker) have things in a good mood for a Monday. You coming to the cookout later? If not, I'll save you a plate.
In the meantime, this week's Monday morning rundown is dominated by the latest news and upcoming events in the National Basketball Association, plus lots of postseason competition around the University of Kentucky. Congratulations are in order, too.
Let's get you caught up from the weekend and on what's ahead this week, then I need to wrap this pork for the rest of the cook.
Washington and Sharpe at the NBA Combine
It's NBA Combine week in Chicago where 76 NBA prospects will begin the check-in and hand-shaking process today before they get the basketballs and tape measures out at Wintrust Arena later this week. Among the participants invited to attend, Kentucky's TyTy Washington and Shaedon Sharpe hope to increase their stock ahead of next month's NBA Draft.
If you're interested in seeing this year's combine action from afar, you can follow the combine from home Thursday and Friday as most of the combiners (probably not Sharpe) will participate in 5-on-5 scrimmages as well as shooting and strength and agility drills.
Thursday's coverage airs from 3-7 PM ET on ESPNews and ESPN2. Friday's broadcast can be seen from 1-5 PM ET.
Brooks and Grady at G League Elite Camp
Before the main pre-draft camp, 44 second-tier NBA hopefuls will participate in the G League Elite Camp, also at Chicago's Wintrust Arena. The G League camp will be held today and tomorrow and will feature two former Kentucky Wildcats in Keion Brooks and Kellan Grady among the list of participating players.
Yesterday, the G League announced its four team assignments for today's 5-on-5 competition and Brooks and Grady both landed on Team 2 with a familiar name in Baylor Scheierman, the South Dakota State transfer who listed Kentucky among his schools in consideration a few weeks ago.
Some of the top players from the G League camp may be invited to stick around in Chicago for the NBA Combine.
NBA Draft Lottery is tomorrow night
Sticking with the NBA theme, tomorrow night is the annual NBA Draft Lottery from, you guessed it, Chicago. ESPN will carry the draw beginning at 8 PM ET as the NBA finalizes its order for the first 14 draft picks by way of bouncing ping-pong balls.
Houston, Orlando, and Detroit share the best odds for the No. 1 overall pick with a 14 percent chance each.
Devin Booker eliminated from the NBA Playoffs
Devin Booker's Phoenix Suns had the best record in the NBA's regular season, but the No. 1 seed in the field was eliminated from the playoffs Sunday night. Hosting Luka Doncic and the fourth-seeded Mavs for a Game 7 in Phoenix, the Suns were completely dominated from start to finish in a shocking 33-point loss in the decisive game. Doncic had as many points as Phoenix's entire team at halftime (27) as the Suns blew a 2-0 lead in the series and a spot in the Western Conference Finals.
Booker had 11 points on 3-of-14 shooting from the field. He said afterward, "It was a good ol' fashioned ass whooping from beginning to end."
Also from Sunday's NBA postseason fun, former Tennessee Vols big man Grant Williams hit seven 3-pointers for the Celtics to clinch the series over the defending champ Bucks in Boston. A habitual flopper when we knew him, Williams had a career-high 27 points.
Rhyne Howard's big Sunday in front of BBN
Kentucky Women's Basketball head coach Kyra Elzy and a bus full of Kentucky fans traveled to Indianapolis on Sunday to support Rhyne Howard against the Indiana Fever. Howard was excited to see the familiar faces in the crowd because she scored 17 points in the first quarter and a career-high 33 for the game, only her fourth game as a professional.
Howard's 33 points are the most in a single game in the WNBA this season.
Kentucky Baseball avoided a sweep in Columbia
In college baseball, the University of Kentucky won the third game in its three-game series at South Carolina over the weekend. After dropping games on Friday and Saturday to lose the series, Kentucky defeated the Gamecocks in Sunday's series finale, 7-1.
Kentucky will next host Tennessee Tech in the Wildcats' final non-conference game of the season on Tuesday and then close out the regular season with a home series against Auburn this weekend. With only those four games to go, Kentucky controls its own destiny in the chase for an SEC Tournament spot with a narrow lead over Missouri and Mississippi State in the standings. Only the top 12 of 14 teams get in.
Kentucky Softball's NCAA draw
Kentucky Softball is headed to Blacksburg, Virginia to make a 13th straight NCAA Tournament appearance. On Sunday the Wildcats drew third-seeded Virginia Tech's Blacksburg Regional where Kentucky will open the tourney against Miami (OH) at 4:30 p.m. ET on Friday. You can watch live on ESPN+.
Kentucky Men's Golf begins NCAA play today
There's a morning rain delay in Columbus, Ohio where Kentucky Men's Golf opens its NCAA postseason competition at the Columbus Regional. The three-day, 13-team tournament will decide five of the 30 spots in the NCAA Championship field.
Representing UK in the regional tournament, head coach Brian Craig sent out Jacob Cook, Alex Goff, Garrett Wood, Campbell Kremer, and Jay Kirchdorfer.
Follow the leaderboard in real time here.
Max Duffy's first XFL win
Congratulations to KSR podcaster/USFL punter Max Duffy and the Pittsburgh Maulers for their first win of the USFL season and the first in team history. Riding a four-game funk, the Maulers scored a touchdown as time expired to complete a comeback victory over the Houston Gamblers.
Noah Thompson advanced to 'American Idol' final
Another congratulations to Louisa, Kentucky's Noah Thompson, who is now one of only three singers still competing on American Idol. Last night Noah advanced from the top five to a spot in next Sunday's season finale.
Last night he was a "Workin' Man" in the performance that earned him a top-three vote from America.
If you'd like to hear Kentucky voices as beautiful as Noah's, tune in to KSR coming up at 10 AM.