KSR Today: Roll up your sleeves and tackle the day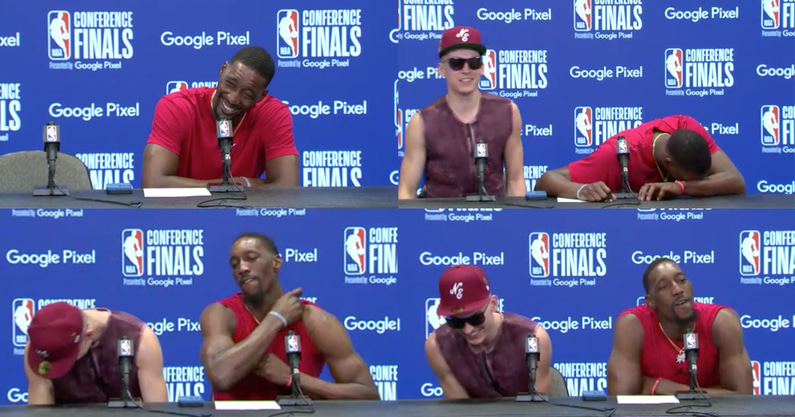 Good morning, friends. Last night was a big one for former Kentucky Wildcats already in the NBA and those about to join the league.
Let's start with the Eastern Conference Finals, where Bam Adebayo and Tyler Herro helped the Miami Heat to a 118-107 win over the Boston Celtics in Game One. Jimmy Butler was the star, scoring 41 points and pioneering a huge third-quarter run to give the Heat the win, but Adebayo and Herro both contributed. Herro came off the bench to score 18 points and grab eight rebounds. Adebayo had 10 points, four rebounds, and four blocks.
That's all fine and well but the highlight of the night for me was Herro crashing Bam's postgame press conference and, upon seeing Herro's sleeveless vest, Bam rolling up his sleeves to match.
Just some wholesome BBNBA content right there. Game Two is Thursday night. Tonight, we'll get Game One of the West Finals, Dallas vs. Golden State. The game tips off at 9:00 p.m. ET on TNT.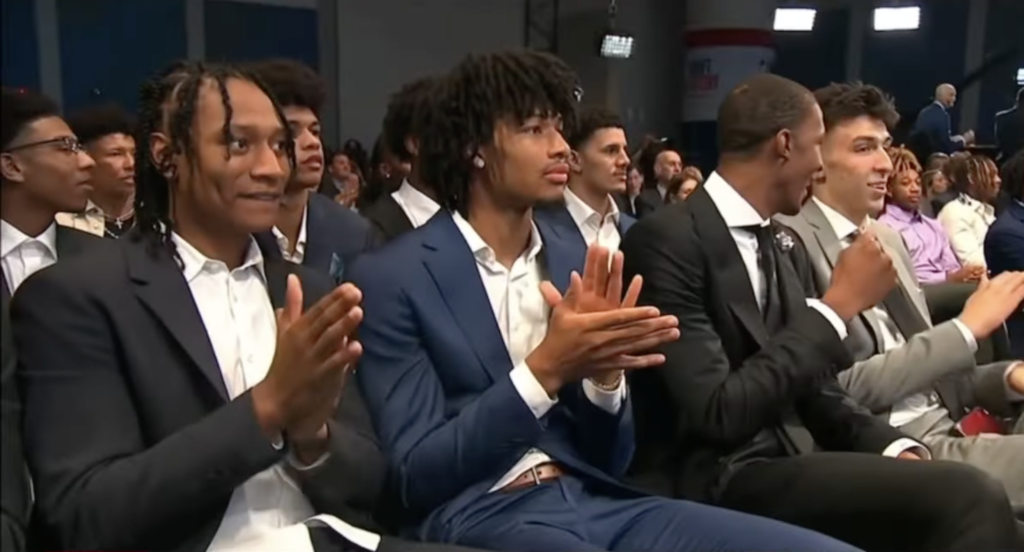 NBA Draft Lottery results
Before the action began in Miami, there was some business to settle in Chicago. With TyTy Washington and Shaedon Sharpe watching from the front row, the order was set for the 2022 NBA Draft. For the first time since 2004, the Orlando Magic will have the chance to pick first. The Oklahoma City Thunder have two lottery picks, No. 2 and No. 12.
Orlando Magic
Oklahoma City Thunder
Houston Rockets
Sacramento Kings
Detroit Pistons
Indiana Pacers
Portland Trail Blazers
New Orleans Pelicans (via Lakers)
San Antonio Spurs
Washington Wizards
New York Knicks
Oklahoma City Thunder (via Clippers)
Charlotte Hornets
Cleveland Cavaliers
What does this mean for TyTy Washington and Shaedon Sharpe? We'll have a rundown of all of the major mock draft updates for you later this morning, but ESPN's Jonathan Givony now has Sharpe going No. 6 to the Indiana Pacers and Washington going No. 16 to the Atlanta Hawks.
ICYMI the action last night, former Cat PJ Washington was there on behalf of the Hornets. Despite his lucky screensaver, Charlotte drew the No. 13 pick.
NBA Draft Combine begins
The NBA G-League Elite Camp is now over, clearing the way for the main event: the Microsoft Surface NBA Draft Combine. Over the next three days, the top 76 NBA Draft prospects — including TyTy Washington and Shaedon Sharpe — will show off their skills to representatives from each team in the league at Wintrust Arena and the Marriott Marquis.
In addition to five-on-five games, shooting, and strength and agility drills, draft hopefuls will conduct interviews with teams. Although the event begins today, TV coverage doesn't start until Thursday. You can watch the Combine starting Thursday on ESPNews from 3-5 p.m. ET and ESPN2 from 5-7 p.m. ET. The coverage continues on Friday, May 20 from 1-2 p.m. ET on ESPN2 and 2-5 p.m. ET on ESPNews.
Kentucky Baseball gets a win
It was an easy Tuesday night for the Kentucky Baseball team, who pummelled Tennessee Tech 13-0 in a feel-good mercy-rule romp. Chase Estep drove in four runs, while Oraj Anu went 3-4 with a triple, double, and four RBI. It was the Cats' first shutout of the season.
Kentucky is now 28-23 on the season. Tomorrow, they start their final series of the season vs. No. 18 Auburn. First pitch is set for 6:30 p.m. at Kentucky Proud Park. To make the SEC Tournament, the Cats must win two of three.
It's been one week since Kentucky's assistant coach job posting expired
Just saying. The wait to hear who will replace Jai Lucas on John Calipari's staff continues.
Will Levis wants some of Oscar's bugs
On Monday, a video of Oscar Tshiebwe eating bugs and onions back in the Congo went viral. Yesterday, Will Levis, no stranger to eating weird things, asked his fellow Wildcat to bring him some home to try out.
Coming soon to a TikTok near you?
More inspirational Oscar YouTube content
Last week, Oscar Tshiebwe launched his YouTube channel with a video of himself training in the Congo last summer. Yesterday, we got Oscar's second video, a clip from his speech at the Governor's Prayer Breakfast in April. Click "play" below to see Oscar speak about the importance of having/sharing a positive outlook.
College GameDay will kick off in Columbus
Tomorrow marks 100 days until Week Zero and the first college football games of the 2022 season. In turn, some big game times have started trickling out. Yesterday, ESPN announced its marquee ABC games.
Sat., Sept. 3: Georgia vs. Oregon (Chick-Fil-A Kickoff) – 3:30 PM, ABC
Sat., Sept. 3: Notre Dame at Ohio State – 7:30 PM, ABC
Sun., Sept. 4: Florida State vs. LSU (Allstate Louisiana Kickoff) – 7:30 PM, ABC
Sat., Sept. 24: Wisconsin at Ohio State – TBD, ABC
Sat., Oct. 8: Texas vs. Oklahoma (AT&T Red River Showdown) – TBD, ABC
Fri., Nov. 25: Florida at Florida State – 7:30 PM, ABC
Additionally, the College GameDay crew announced they will be in Columbus for the Fighting Irish vs. the Buckeyes on September 3.
That'll do it. KSR will be live on your radio or streaming device in one hour. Better yet, get things started right now with Shannon the Dude and Billy Rutledge on the KSR Preshow.