KSR Today: On the Road Again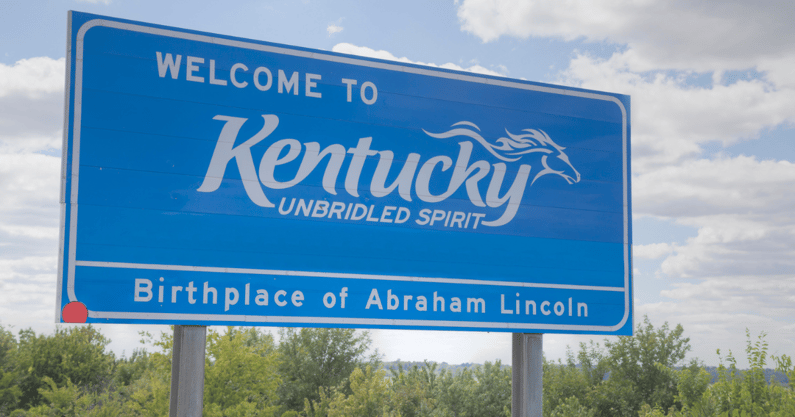 Good morning, friends. Congratulations on making it halfway through this week, perhaps even further if you're taking off early for the July 4th holiday. I'm actually hitting the road today to head to Lexington for a little work project. If I see you on the Bluegrass Parkway, wave, okay?
Yesterday ended up being a newsy one in UK Sports land. Before we move on to today's rundown, let's recap what you may have missed.
Kentucky Football added two players to the roster
Kentucky's backfield got a little bigger last night. First, news broke that FCS All-American running back Ramon Jefferson is transferring to Kentucky from Sam Houston State. Less than an hour later, we found out Tennessee running back Dee Beckwith, a former four-star recruit in the 2020 class, is joining him.
Last season, Jefferson rushed for over 1,100 yards and 13 touchdowns at Sam Houston State. The grad transfer will have one season of eligibility remaining. In two seasons in Knoxville, Beckwith played multiple positions, including wide receiver, running back, defense, and special teams. That versatility will likely be on display in Rich Scangarello's new offense, potentially at hybrid tight end or fullback.
These moves could simply be Mark Stoops and staff utilizing its available scholarships. They could also signal bad news on the Chris Rodriguez front. Stoops will likely be asked about Rodriguez at SEC Media Days next month but I doubt we'll get any real answers until the season is upon us. Until then, celebrate the new arrivals with our stories below.
Nerlens Noel is on the move
If you missed it the post right before this one, Nerlens Noel has reportedly been traded from the New York Knicks to the Detroit Pistons. You can see the details in that story, or just feel old when you realize it's been 10 years since Nerlens committed to Kentucky with his hair.
NBPA Top 100 Camp begins
Today through Friday, many of the nation's top prospects will be in action at the NBPA Top 100 Camp in Orlando, Florida. College coaches, NBA scouts, executives, and media will be allowed into AdventHealth Arena at ESPN Wide World of Sports for the games, which tip off at 10 a.m. Jack Pilgrim and Zack Geoghegan are in Orlando to cover the event for us, so keep an eye on the website and their Twitter accounts (@JackPilgrimKSR, @ZGeogheganKSR) for the latest on who John Calipari and staff are watching.
Among the participants are Rob Dillingham, Reed Sheppard, and Aaron Bradshaw. Dillingham, the top point guard in the 2023 class and No. 3 overall prospect, committed to Kentucky Friday night, joining Sheppard, Kentucky's other 2023 pledge. Bradshaw, the No. 17 overall prospect, could be on commitment watch as buzz builds that he's focusing on either Kentucky or the G-League. KSR is hearing Calipari, Orlando Antigua, and Chin Coleman are making a joint effort to land Bradshaw, the high school teammate of DJ Wagner, so expect to see them front and center at his games this week.
Jack Pilgrim previewed the event for you last night. Here's his list of players who have confirmed past or current interest from Kentucky, official offers, or connections to the program that could lead to future contact.
Jason Asemota – Hillcrest Prep (2024)
Flory Bidunga – Kokomo High School (2024)
John Bol – Christian Brothers (2024)
Xavier Booker – Cathedral High School (2023)
Aaron Bradshaw – Big Picture Academy (2023)
Carter Bryant – Fountain Valley High School (2024)
Naasir Cunningham – OTE (2024)
Somtochukwu Cyril – Hamilton Heights Christian Academy (2024)
Robert Dillingham – Donda Academy (2023) – Kentucky commit
Justin Edwards – Imhotep Charter (2023)
Isaiah Elohim – Sierra Canyon (2024)
Kwame Evans Jr. – Montverde Academy (2023)
Baye Fall – Accelerated Schools (2023)
Bronny James – Sierra Canyon (2023)
Isaiah Miranda – Commonwealth Academy (2023)
Nasir "Sir" Mohammed – Myers Park High School (2024)
Darryn Peterson – Cuyahoga Valley Christian Academy (2025)
Derik Queen – Montverde Academy (2024)
Reed Sheppard – North Laurel High School (2023) – Kentucky commit
Jarin Stevenson – Seaforth (2024)
Tru Washington – Phoenix Point High School (2023)
Cody Williams – Perry Gilbert (2023)
*Players in bold have received scholarship offers from Kentucky
Cason Wallace, Antonio Reeves, and Sahvir Wheeler go to camp
When it comes to current Cats, we'll get to hear from one of the newest today. Cason Wallace will host the Players First ProCamp in Frankfort this afternoon along with Antonio Reeves and Sahvir Wheeler. In addition to playing with the campers, Wallace will speak to reporters for the first time. Drew Franklin is making the trip for us, so check the site this afternoon to hear from Wallace, who is already turning heads in practice, we hear.
Vote for Abby Steiner to win The Bowerman Award
Kentucky's Abby Steiner is a finalist for The Bowerman, the most prestigious award in collegiate track and field, and you can help her win it. From now through Thursday at 2 p.m. ET, you can vote for Steiner at ustfccca.org/the-bowerman. The winner will be determined by a combination of popular vote and a diverse group of media, statisticians, administrators, and past winners selected by The Bowerman and the United States Track and Field and Cross Country Coaches Association (USTFCCCA).
The other finalists for the Bowerman are Florida's Anna Hall and California's Camryn Rodgers. The winner will be announced December 15 during the annual USTFCCCA Convention at the Gaylord Rockies Resort & Convention Center outside of Denver, Colorado. Steiner's Kentucky career is now over, but she'll continue to make us proud for years to come. Repay her with a couple of clicks.
Bam wears Kentucky gear in Louisville's gym
Former Wildcats supporting Kenny Payne in his new role at Louisville is totally fine — as long as they do it while wearing Kentucky gear, right? Bam Adebayo showed KP's fellow former pupils how it's done on a recent trip to Louisville:
Hilariously, this photo got Louisville fans very upset online.
A heck of a catch at the Louisville Bats game
Ronnie Dawson may move up to the Reds after this catch at last night's Louisville Bats game:
Travis Perry joins KSR
It's Day Three of Matt's second summer vacation, and for his final day in the big chair, Ryan Lemond is bringing on a special guest. Lyon County star Travis Perry will make his KSR debut this morning fresh off receiving a scholarship offer from John Calipari over the weekend. Tune in an hour from now to hear from Perry and the guys, or, turn your radio or streaming devices to 630 WLAP right now for the KSR Preshow.