KSR Today: One Last Day to Relish LSU Win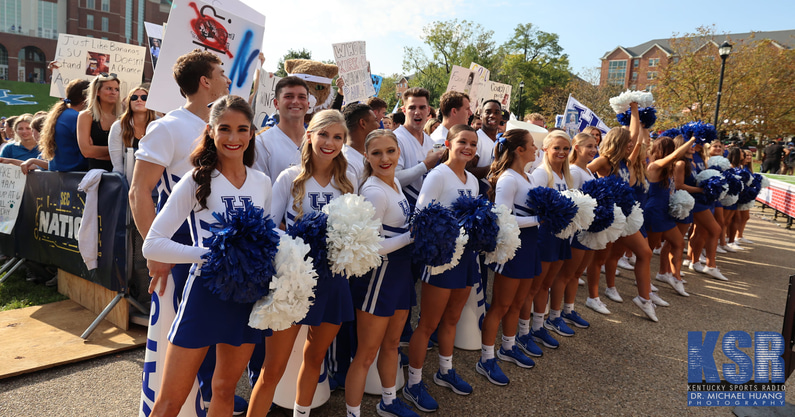 The Kentucky players and coaches quickly moved on to Georgia. It will certainly be an exciting atmosphere in Athens Saturday, but the BBN deserves more than 24 or 48 hours to enjoy a dominant LSU win. There is just so much to love from the win.
Before turning the page completely, which I'm thinking will happen Wednesday night when we get a cinematic recap from UK, let's roll around in the spoils of victory one more time. We can start with Dan Wetzel's column on Will Levis, then enjoy a helping of off-the-wall takes from Spencer Hall.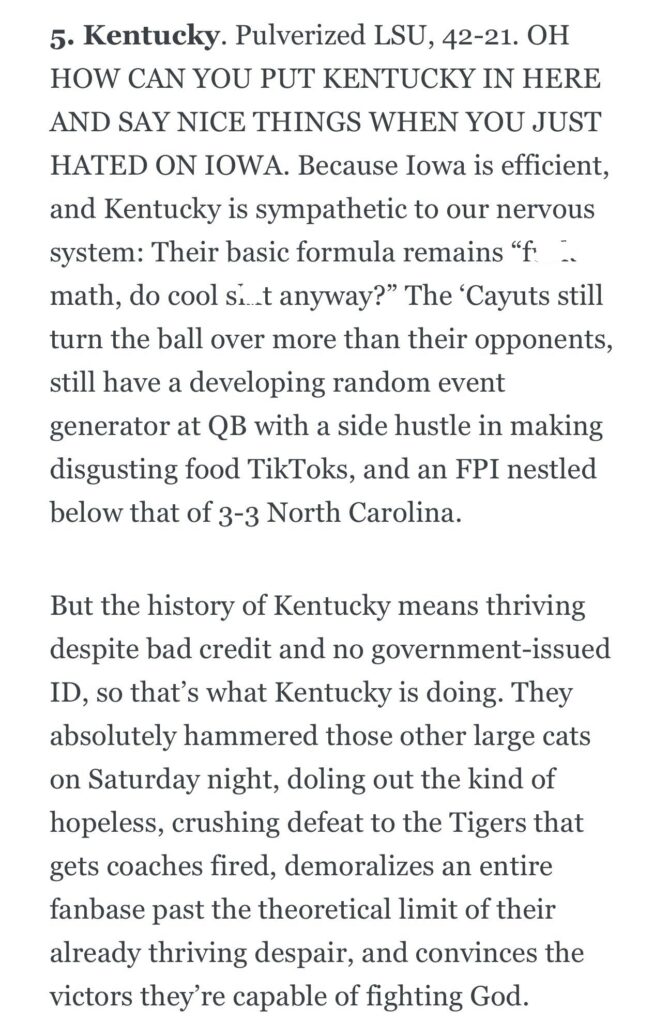 Two Coaches of the Week
For the second straight week, Kirk Herbstreit named Mark Stoops as one of his top performing head football coaches. A week after earning the top spot, this week Stoops was No. 5 on Herbie's list. Stoops was not the only one getting props from the national media. Athlon Sports named Brad White its defensive coordinator of the week.
Kentucky's defense turned in a dominant effort on Saturday night in a 42-21 win over LSU. The Wildcats limited the Tigers to just 5.6 yards per play, with most of the offensive production coming over the final two quarters when the outcome wasn't in doubt. White's defense recorded four sacks and nine tackles for a loss and held quarterback Max Johnson to just 6.9 yards per attempt.

Athlon Sports
Two Players of the Week
The SEC announced that two homegrown Wildcats earned SEC Player of the Week honors. West Jessamine product Eli Cox earned co-SEC Offensive Lineman of the Week honors while one of North Hardin's finest, Octavious Oxendine, was tabbed co-SEC Defensive Lineman of the Week.
Unfortunately, the good news came as we learned bad news. In the middle of his best game to date, Ox suffered a season-ending knee injury. Sources tell KSR it's a torn meniscus, giving him a timetable to return for spring practice. Nevertheless, the starting defensive tackle's absence will be felt this Saturday and throughout the rest of the season.
Transformation Tuesday
A cool moment happened on the field following Kentucky's win over LSU. After catching his first career touchdown pass, JuTahn McClain posed for a picture with LSU running back Corey Kiner, his old Cincinnati little league teammate.
A Special National Anthem
Dr. Everett McCorvey is a maestro. It's a spceical moment whenever he gets Rupp Arena singing the National Anthem in unison. Saturday night more than 61,000 people brought out their pipes to perform a spectacular edition of the Star-Spangled Banner.
Special Guests
Kentucky brought out the big guns to get folks fired up for the LSU win. Andre Woodson, Stevie Johnson, Dicky Lyons, Jacob Tamme and a host of others from the 2007 team were introduced prior to kickoff. Entering the fourth quarter Braxton Kelly and Marcus McClinton made a cameo on the video board. There was also a special appearance by America's finest, Olympic gold medalist Sydney McLaughlin.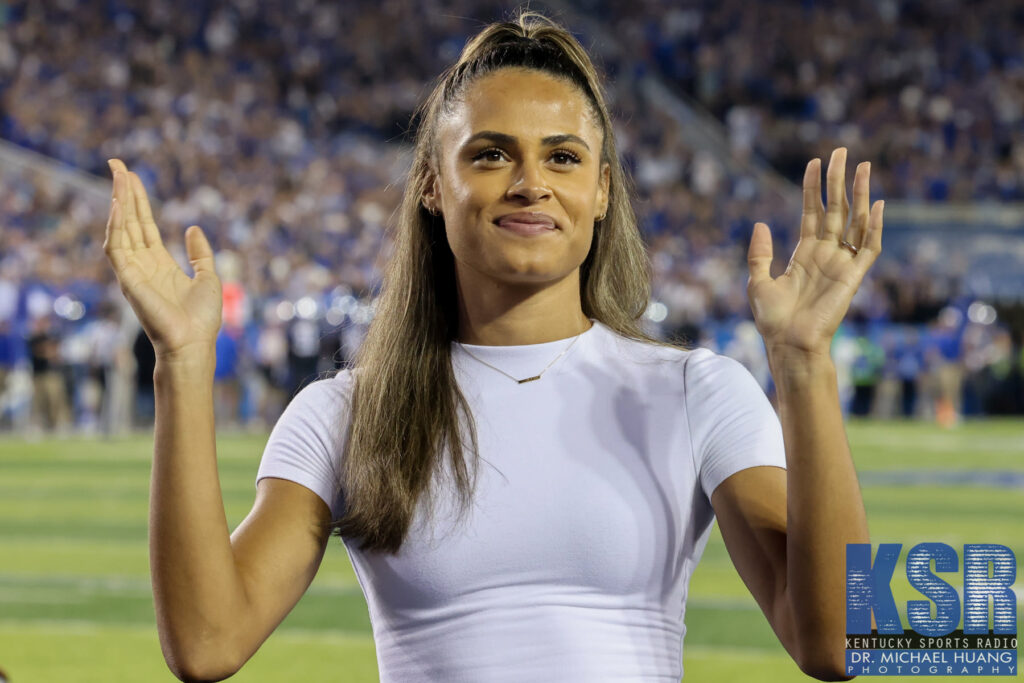 Basketball Updates
The Kentucky basketball team opened its doors to the media Monday afternoon. Unfortunately, they saw an injury. Sahvir Wheeler rolled his ankle and needed to be helped off the Rupp Arena floor. He's not the only Wildcat currently limited by injuries, either.
But, we can't end with negative news after such a positive Monday. That's why I'll let Jack tell you about Kellan Grady's exceptional day and so much more.