KSR Today: Preparing for Florida; WBB travels to No. 1 South Carolina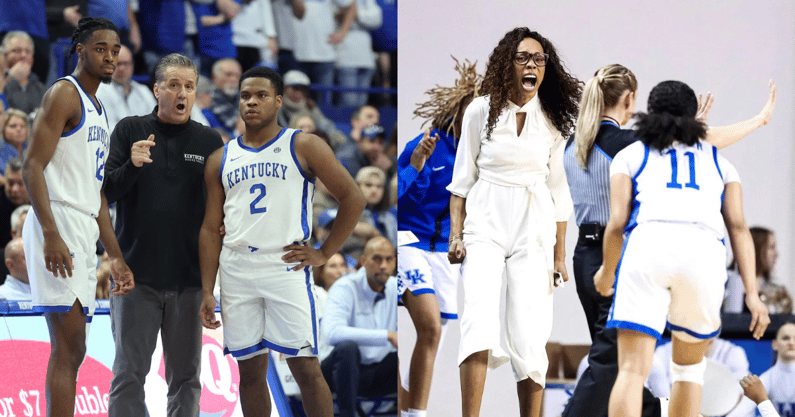 Good morning, folks! We're now two more sleeps away from Kentucky men's basketball hosting the Florida Gators on Saturday night at 8:30 p.m. EST in Rupp Arena. Thursdays can be a bit slow around these parts, but Kyra Elzy's women's basketball squad will help pick up the momentum in the lead-up to even more basketball this weekend. Elsewhere, there was a major football signing that took place early Wednesday morning we'll quickly discuss, along with highlights from last night's John Calipari Show.
Let's start there, actually. Calipari gave us about 45 minutes with voice of the Wildcats, Tom Leach, on Wednesday night to talk about the victory against the Ole Miss Rebels from Tuesday, provide an injury update on Cason Wallace, and discuss what's ahead against Florida this weekend, particularly when it comes to dealing with Gators' star center Colin Castleton.
You can hear everything that Calipari had to say here. Now, let's dive into the other big news stories you need to know on this cold Thursday morning across the Commonwealth.
Gilbert picks the 'Cats, Spencer picks the Cards
Kentucky football went 1-for-2 on National Signing Day.
Wednesday kicked off bright and early with the flipping of four-star defensive lineman Kendrick Gilbert from Purdue to Kentucky. A lengthy recruitment, the Indianapolis Cathedral product officially visited LSU, Notre Dame, Purdue, and Kentucky over the summer. The nearby school won the initial battle, but the Wildcats won the war.
Gilbert committed to Purdue in August. Kentucky remained in contact throughout the recruiting process, and when Jeff Brohm moved to Louisville, UK's coaching staff seized the opportunity. New head coach Ryan Walters hosted the local prospect in West Lafayette last week, but Kentucky got the final opportunity to close with an unofficial visit to Lexington last weekend, ultimately sealing the deal.
Head coach Mark Stoops announced the signing as official late Wednesday night, welcoming Gilbert to the Big Blue Nation. While you're here, make sure to check out Adam Luckett's Film Room breakdown on Gilbert's game here.
That afternoon, another prized lineman from across the state border, three-star William "Woo" Spencer, opted to land with the Louisville Cardinals over the Wildcats in a recruitment that was kept under wraps until about an hour before the announcement.
Spencer's three finalists were Louisville, Kentucky, and Michigan State. He took a pair of visits to UL in January and saw the coaching staff stop in for a visit to close out the month.
Spencer spent the first three years of his prep career playing at 6A power Louisville Male High School. He moved across the river and transferred to New Albany High School in Indiana for his senior season. Explosive on the defensive line, Louisville offered him the opportunity to play defense in college.
Kentucky WBB travels to No. 1 South Carolina
When these two played last year, things looked a lot different for Kentucky women's basketball.
That matchup was back in the spring when Dre'Una Edwards hit a game-winning shot to take down top-ranked South Carolina in the SEC Championship game. It was the highest note of a season that saw plenty of downs. Kentucky started that year 9-11 before rattling off 10 straight wins heading into the NCAA Tournament. But this time around, there will be no Edwards to hit a big shot or Rhyne Howard to lead the charge.
Kentucky and South Carolina will meet later tonight at 7:00 p.m. EST on the SEC Network down in Columbia for the second of two battles between the two sides this season. Once again, the Gamecocks enter as the No. 1 team in the country, sporting a perfect 21-0 record and a 9-0 mark in the SEC. Meanwhile, the 'Cats will make the trip coming off a 77-54 win over Missouri, but with an overall record of just 10-11 and a 2-7 split in league play.
Another good thing about NIL
Kentucky freshmen wide receivers Dane Key and Barion Brown did an autograph signing at KSBar and Grille on Tuesday night and drew an impressive crowd despite the bad weather. According to our own Ryan Lemond, a close friend of the Key family, Dane donated all of his proceeds from the signing to breast cancer research in honor of his mother, Nicole, a breast cancer survivor. Athlete Essentials, which partnered with Commonwealth Causes on the event, matched Key's donation.
"They made some good money last night, both those guys," Ryan said. "Dane's mother is a breast cancer survivor, Nicole. Dane donated all of his money to breast cancer research, [the money] that he made last night. And Athlete Essentials matched it. Thank you so much to everyone that came."
Good on you, Dane.
Bryce Hopkins opens up about time at Kentucky
After spending one bench-riddled season with Kentucky, Bryce Hopkins is on a path to take home this season's Big East Player of the Year honors. A big reason why? The former four-star recruit finally feels like he's able to play freely and without a load of pressure weighing on his shoulders.
"Doesn't sound like a lot, but it means a lot, because you're not having to look over your shoulder when you make a mistake," Hopkins said in an interview with Brian Hamilton of The Athletic. "I feel like last year when I got out there, I was under a microscope. (Calipari) only wanted me to do certain things, and it was like I was playing like a robot. Now when I get on the court, it's like coach Cooley is allowing me to do whatever I want, but under his system. I just can't thank him enough for that."
At UK, Hopkins averaged 2.1 points and 1.4 rebounds in 6.4 minutes per contest. He hit the transfer portal on April 7, just three weeks after Kentucky's final game. A commitment to Providence — the runner-up in his high school recruitment the first time around — came on April 25. Now, he's the star of the No. 17 Friars, averaging 16.4 points (48.6% FG, 33.3% 3PT and 75.4% FT) and 9.1 rebounds.