KSR Today: Preparing for the Northern Illinois Huskies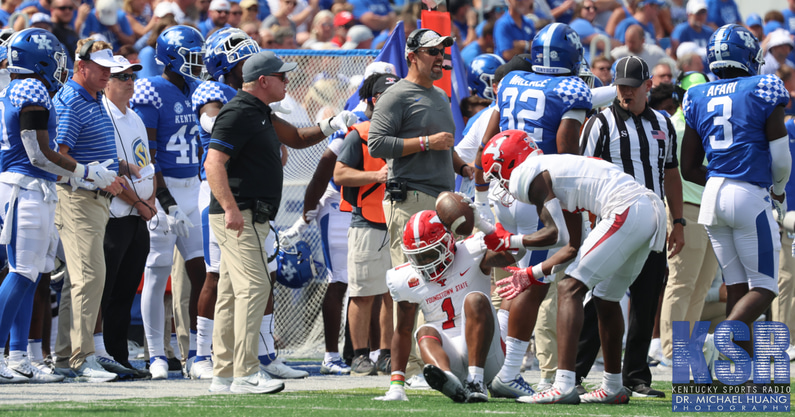 We're officially one-fourth of the way through the Kentucky football regular season, a 3-0 start for the Wildcats including wins over Miami (OH), Florida and Youngstown State to open the year. Tomorrow, though, UK has a chance to start 4-0 a quarter of the way through the year, extending the team's winning streak to eight games.
That's the second-longest streak in college football, mind you, behind only Clemson with nine straight victories. The Wildcats also have a chance to push its non-conference streak to 19 wins, good for No. 1 in the nation, as well.
To get there, though, they have to take care of business at home vs. Northern Illinois on Saturday.
Mark Stoops previews NIU
Head coach Mark Stoops made it very clear he didn't approve of his team's intensity and engagement in Kentucky's 31-0 victory over Youngstown State this past weekend. The final score looked pretty, but the Wildcats left a fair number of points on the field in the sloppy head-to-head matchup.
How did the team respond this week? Stoops provided a few quick thoughts after practice Thursday.
"It was a good week of practice and I'm anxious to get back on the field," he said. "As I mentioned on Monday, there's a lot of things for us to work on to get better and this is a new opportunity so I'm looking forward to get back at it."
Was the message received going into NIU?
"We'll see," Stoops added. "We've had a good week of practice. I like the way they responded. They've practiced well. So we'll see how we carry it over."
At minimum, the players seem to be loose leading up to kickoff — well, if classify Will Levis' Electric Slide as "loose."
No news on Rocky Lombardi
Speaking of Northern Illinois, it's still not certain who will be starting at quarterback this weekend for the Huskies. Rocky Lombardi, the team's day-one gunslinger, went down with an undisclosed leg injury in the team's 38-28 loss vs. Vanderbilt this past weekend. The program received positive news on the fifth-year senior's status after initial testing, but head coach Thomas Hammock was unable to make an official determination on his availability earlier this week.
"We got better news than we anticipated, so we feel good about where he's at and the progress that he's going to be able to make," Hammock said Tuesday. "We've got the rest of the week to figure that out. I can't answer that question on Tuesday, but we've got the rest of the week to figure out how he progresses."
Where do things stand going as of Friday? No one knows.
In the team's practice highlights posted this week, though, Lombardi was nowhere to be seen. Instead, it was backup Ethan Hampton making plays at quarterback.
How would things look with Hampton taking over as QB1 on Saturday? He finished with 124 yards, two touchdowns and one interception on 12/19 passing against Vanderbilt.
"I thought Ethan came in and operated the offense at a (solid) level," Hammock said. "We were able to move, no procedure penalties or anything like that. He got us in and out of the plays. Obviously, in practice, he's continuing to work like he's worked all year. He works it like a starter and I've been proud of his maturation as a player."
Guess we'll see.
Is it time to build a Stoops statue?
Now Kentucky's all-time winningest coach, is it time to build Stoops a statue? Big Blue Nation has the answer.
Prior to the Wildcats' win over Youngstown State, KSR's Drew Franklin asked fans tailgating at Kroger Field for their takes.
The consensus? Yes, absolutely.
For The Team: Kentucky shuts out Youngstown State
No hype video yet for Kentucky vs. Northern Illinois — that'll come later today. So will uniform combinations and a few other pregame notes.
Until then, For The Team – Chapter 3 will have to do, a recap of the Wildcats' 31-0 shutout victory over the Penguins of YSU.
Kroger KSR Game of the Week
The Kroger KSR Game of the Week is back with yet another rivalry match, this time heading to Georgetown for Frederick Douglass at Scott County.
A battle of two Central Kentucky 5A powerhouses, both teams enter the matchup undefeated on the year and ranked. Frederick Douglass is No. 2 in KSR's High School Rankings while Scott County comes in at No. 24. The Broncos are 5-0 on the season and averaging 54 points per game while allowing just 7. Led by longtime head coach Jim McKee, Scott County enters the matchup with a 4-0 record with wins over Franklin County, Lafayette, Bryan Station and Dunbar.
Kroger and KSR traveled to Title Town for the Danville-Boyle County rivalry earlier this year, followed by another rivalry matchup in Belfry at Pikeville last week. Now, it's time for rivalry game No. 3 in Frederick Douglass at Scott County.
Kickoff is at 7:30 PM ET. We'll see you there.
What the hell is this?
Candy corn is Halloween's most polarizing treat. People either love it or they hate it, nothing in-between.
Something we can all agree on? Whatever this is, it's hot garbage.
Hotdog and hamburger candy corn? What are we doing here?
Enjoy your Friday, BBN. Go Cats.