KSR Today: Schedule news, "Dream Team," Chicken Wing Day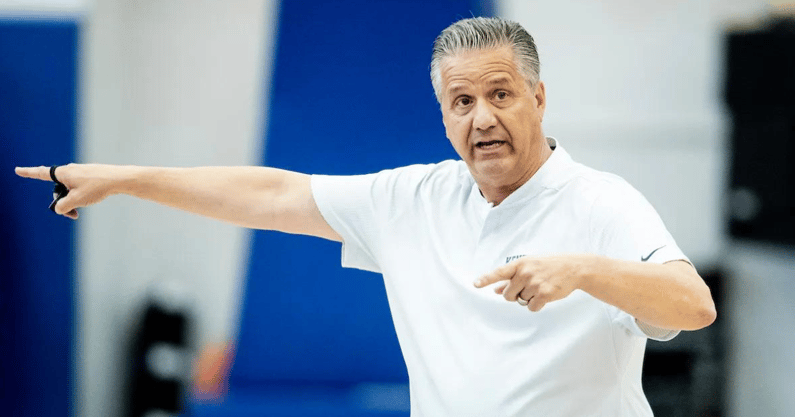 What does John Calipari have up his sleeve going into the weekend? Something he's excited about, clearly.
As Kentucky looks to round out its non-conference schedule, the UK head coach announced he has found a "really interesting scheduling opportunity, if no roadblocks."
What could that opportunity be? Sources tell KSR that Kentucky reached out to North Carolina about scheduling a home-and-home series, an opportunity the Tar Heels were intrigued with. The issue, though, is UNC wasn't certain it could fit the Wildcats in this season — at least not the start of the home-and-home.
While there is still some chatter about a potential neutral-site matchup with North Carolina, it's Gonzaga that is seen as the latest possibility for Kentucky, a head-to-head battle both sides are interested in.
The Wildcats already have Michigan State (Nov. 15, Champions Classic), Michigan (Dec. 7, London), UCLA (Dec. 17, CBS Sports Classic), Louisville (Dec. 31) and Kansas (Jan. 28, SEC/Big 12 Challenge) on the non-conference schedule. Could Gonzaga or North Carolina be added to that slate? Discussions are taking place now.
Goodness gracious, Jacob Toppin
Speaking of the current roster and preparation for the 2022-23 season, let's have a check-in with senior forward Jacob Toppin, shall we?
Kentucky strength and conditioning coach Brady Welsh shared a clip of Toppin putting in work alongside Lance Ware in the weight room. The results?
Well, Toppin looks absolutely jacked.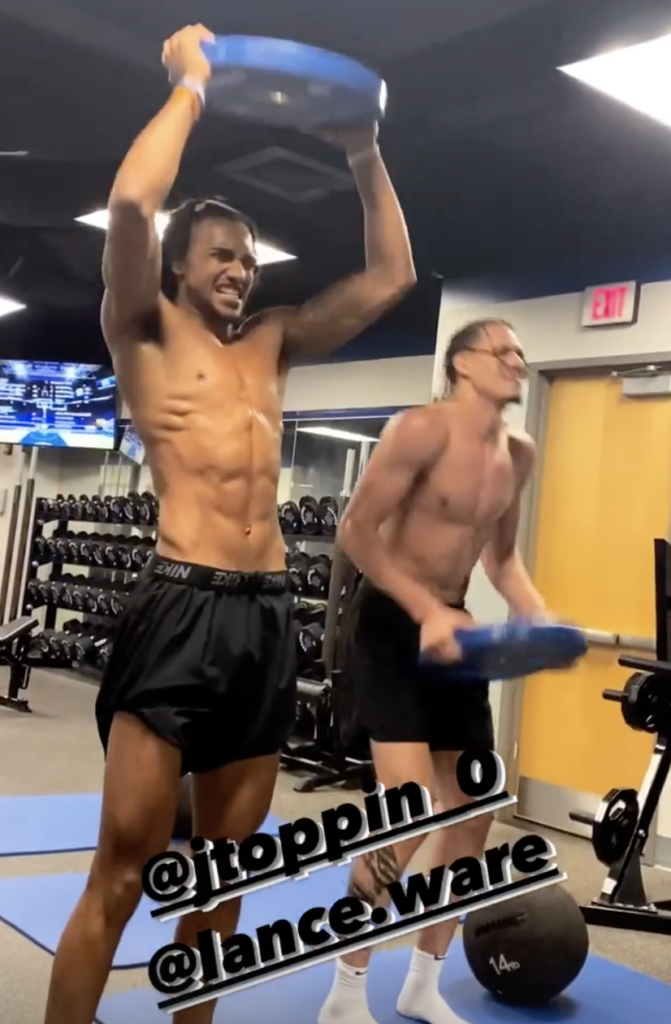 Kentucky is relying on Toppin to step up at the four spot this season, needing him to replace Keion Brooks Jr.'s production in his first year as a core starter. With the Bahamas just two weeks away, he's starting to look the part.
A "Dream Team" forming in Lexington?
Looking ahead to the 2023-24 roster, could a "Dream Team" be forming in Lexington? That's the goal, if you ask two of the program's pledges in its 2023 recruiting class.
"The Dream Team would definitely be DJ (Wagner), Justin (Edwards), Aaron (Bradshaw), maybe a few more people. We already know Reed (Sheppard) is there," Dillingham told KSR at Peach Jam last week.
Edwards was added to the fold this week, giving the Wildcats three commitments. Now, Reed Sheppard wants to add three more.
"It's just really cool now to have two other teammates (in Dillingham and Edwards)," Sheppard said at his Players First Satellite ProCamp on Thursday. "Hopefully we can get some more with Aaron (Bradshaw), DJ (Wagner) and Ron (Holland). All of it is just really fun, an experience we'll never forget."
His pitch to other high-profile recruits interested in joining the fold? Look at John Calipari's track record with other elite prospects. If you come to Kentucky, you'll find success one way or another. Coach Cal will make sure of it.
"It's Kentucky, right? It's Coach Cal," Sheppard told KSR in Georgetown. "Look at the players they've brought in, where they are now. They're all in the NBA doing really well. If they're not in the NBA, they're overseas making a good name for themselves. … He's going to get you where you need to go."
Three down, three to go.
The ugliest car in Danville has been found
Do you happen to drive this SUV? If so, congratulations! You own the ugliest vehicle in Danville!
Captured by Larry Vaught, this blue Chevrolet is decked out with Duke logos and lettering from front to back. "Atlantic Coast Conference" is even written on the windshield, just in case this Blue Devil diehard forgets their beloved team plays in the ACC.
The results are unreal.
Simply awful.
Best NIL deal yet?
If your name is Decoldest Crawford, you have to capitalize with NIL, right? That's exactly what the Nebraska freshman wide receiver did, signing an NIL deal with SOS Heating & Cooling.
Why? It's "Decoldest" HVAC company in Nebraska, of course.
Crawford was a consensus three-star prospect who chose the Huskers over Auburn, Texas and Florida. Now, he's using his name to rake in NIL money.
National Chicken Wing Day
We'll wrap up this morning to celebrate National Chicken Wing Day, because why not?
To help us celebrate, let's turn to KSR's Fan of the Day, Deano the "Superfan."
Deano visited the home of the original buffalo chicken wings decked out in Kentucky gear, highlighted by a blue UK shirt and flag right in front of the welcome sign. Take a look: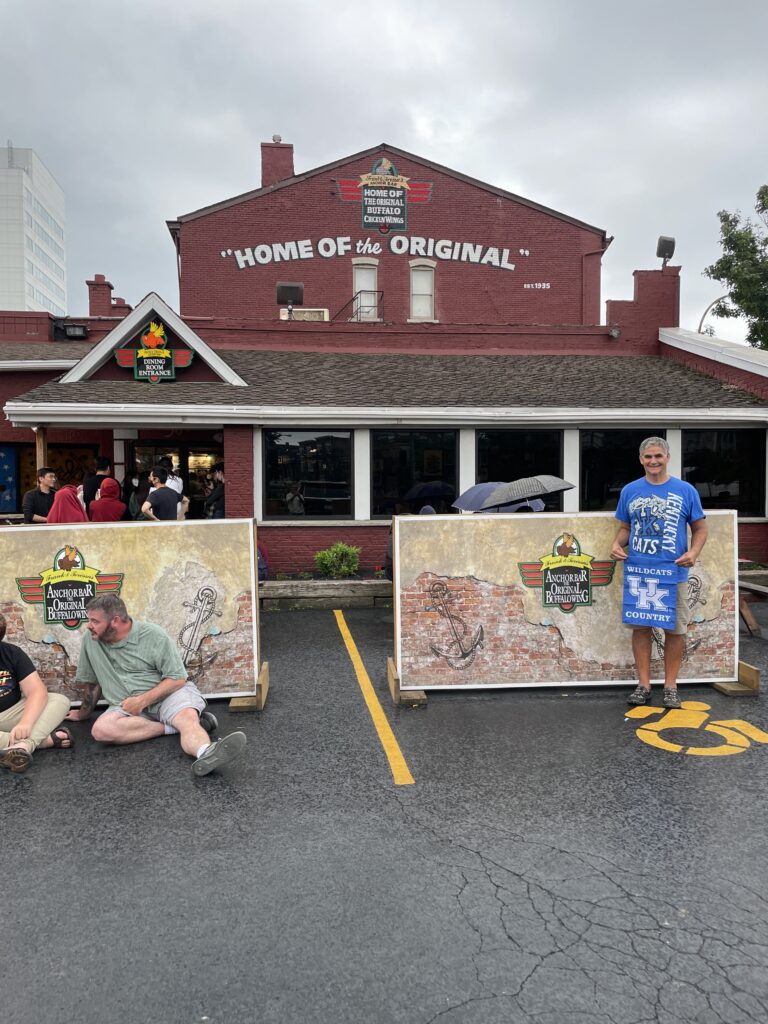 Well done, Deano!
To help celebrate, why don't you head on over to KSBar and Grille to eat some wings and participate in an 80s and 90s dance party, which lasts from 8:30 p.m. to midnight ET?
Music by DJ Fox and $5 drink specials all evening. Come hang out.
Happy Friday, BBN.