KSR Today: Rain, Rain, Go Away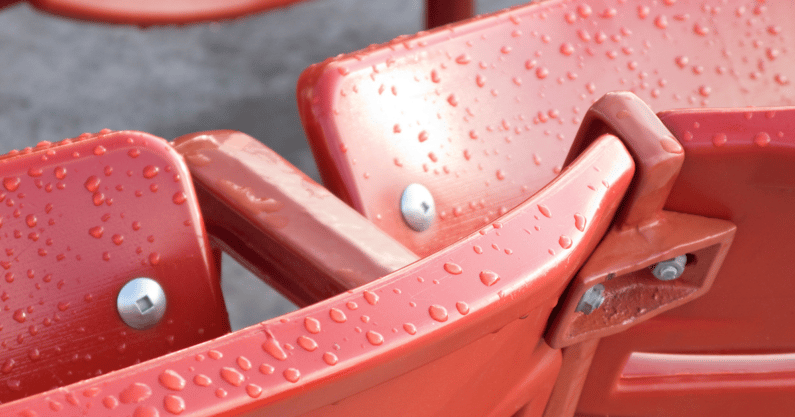 Good morning, friends. There are sports to discuss today — if Mother Nature allows — but forgive me if my mind is elsewhere. You've seen the news. Yesterday, 19 children and two teachers were killed in a massacre at Robb Elementary School in Uvalde, Texas, the worst school shooting since Sandy Hook nearly ten years ago. The gunman, an 18-year-old who shot his grandmother before carrying out the attack, is also dead.
Sports can be a wonderful distraction from reality, but some realities are just too horrible to escape. Golden State head coach Steve Kerr captured that sentiment in an emotional speech before Game Four of the Western Conference Finals yesterday. Hopefully, the powers that be in Washington are watching.
There is no good way to transition here, so go hug someone, tell them you love them, and let's try to move on with our day.
Kentucky Baseball starts the SEC Tournament (Again, Maybe)
Kentucky Baseball was supposed to start its SEC Tournament run yesterday vs. Auburn, but Mother Nature had other plans. Storms in Hoover, Alabama postponed last night's game to today. The game is tentatively scheduled to begin at 9:30 a.m. CT/10:30 a.m. ET this morning, but storms are forecasted for pretty much the entire day down there, so stay tuned. Whenever the game starts, it will air on SEC Network.
Here's the bracket as it stands now. For reasons we've outlined all week, Kentucky needs to make a strong run in Hoover to have a chance at making the NCAA Tournament.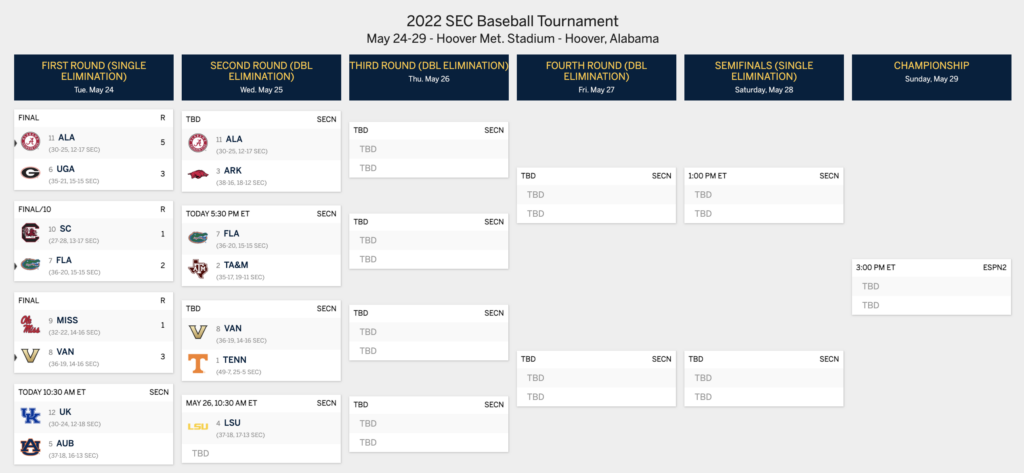 Gabriel Diallo advances to NCAA Singles Round of 16
One of the stars of Kentucky Men's Tennis' NCAA Tournament run is still alive in the singles competition. Gabriel Diallo beat Chris Rodesch of Virginia yesterday to advance to the Round of 16. Today, he'll face Ohio State's Matej Vocel at 12:30 p.m. ET. You can watch the match live via Tennis.one.
NCAA Track & Field East Preliminaries begin
Thirty-four UK track and field athletes are in Bloomington, Indiana this week to attempt to advance to the NCAA Championships in Eugene, Oregon next month. The East Preliminaries feature the top 48 athletes in each event from the East Region; from that group, the top 12 move on to Eugene, along with the top 12 in each event from the West. The men's events begin today and will be streamed on IU's website. For a complete schedule, visit UKAthletics.com.
Louisville vs. Nashville in the U.S. Open Cup
We've reached the Round of 16 in the Lamar Hunt U.S. Open Cup, the oldest ongoing soccer competition in the United States, and tonight, two old foes will square off in Louisville. Louisville City FC, which competes in the USL Championship league, hosts Nashville SC, which moved to MLS in 2020, tonight at 7 p.m. ET at Lynn Family Stadium. The two teams played each other in Nashville SC's first-ever game as a club in the USL Championship in 2018, with Nashville winning 2-0. Later that season, Lou City beat Nashville in the U.S. Open Cup 2-1. This will be the first time they've played since Nashville made the move to MLS.
To get to the Round of 16, Nashville SC beat Atlanta United 3-2 in extra time, and Lou City beat Detroit City FC, also from the USL Championship league, in a shootout. As an avid Nashville SC fan (the new stadium, Geodis Park, is amazing), I'm looking forward to embracing my hate of all things Louisville. You can too at 7 p.m. ET on ESPN+. Come on, you boys in gold!
NBA Playoffs Update
The Dallas Mavericks beat the Golden State Warriors last night 119-109 to stay alive in the Western Conference Finals. Rain even impacted that game when a leak in the ceiling of the American Airlines Center caused a 16-minute delay.
The Warriors still lead the series 3-1. Game 5 is in California on Thursday night. Tonight, Boston takes on Miami in Game 5 of the Eastern Conference Finals, which is tied 2-2. Tyler Herro missed Game 4 because of a groin issue and is questionable for tonight, one of many, many injuries in the series. Tipoff is scheduled for 8:30 p.m. on ESPN.
Join KSR and Will Levis at the Wanda Joyce Robinson Foundation Golf Scramble
What's better than a golf scramble? One featuring Kentucky quarterback Will Levis and Kentucky Sports Radio. Levis and KSR will be at Juniper Hill Golf Course in Frankfort on Friday, June 17 for the second annual event benefitting the Wanda Joyce Robinson Foundation. If you'd like to join them, spots are still available. You can even play on Levis' team for a certain price (with proceeds going to charity, of course).
Lunch is at noon and the shotgun start at 1 p.m. but the guys are doing the show live from the course, so make a day of it.
Who up, Saint Martin?
Today is the last day you'll be reading my words on this here website for a little bit. My husband and I are headed to the Caribbean tomorrow to unplug and celebrate our 10th anniversary. It seems like only yesterday we were throwing up three goggles on Broadway with our friends on one of only three rooftop venues in downtown Nashville. Now, there are a million, another sign of how time marches on.
Pick out the perfect gift at Pressley Collection
Looking for that perfect Father's Day or graduation gift? Our friends at Pressley Collection have a fantastic collection of watches! They also have a brand new line of watches that you can pre-order now at a discounted price.
In addition to the watches, Pressley has a vast inventory of other jewelry options and are generally able to beat any retail store price. Head to pressleycollection.com to pick out those perfect gifts now!