KSR Today: Stoops, South Carolina Week and More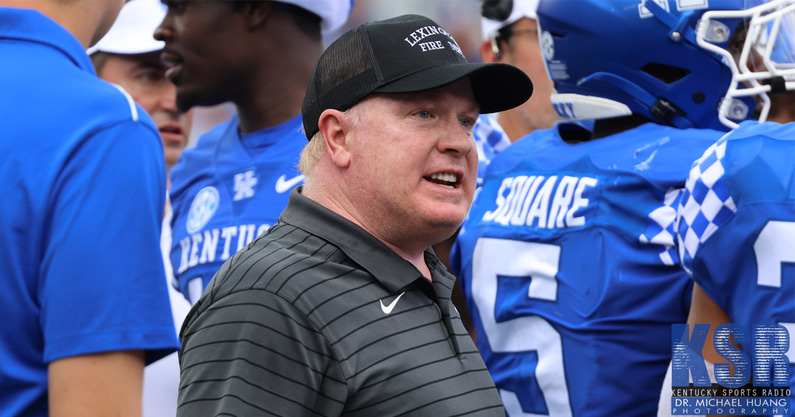 You hear that? It's "Sandstorm" coming from the speakers of the Kentucky Football facilities as Mark Stoops readies his team for a road trip to South Carolina later this week. Kentucky's first away game of the season will kick off Saturday at 7 p.m. in hostile Williams-Brice Stadium in Columbia where the Wildcats had won two in a row until dropping the last meeting in 2019. This time Kentucky seeks its seventh win in the last eight games in the series while remaining undefeated through a third of the 2021 season. SEC Nation will be there too.
But first, there are a lot of Monday matters to address as Week 4 of the season gets underway.
Mondays with Mark Stoops
Monday means Mark Stoops will hold his weekly press conference to discuss what he saw on tape from last Saturday's game and what his team will focus on in the days ahead. You can follow along from home from anywhere in the world via a live stream of Stoops' conversation with the media. We'll have a live stream here on the site for you at noon.
Still want more Stoops? He will sit down with Tom Leach for the coach's show tonight on the UK Sports Network. Listen in from 6-7 p.m. before Monday Night Football.
Kentucky opened as a 6-point road favorite
The point spread on Kentucky-South Carolina opened with Kentucky favored by six points with a total of 51.5 points. Those lines have since moved down to -5.5 and 49 after early money Sunday evening.
Kentucky is 2-1 against the spread this season, the one loss being last Saturday's nail-biter against FCS Chattanooga as a 32-point favorite. South Carolina is 2-0-1 ATS the spread this year.
New KSR Football Podcast drops tonight
Nick Roush, Freddie Maggard, Charles Walker, and I will record a new KSR Football Podcast tonight at KSBar and Grille to discuss Kentucky's win over the Mocs and its trip to South Carolina.
We'll get the new episode online as soon as possible so it's in your ears tonight. Subscribe and leave a comment if you get a chance.
Kentucky received votes in the new AP Poll
The Wildcats lost a vote from Week 3 to Week 4 in the AP College Football Poll, coming in with only 12 votes in the updated rankings. That's still 12 spots out of the top 25, so 37th in the country.
Alabama, Georgia, Oregon, Oklahoma, Iowa, Penn State, Texas A&M, Cincinnati, Clemson, and Ohio State are the new top 10, in that order.
Check out KSR's photo gallery from Saturday's game
Mike Edwards had a day in the NFL
Former Kentucky safety Mike Edwards scored not one, but two touchdowns in the fourth quarter to help his Tampa Bay Bucs close out a win against the Atlanta Falcons on Sunday.
First a 31-yard pick-6 to end Atlanta's comeback dreams, then a 15-yard pick-6 not even four minutes later.
The former Wildcat's two-score day earned some praise from his quarterback, Tom Brady.
"There are certain people I've been around in my career that just find a way to get the ball in their hands and make plays with it," Brady said in his postgame comments. "Mike obviously comes up with a lot of those at the end of the game. He just gets good jumps on the quarterback, he's in good position to make the plays, and he makes them."
Big day for the Kentucky grad.
Dereck Lively to announce his decision tonight.
It will be Kentucky or Duke for Dereck Lively, the top-ranked center in high school basketball, and he is ready to end his recruitment. Lively will announce his final decision at 6 p.m. tonight and Duke has all of the momentum, unfortunately.
Still, we'll want to tune in in case Kentucky pulls off the recruiting win in the end with a commitment from the five-star big man. You can follow along here on KSR when it happens.
Watch KSR's video recap of the Fans First Fan Fest
Tune in to Kentucky Sports Radio to hear Matt Jones and Ryan Lemond recap Fans First Fan Fest on today's show. Zack Geoghegan has a written recap here.
I'll leave you with KSR's photo gallery from the night too. Go Cats.