KSR Today: That "Kentucky is 6-0" feeling...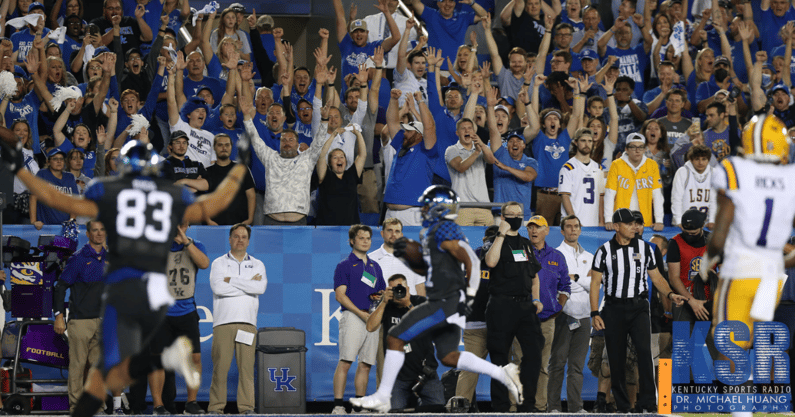 Good Sunday morning, folks! Kentucky Football is partying like it's 1950. Before we move any further, let's go ahead and reminisce…
For the first time in 71 years, the Wildcats are 6-0. For just the fourth time in school history, UK is off to a 4-0 start in the Southeastern Conference. In back-to-back weeks, Kentucky took down Florida and LSU. I repeat, in FOOTBALL. The reality of the situation is quickly setting in.
But just like last weekend's win over Florida, there is very little time for Kentucky to soak in the victory. Yes, UK came out and straight-up dominated the LSU Tigers from start to finish. For the first time this season, the 'Cats didn't play to the level of their opponent–they were the better team all night and proved it. UK scored more points in regulation against LSU last night than it ever had before.
With all that being said, the four-game stretch from hell continues on. Florida and LSU are down, but Georgia and Mississippi State, both on the road, are next. Alabama shockingly fell to unranked Texas A&M on Saturday, moving UGA into the top spot once the new rankings come out later today. Next Saturday will be a matchup between a top-15 (possibly top-10?) Kentucky team and the No. 1 Bulldogs in Athens. The winner of that game will likely win the SEC East. The idea of knocking on the door for the College Football Playoff becomes a reality with a win over UGA.
Now let's do some reading.
Links!!!
Kentucky Dominates LSU to Improve to 6-0 for first time in 71 years
BOX SCORE: Kentucky 42, LSU 21
Kentucky issues statement, hammers LSU to remain undefeated
Kentucky played "Callin' Baton Rouge" in final minutes of LSU win
Mark Stoops on bowl eligibility: "We want more"
Stoops talks Oxendine, Kinnard injuries
Photo Gallery: Kentucky takes down LSU in Lexington (again)
Kentucky rises to No. 8 in CBS Sports' rankings
WATCH: Kentucky Coaches and Players React To The Win
Kentucky embraces upcoming challenge against top-ranked Georgia
Ed Orgeron, LSU were demoralized by Kentucky rush offense
Slowing Down is Key to Will Levis' Slump-Busting LSU Performance
Five Things Mark Stoops Said After Kentucky's Win
Three Plays: Hot Kentucky start sets stage for blowout win
The Highlights from Kentucky's 42-21 Win over LSU are INCREDIBLE
Not enough content? Don't you worry that hungover head of yours. We've got plenty more coverage of Kentucky's big win coming throughout the day.
UK Pro Day
Make sure your TV is locked in on the SEC Network from 5:30 p.m. to 7:30 p.m. for the Kentucky Men's Basketball Pro Day. This will be the third time that UK has hosted a Pro Day, where scouts and personnel from all 30 NBA teams are expected to be in Lexington to check out the talent.
As always, we'll provide you with our analysis of everything that happens.
'Cats in the NFL: Week 5
9:30 a.m. (NFL Network): Jets (B. Echols) @ Falcons [game in London]
1:00 (FOX: Packers (R. Cobb) @ Bengals
1:00 (FOX): Lions (L. Stenberg) @ Vikings
1:00 (FOX): Broncos @ Steelers (B. Snell Jr.)
1:00 (CBS): Dolphins @ Buccaneers (M. Edwards)
1:00 (CBS): Saints (L. Young) @ Washington (J. Davis)
1:00 (FOX): Eagles @ Panthers (P. Hoskins)
1:00 (CBS): Titans (B. Dupree) @ Jaguars (J. Allen)
1:00 (CBS): Patriots @ Texans (L. Johnson Jr.)
4:05 (CBS): Bears (D. Trevathan) @ Raiders
4:05 (CBS): Browns @ Raiders
4:25 (FOX): Giants @ Cowboys (Q. Bohanna)
4:25 (FOX): 49ers @ Cardinals (C. Peters)
8:20 (NBC): Bills @ Chiefs
Monday Night Football
8:15 p.m. (ESPN): Colts @ Ravens
Go 'Cats. Beat Georgia.