KSR Today: Only two days more days until South Carolina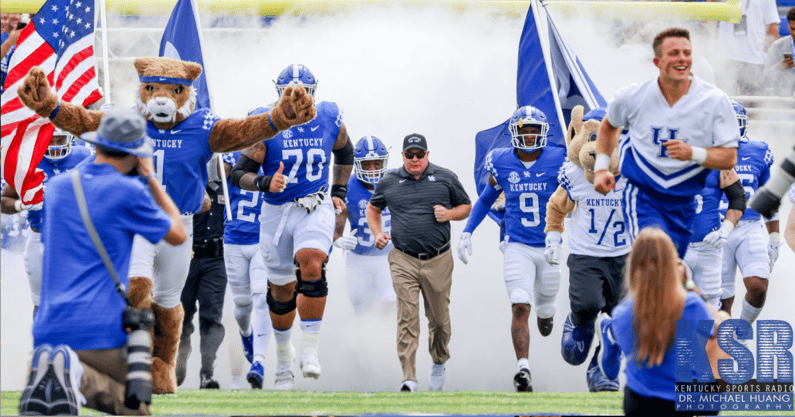 Good morning, folks! We're inching closer and closer to gameday against the South Carolina (2-1) Gamecocks on Saturday, which is receiving the nighttime treatment of a 7:00 p.m. EST kickoff on ESPN2. We heard from the defense on Wednesday–expect more from that throughout the day–and Mark Stoops will take the podium later on Thursday.
If you haven't already added Sandstorm to your workout playlist, you're doing this fandom thing wrong. Let's dive into the news and notes you need to know to start your day.
More pre-South Carolina content
If you read one thing all day, make sure it's Nick Roush's recap of what Josh Paschal recently said on the Pin It Deep Podcast. The Kentucky Football defensive end was open and honest about his cancer diagnosis in 2018 and how he was able to overcome it.
Looking ahead, Kentucky will travel down to Columbia this weekend for a chance to stay perfect on the 2021 season. The Wildcats will enter as a five-point favorite to beat South Carolina, but the first road trip of the year won't be an easy one for UK. Gamecock fans will bring a rowdy environment to Williams-Brice Stadium that will surely give Kentucky some early jitters. But if you want to take control of the SEC East, this is a must-win for the 'Cats.
As a side note, Dane Key, a very important four-star wide receiver from Lexington, KY, will take an unofficial visit to South Carolina for this game. The race for his recruitment is coming down to UK, USC, and Michigan, so he's knocking out two birds with one stone this weekend. Kentucky spoiling the upset bid on the road and in front of Key sure would be a nice touch to UK's pitch.
We'll have even more pregame coverage coming over the next couple of days, but in the meantime, check out what we published to the site on Wednesday.
Will Levis is embracing the South Carolina Sandstorm
WATCH: Kentucky Defense is "gonna bring it" to South Carolina
Shane Beamer very familiar with Kentucky, Mark Stoops
Jovon Bouknight shares his side of the story from DUI arrest
GoFundMe for Chris Oats' recovery reaches goal
Luke Doty, Will Levis are looking to solve quarterback problems
We'll hear from head coach Mark Stoops for his thoughts on the matchup later this afternoon.
On3's class of 2023 basketball rankings
Kentucky Men's Basketball is still working hard to round out the class of 2022, but it's never too early to look ahead.
On Wednesday afternoon, On3 unveiled its first class of 2023 top 50 basketball player rankings, and several Kentucky targets made the cut. Of the top 10, eight of them have at least some sort of relationship with UK and the coaching staff. Here's the top entire 15.
C Baye Fall (99)
Denver Denver Prep Academy 
SF Mackenzie Mgbako (99)
Gladstone (N.J.) Gill St. Bernard's School
CG Dajuan Wagner Jr. (99)
Camden (N.J.) High
SF Kwame Evans (99)
Baltimore (Md.) Montverde Academy
SF Mookie Cook (98) 
Portland (Ore.) Compass Prep
SF Justin Edwards (98) 
Philadelphia Imohtep Charter
SF J.J. Taylor (98)
Chicago Kentwood Academy
PG Caleb Foster (98)
Mouth of Wilson (Va.) Oak Hill Academy – Duke commitment
PF Omaha Biliew (98) 
Wake (Iowa) Link Year Prep
PF G.G. Jackson (98)
Ridge View (S.C.) High
CG Kanaan Carlyle (97)
Milton (Ga.) High
PF Matas Buzelis (97)
Hinsdale (Ill.) Brewster Academy
CG Simeon Wilcher (97)
Roselle (N.J.) Roselle Catholic 
SG Marvel Allen (97) 
Fort Lauderdale (Fla.) Calvary Christian 
SG Elijah Fisher (97)
Toronto (Canada) Crestwood Prep
Beyond the top 15, however, are a handful of need-to-know prospects. Most notably, North Laurel County's Reed Sheppard comes in ranked No. 21 overall with four-star status. Another Kentucky-based hooper, George Washington III out of CAL (Christian Academy of Louisville), is ranked No. 50 and also considered a four-star.
Fans First Fan Fest Stock Report
The inaugural Fans First Fan Fest has come and gone, an event that presented Kentucky fans a unique opportunity to see the 2021-22 Wildcats in person for the first time prior to basketball season.
Davion Mintz, Kellan Grady, Keion Brooks Jr., Sahvir Wheeler, Dontaie Allen, Lance Ware, TyTy Washington, Bryce Hopkins, and Daimion Collins all participated in the event held at Transylvania's Clive M. Beck Center, while CJ Fredrick (leg) and Jacob Toppin (shoulder) sat out with injuries. Oscar Tshiebwe was not in attendance due to student Visa restrictions in relation to NIL.
As for the other specifics, the event consisted of a 3-point shootout, dunk contest, shooting stars competition, and a 5-on-5 scrimmage, among other highlights. There were times things got competitive, other times the players were looking to entertain the young fans in attendance cheering on their beloved Wildcats. There were strong takeaways and others that mean next to nothing.
Jack Pilgrim gave us the inside scoop.
Someone save KAT
If playing for the Minnesota Timberwolves doesn't break his spirit, spending another winter or two in Minneapolis might just do it.
The Wolves pulled the ultimate "wtf" move on Wednesday, shockingly firing the GM just days before the start of training camp and less than a month before the 2021-22 season is set to begin. Karl-Anthony Towns was not too happy about the move and the timing of it, but the same could be said about several of the front office's decisions since KAT was drafted in 2015. Now that the transition of power is once again playing out, instability continues to cause internal chaos.
I argued for Towns to demand a trade out of Minnesota.
Thursday Night Football/Trivia at KSBar
How about some football action AND trivia at the KSBar and Grille tonight? The TNF matchup between the Carolina Panthers and Houston Texans will kickoff at 8:20 p.m. EST, but make sure to stick around for a halftime trivia contest that includes CASH prizes.
---
We've got Matt Jones and the rest of the radio crew coming to your iHeart streams in just an hour. See you then.