KSR Today: UK baseball's NCAA Tournament run begins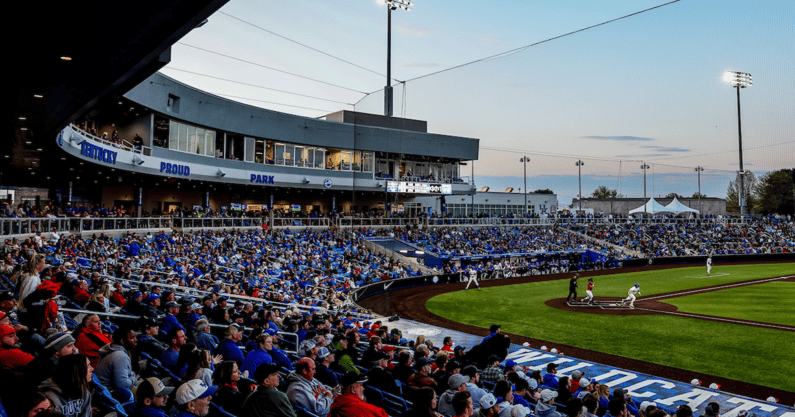 Rise and shine, folks. Time to roll out of your hotels and/or apartment-style dorm rooms and head to Kentucky Proud Park. Postseason baseball is here.
The Lexington Regional of the 2023 NCAA Baseball Tournament is set to begin this afternoon, with Nick Mingione and the Kentucky Bat Cats scheduled to host Ball State in game one at noon ET. That will be broadcast live on SEC Network. From there, West Virginia will take on Indiana in the nightcap starting at 7 p.m. ET on ESPN Plus.
What will the weekend schedule look like? The opening-day losers will meet in an elimination game at noon ET on Saturday, while the winners will advance to the Regional Finals on Sunday. If necessary, the two remaining teams would then play a winner-take-all championship game on Monday to advance to the Super Regional.
Ticket Information
If you're looking for Lexington Regional Reserved Seating tickets, you're out of luck. Those have been sold out since Tuesday. Berm General Admission tickets, though, remain available for $10 each through UKBaseballTix.com. A handful of reserved seats are being resold, as well, with prices ranging from $30-$85. Those should go quickly.
All-Session weekend general admission tickets remain available for $60 each, getting you in Friday, Saturday, Sunday and Monday, if necessary. All-Session Reserved Grandstand seats are sold out. For all ticket plans and options through the school click here.
There will be no refunds or exchanges for tickets purchased.
Game Day Central
Gates to KPP will open 90 minutes prior to the first pitch of each game, all persons required to have a ticket or credential at all times (1 and under are free in GA based upon availability). Fans with general admission tickets are encouraged to bring a tailgate chair or blanket to sit on. There are no physical seats in the general admission areas of Kentucky Proud Park.
Fans are encouraged to arrive early as Railbird Music Festival and KHSAA State Baseball and Softball Championships are also being held in Lexington.
Those attending are encouraged to follow @UKBaseball on social media for the latest surrounding schedule updates in the event of inclement weather that affects the status of the game.
Hype Video
You excited? The team is too. Take a look at Kentucky baseball's NCAA Tournament hype video below:
What do you need to know about Ball State?
The Cardinals knocked out Kent State with a grand slam in the top of the ninth inning of the MAC Championship game to earn a spot in the tournament field at 36-21. They've won six of their last nine, including three in a row to win the MAC Tournament last week.
Head coach Rich Maloney and his team won 16 games on the road this season. Individual standouts include junior Decker Scheffler, who leads Ball State with a .388 batting average, while graduate student Ryan Peltier is hitting .351 with a team-high 15 home runs.
Ball State's top pitcher this season has been senior Trennor O'Donnell, who sits at 5-3 on the year with a 2.98 ERA. He has struck out 92 hitters in 84.2 innings of work. Junior Ty Johnson boasts a 4-2 record on the year with a 3.81 ERA and three saves in 15 appearances and nine starts.
Pregame coverage
Need some pregame reading with your coffee to get you ready for this afternoon's matchup? KSR's got you covered, ranging from Region previews to crying about dorm rooms.
We'll see you at KPP this afternoon.
Jamal Murray leads Nuggets to Game 1 win in the Finals
In a head-to-head battle of former Wildcats, Jamal Murray and the Nuggets got the best of Bam Adebayo (and Tyler Herro on the bench) and the Heat to open the NBA Finals, a 104-93 win in favor of Denver.
Murray finished with 26 points on 11-22 shooting to go with 10 assists, six rebounds and a steal in a team-high 44 minutes. Nikola Jokic led the way with 27 points on 8-12 shooting, 14 assists and 10 rebounds in 40 minutes.
For the Heat, Adebayo led his team with 26 points on 13-25 shooting to go with 13 rebounds and five assists in the loss. Gabe Vincent added 19 points, followed by Haywood Highsmith with 18 and Jimmy Butler with 13.
Game 2 is scheduled for Sunday at 8 p.m. ET on ABC.
John Calipari says Kentucky is "prepared for all scenarios"
Are you concerned about the Wildcats only having seven scholarship players on the roster as of June 2 — less than six weeks away from the team's trip to Toronto for the GLOBL JAM? John Calipari is not.
Despite losing Oscar Tshiebwe and Chris Livingston to the draft at the withdrawal deadline and things remaining up in the air with Antonio Reeves, Calipari says the program has "prepared for all scenarios and now we can move forward."
"I woke up this morning thinking about our team now that the NBA deadline has passed," he tweeted. "We support all of our players as they weigh their options and pursue their dreams and it's my job to make sure these kids are making informed decisions. It may not be what you think or I think – but it's informed.
"… We want players who want this culture, who care about winning, understand what it means to play at Kentucky – both how hard and how rewarding it is – and have the ultimate drive to win and succeed on the biggest stage, which helps everyone," he said. "We have a talented group right now which isn't finished yet, but when it's done we will have a talented team who will chase the ultimate goal together and make #BBN proud."
Calipari says he's got a plan. Time to see what he's got up his sleeve.
Discuss This Article
Comments have moved.
Join the conversation and talk about this article and all things Kentucky Sports in the new KSR Message Board.
KSBoard