KSR Today: UK Football survives Chattanooga; Fans First Fan Fest debut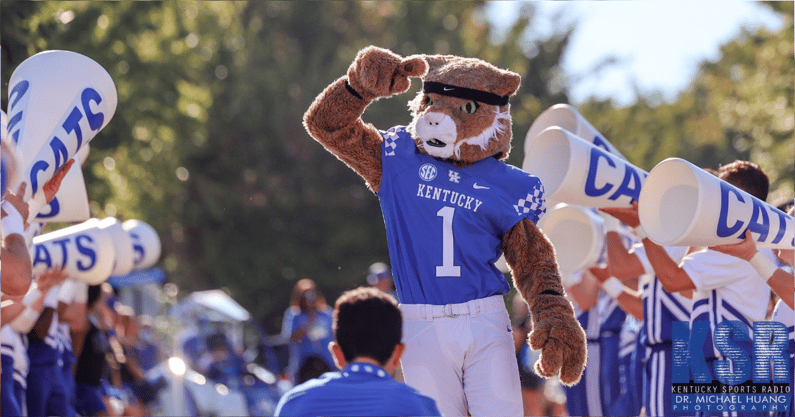 Good Sunday morning, folks. How are our mental states feeling following Saturday's "football" game? Personally, I'm going all-in on the "noon game against an FCS school the week after a huge win" excuse. Remember, a win is still a win. Handle South Carolina next week and UK is 4-0 heading into a home matchup against a top 15 Florida Gators squad.
Life could be worse for UK Football! The program is less than a decade removed from back-to-back two-win seasons. Kentucky is still on the rise.
Now, how about some links?
Tyrell Ajian's 95-Yard Pick Six Silences Chattanooga Scare
Box Score: Kentucky 28, Chattanooga 23
WATCH: Mark Stoops' Postgame Press Conference
WATCH: Top plays from Kentucky's win over Chattanooga
Photo Gallery: Kentucky-Chattanooga
Mark Stoops says Kentucky came out "flat" in win: "I'm not very pleased."
Three Plays: Timely defensive plays allow Kentucky to survive
Perfect Blocking Paved the way for Tyrell Ajian's Pick Six
WATCH: Players, Coaches React to Wildcats' Win over Chattanooga
TRANSCRIPT: Mark Stoops discusses Kentucky's win over Chattanooga
Kentucky must get back to complementary football
Isaiah Epps, Izayah Cummings Score First Career Touchdowns vs. Chattanooga
Kentucky wins ugly, survives Chattanooga upset bid

Time to burn the film and put this one in the rearview.
Fans First Fan Fest
The 1st annual Fans First Fan Fest was a MASSIVE hit.
Held at Transylvania on Saturday night in the Clive M. Beck Event Center, the entire Kentucky Men's Basketball Team put on a show for roughly 1,000 members of the Big Blue Nation.
There was a three-point shootout where TyTy Washington put on an absolute clinic, a dunk contest that saw 5-foot-7 Kareem Watkins steal the night (he can dunk?), plenty of made halfcourt shots, raffle prizes handed out throughout the evening, and good vibes all around. Drew Franklin even took the stage as a judge for the dunk contest.
But the best part about the event was getting to see these players up close and in person, something that fans (and the players, really) were robbed of experiencing a year ago. We got to see personalities come out and how the guys interact. They all stuck around after it was over to take pictures and sign autographs with every single fan who wanted one.
The event concluded with two team captains (Davion Mintz and Kellan Grady) picking their five-man teams for a 15-minute scrimmage. It was loaded with the usual dunking lines we would see during Big Blue Madness, but in the final seven minutes, players locked in a bit more as the winning team would be able to donate $1,000 to the charity of their choice. It even came down to the last possession that had the crowd buzzing with cheers and laughs.
All in all, the inaugural Fans Fest was a huge hit and we can't wait to participate again next year. Jack Pilgrim and I will have more content from the event throughout your Sunday. In the meantime, Dr. Mike took some awesome pictures you'll want to check out.
A surprise Football commit?
It's tough to put into words just how surprising and important Tyrese Fearbry unexpectedly committing to Kentucky was on Saturday. It was even MORE surprising considering the performance the football team had just put on display at Kroger Field. Fearbry, a four-star edge rusher, instantly becomes one of UK's two or three best recruits from the class of 2022 and one with a very bright future.
The former Penn State commit has been tied to the 'Cats for months now, even convincing Fearbry to take an official visit over the summer. But the consensus always felt like the battle for his services would come down to two home-area programs: Penn State or Pittsburgh. There were rumblings in early August that UK was "surging" for Fearbry, but there was never any sense a commitment was imminent.
This is a major recruiting win for defensive coordinator Brad White, who has now managed to earn commitments from both Fearbry and four-star linebacker Keaten Wade in this class alone.
John Calipari went to Anthony Davis' wedding
'Cats in the NFL: Week 2
1:00 (FOX): Bengals @ Bears (D. Trevathan)
1:00 (CBS): Texans (L. Johnson) @ Browns
1:00 (FOX): Rams @ Colts
1:00 (FOX): Bills @ Dolphins
1:00 (CBS): Patriots @ Jets (B. Echols)
1:00 (FOX) 49ers @ Eagles
1:00 (CBS): Raiders @ Steelers (B. Snell)
1:00 (FOX): Saints (L. Young) @ Panthers (P. Hoskins)
1:00 (CBS): Broncos @ Jaguars (J. Allen)
4:05 (FOX): Falcons @ Buccaneers (J. Edwards)
4:05 (FOX): Vikings @ Cardinals (C. Peters)
4:25 (CBS): Cowboys (Q. Bohanna) @ Chargers
4:25 (CBS): Titans (B. Dupree) @ Seahawks
8:20 (NBC): Chiefs @ Ravens
Monday Night Football (8:15 on ESPN): Lions (L. Stenberg) @ Packers (R. Cobb)