KSR Today: Waiting for Kansas; Kentucky WBB back in action again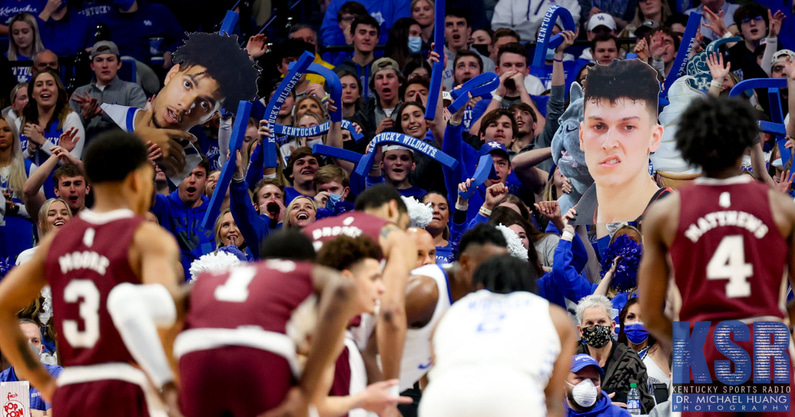 Good morning, folks! Kentucky MBB is just a couple of days away from a top 15 showdown against the Kansas Jayhawks. Unfortunately, we won't hear from any Wildcat coaches or players until Friday morning, so we're left to continue worrying about the status of TyTy Washington's ankle for at least another day.
No worry, though! There is still plenty happening in the Kentucky sports world and we need to talk about it all. So let's dive right in, starting with some leftovers links from Tuesday's late-night win over Mississippi State.
WBB back in action again
After putting an end to its four-game losing streak earlier this week on the road against Auburn, Kentucky Women's Basketball (9-7; 2-4) is facing a very quick turnaround.
Thursday night at 8:00 p.m. EST on the SEC Network+, the 'Cats will hit the road once again, this time traveling down to Nashville for a matchup against the Vanderbilt Commodores (10-10; 1-5). This will mark the second game in three days for UK without another contest scheduled for Sunday against LSU, which will also be a road contest.
Including the loss to Ole Miss on Jan. 23, Kentucky will play a total of four games in just seven days, three of them coming on the road…
Grant Grubbs will have a preview of tonight's showdown against Vandy later in the day.
Chris Mack, UL officially part ways
And just like, it's all over. Chris Mack is officially out as the Louisville Men's Basketball head coach after three and a half seasons at the helm.
After news began to circulate on Tuesday night that Mack and UL would go their separate ways, it all became official not even 24 hours later. On Wednesday afternoon, Louisville announced through a press release that the school has decided to mutually part ways with Mack, effective immediately.
Assistant coach Mike Pegues will take over as the interim head coach for the rest of the 2021-22 season. Pegues served as acting head coach while Mack served a six-game suspension at the beginning of the season that stemmed from his role in the Dino Gaudio extortion case.
Drew Franklin broke down what happens next for University-6. Just stay the hell away from Kenny Payne…
Sharpe, Washington projected top 10 NBA Draft picks
Kentucky has two top-ten picks in the latest 2022 ESPN mock draft, with one of those players not playing a single minute of college basketball.
With just 11 games to go in the regular season, Shaedon Sharpe is UK's highest-rated potential draft selection, with ESPN projecting him to go No. 7 overall to the New Orleans Pelicans. From there, TyTy Washington is projected to be selected No. 9 overall by the Washington Wizards.
Sharpe and Washington are the only two Kentucky players listed in the 58-man mock draft. This would leave the likes of Oscar Tshiebwe, Sahvir Wheeler, Keion Brooks Jr., Daimion Collins, Bryce Hopkins, Lance Ware, Dontaie Allen, and CJ Fredrick all projected to go undrafted with the option of returning to school.
Read this Lance Ware article NOW
How about Lance???
If you've paid close attention to Kentucky MBB this season, you'd know that head coach John Calipari has been effusive with his praise of sophomore forward Lance Ware, pretty much all season long. If Cal has a chance to shout out Ware, he's going to take it. If one isn't there, he'll make one up.
Even though Ware plays spot minutes off the bench in place of Oscar Tshiebwe, he plays with the energy of a full-time starter and Calipari sure does love it. Ware is also pretty damn good too in those limited minutes, and can do things on the defensive end of the floor that Tshiebwe isn't capable of right now. There is a real role for Ware this season and he's fully embraced it.
Jack Pilgrim went long in an article about Ware and how he's right on track with where he should be at this stage in his development. Pilgrim was able to recently speak with Ware's former high school coach, who also had some high praise for the 6-foot-9 big man. It's a nice "behind the scenes" look at Ware and where he's at right now with his game.
Make sure to check the entire article right here.
---
That's all the news and notes I have for you this morning. Make sure to tune into the radio show in an hour to hear from Matt Jones and the crew!