KSR Today: Waiting on Kentucky MBB roster moves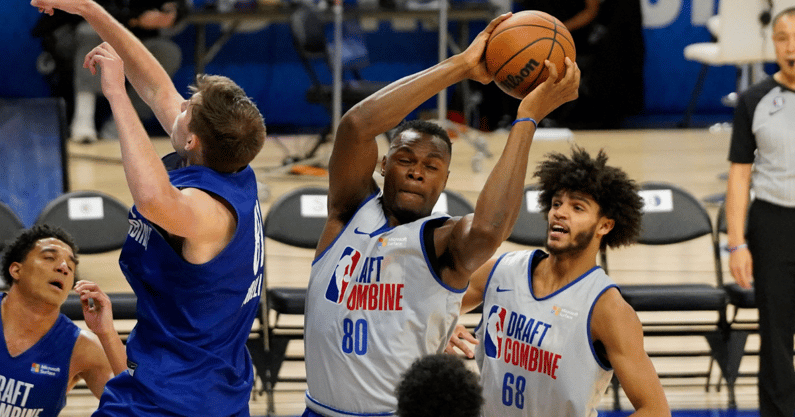 Good morning, folks! The 2023-24 roster for Kentucky men's basketball is still very much in flux as the Big Blue Nation awaits the NBA Draft withdrawal deadline of May 31. Over the next several days, the likes of Oscar Tshiebwe, Chris Livingston, and Antonio Reeves will all decide whether or not they want to return to Kentucky for another season, stay in the NBA Draft, or enter their name into the transfer portal.
KSR's own Jack Pilgrim, who has been on top of everything to do with John Calipari's squad this offseason, provided some clarity yesterday as he works to figure out exactly what the hell is going on. To spoil Jack's info, there is a growing chance that Tshiebwe returns but an equally growing chance that Reeves does not. As for Livingston, keeping his name in the draft pool feels like the most likely outcome, although he's still not being mentioned on mock draft boards.
Then there's the possibility that Calipari goes out and brings in another piece or two through the portal, with the latest name to surface being St. John's 6-foot-6 forward David Jones.
It's going to be an interesting six-ish days at the Joe Craft Center. Make sure to check out Jack's most recent, in-depth update on the status of all three 'Cats here. Yesterday's episode of Sources Say is obviously a must-listen, too.
You can find all past and future episodes of the show by subscribing to the official Sources Say Podcast feed on iTunes right here. Not on iTunes listener? You can also subscribe to the show on Spotify.
UKFB cracks top schools lists ahead of important June
With an important month of June right around the corner for Kentucky football, the Wildcats cracked a couple of "top schools" lists on Wednesday. Four-star cornerback Terhyon Nichols (Cincinnati, OH) included UK among his six while three-star linebacker Jaden Smith (Charlotte, NC) put them in his top seven. Both prospects also plan to officially visit Kentucky in June — Nichols will be in Lexington June 5-7 while Smith will make his trip over a week later from June 16-18.
Nichols and Smith join a loaded OV schedule for Kentucky next month. By our count, nearly 30 high-level prospects will take an official visit to UK over the next few weeks, with the biggest stretches coming during the weekends of June 9-11 and June 16-18. Here's who we know will be on campus so far. More names will surely surface, too.
Terhyon Nichols (CB) 5-10, 165 | Withrow (Cincinnati, OH) -> June 5-7
4-star: No. 280 overall, No. 28 CB
Brandon Rehmann (WR) 6-0, 190 | St. Joseph's (Philadelphia, PA) –> June 6-8
3-star: No. 640 overall
Steven Soles Jr. (LB) 6-3, 215 | Powell (Powell, TN) –> June 6-8
3-star: No. 808 overall, No. 88 LB
D'Shawntae Jones (RB) 5-9, 224 | Glenville (Cleveland, OH) –> June 7-9
3-star
Cutter Boley (QB) 6-5, 200 | Lexington Christian Academy (Hogdenville, KY) –> June 9-11 (COMMIT)
4-star: No. 70 overall, No. 8 QB
Brian Robinson (EDGE) 6-5, 230 | Austintown Fitch (Austintown, OH) –> June 9-11
4-star: No. 152 overall, No. 11 EDGE
Jacob Smith (EDGE) 6-4, 224 | Chesire Academy (Chesire, CT) –> June 9-11
4-star: No. 226 overall, No. 17 EDGE
Cameron Keys (CB) 6-0, 160 | A. Crawford Mosley (Panama City, FL)
4-star: No. 310 overall, No. 31 CB
Damarion Witten (TE) 6-2, 205 | Glenville (Cleveland, OH) –> June 9-11
4-star: No. 356 overall, No. 22 TE
Kevin Heywood (OT) 6-7, 295 | Pope John Paul II (Royersford, PA) –> June 9-11
4-star: No. 256 overall, No. 21 OT
Dominic Kirks (DL) 6-5 250 | Villa Angela-St. Joseph (Cleveland, OH) –> June 9-11
3-star: No. 584 overall, No. 53 DL
Aba Selm (IOL) 6-4, 295 | Simon Kenton (Independence, KY) –> June 9-11 (COMMIT)
3-star: No. 592 overall, No. 44 IOL
Jordan Floyd (OT) 6-7, 260 | Parkview (Atlanta, GA) –> June 9-11
3-star: No. 637 overall, No. 44 OT
Crews Law (LB) 6-1, 215 | CPA (Nashville, TN) –> June 9-11
3-star: No. 721 overall, No. 78 LB
Hayes Johnson (OT) 6-3, 295 | Taylor County (Campbellsville, KY) –> June 9-11 (COMMIT)
3-star: No. 972 overall, No. 70 OT
Willie Rodriguez (TE) 6-4, 225 | Covington Catholic -> June 9-11
3-star: No. 1,023 overall, No. 51 TE
Cam Dooley (ATH) 6-4, 195 | Valley (Valley, AL) –> June 9-11
3-star
Fred Johnson (OT) 6-4, 310 | Glenville (Cleveland, OH) –> June 9-11
3-star
Vaboue Toure (S) 6-0, 190 | Irvington (Irvington, NJ) –> June 13-15
4-star: No. 254 overall, No. 23 S
Antonio White (WR) 6-2, 175 | Parkview (Lilburn, GA) –> June 13-15
3-star: No. 1,058 overall, No. 148 WR
Jac'Qwan McRoy (OT) 6-8, 340 | Clay-Chalkville (Pinson, AL) –> June 16-18
4-star: No. 179 overall, No. 14 OT
Johann Cardenas (RB) 6-1, 217 | St. Thomas (Houston, TX) –> June 16-18
4-star: No. 310 overall, No. 25 RB
Dominic Nichols (EDGE) 6-5, 240 | Oakdale (Ijamsville, MD) –> June 16-18
4-star: No. 361 overall, No. 27 EDGE
Tovani Mizell (RB) 6-1, 195 | DeMatha Catholic (Fort Lauderdale, FL) -> June 16-18
3-star: No. 447 overall, No. 38 RB
Kendall Jackson (DL) 6-3, 245 | F. W. Buchholz (Gainesville, FL) –> June 16-18
3-star: No. 488 overall, No. 40 DL
Raphael Dunn (S) 6-5, 210 | The Lawrenceville School (Trenton, NJ) –> June 16-18
3-star: No. 647 overall, No. 67 S
Cam Monterio (WR) 6-3, 180 | Brockton (Brockton, MA) –> June 16-18
3-star: No. 722 overall, No. 104 WR
Caleb Redd (EDGE) 6-4, 220 | De Smet (St. Louis) –> June 16-18
3-star: No. 832 overall, No. 58 EDGE
Jaden Smith (LB) 6-2, 195 | West Charlotte (Charlotte, NC) –> June 16-18
3-star
Bam Adebayo, Heat look to finish off Celtics
The eighth-seeded Miami Heat couldn't pull off the sweep of the two-seeded Boston Celtics on Tuesday, but Bam Adebayo and company can still finish off the series on Thursday. Miami came out flat in an ugly Game 4 loss, especially Adebayo, who played arguably his worst outing of the postseason thus far.
Alongside Jimmy Butler, the former Wildcat will have a chance for redemption in Boston later tonight. Game 5 is set for 8:30 p.m. EST on TNT with the Celtics coming in as an 8-point favorite. Miami is looking to make its second NBA Finals appearance in the last four years while Boston is looking to make it back for the second straight time.
Tom Leach inducted into Kentucky Sports Hall of Fame
Tom Leach was one of five inductees to the Kentucky Sports Hall of Fame (KSHOF), which was announced on Wednesday.
Leach has served as the play-by-play announcer for Kentucky Football since 1997 and men's basketball since 2001. The 2023 KSHOF class also includes journalist Rick Bozich, former UK diving coach and KHSAA commissioner Brigid DeVries, former Mason County standout and Tennessee star Chris Lofton, and Louisville native and three-time Super Bowl champion Bubba Paris.
In addition to calling UK games, Leach also hosts a daily radio show, "The Leach Report," and produces "Sunday Morning Sportstalk" on WLAP. He also covers horse racing and has authored two books, "Rich Tradition" in 2009, telling the story of Rich Brooks' revival of the UK football program, and "Two Decades Behind the Scenes," which he co-wrote with his late broadcasting partner Mike Pratt about their 20-year run of calling UK games together. Leach is a 1979 graduate of Bourbon County High School and a 1983 graduate of the University of Kentucky.
Subscribe to the KSR YouTube Channel for press conferences, interviews, original shows, fan features, and exclusive content.
Draxl bounced in Sweet 16
The Kentucky men's tennis season has officially come to a close after Liam Draxl lost in the singles portion of the NCAA Tournament. Draxl went the furthest of Kentucky's three representatives in the tournament, beating UNC's Brian Cernoch (6-0, 6-4) and TCU's Jake Fearnley (2-6, 6-3, 6-3) before falling to Stanford's Arthur Fery 6-1, 6-1, in the Sweet 16 at the USTA National Campus in Orlando on Wednesday.
As for the entire team, Kentucky beat Stanford to advance to the NCAA quarterfinals in Orlando but ultimately lost to Virginia 4-2 in a rematch of last season's title game. It was the sixth time the 'Cats have reached the quarterfinals and marks the first time in which they were among the final eight teams in two consecutive seasons after reaching the national championship match a year ago.
The future is still very bright for Kentucky tennis.
Rhyne Howard, Karl-Anthony Towns throw out first pitches
Two of Kentucky basketball's finest hit the diamond this week to try their hand at some baseball. Both Rhyne Howard of the WNBA's Atlanta Dream and Karl-Anthony Towns of the NBA's Minnesota Timberwolves were asked to toss out ceremonial first pitches for the Atlanta Braves and New York Yankees, respectively.
Now we have to ask: who has the better fastball? Howard might be the winner in this head-to-head battle.
Take advantage of our KSR+ Launch Special and join the conversation on KSBoard, the KSR+ Message Board.