KSR Today: Washington Watch, New Rankings, and More Monday Things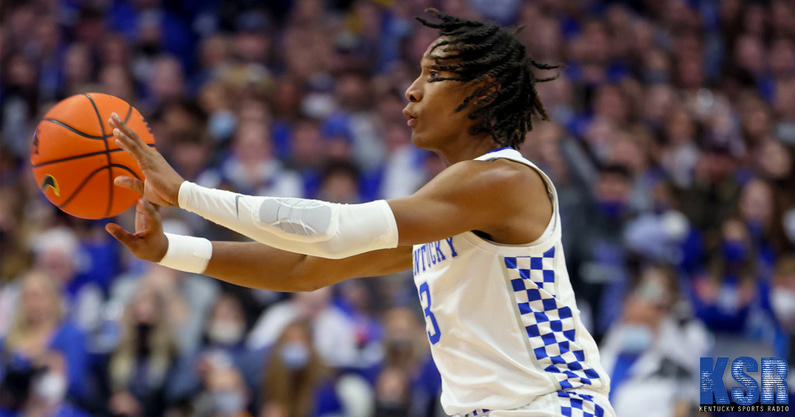 Good morning and Happy Monday to all of the loyal Kentucky-Sports-Radio-dot-com readers out there and to anyone here by accident and wondering where you are. Welcome. It's good to have you. Feel free to take a look around. I think there is some coffee back there by the new Citrus Bowl poster. Help yourself.
To get you started on the right foot today, we have the regular Monday rundown; you know, things from the weekend and some of what's ahead today. But first, an important message for the Kentucky Wildcats/Cincinnati Bengals crossover fans out there:
Titan Up.
I can't believe we have Titans-Bengals in the AFC Divisional Round next weekend. Saturday at 4:30, immediately following Kentucky Basketball at Auburn. What a day we have ahead.
Titan Up.
More things to know…
UK Women lost at No. 5 Tennessee by a lot
The script was flipped when Kentucky and Tennessee played a women's basketball game on Sunday. The Lady Vols hosted No. 19 Kentucky in Thompson-Boling and avenged Saturday's men's loss with a 26-point defeat of the Wildcats. The 58-84 defeat was the second straight SEC loss for Kentucky, who at one point led by six in Knoxville. Rhyne Howard had 24 on 11-of-24 shooting from the field in the loss.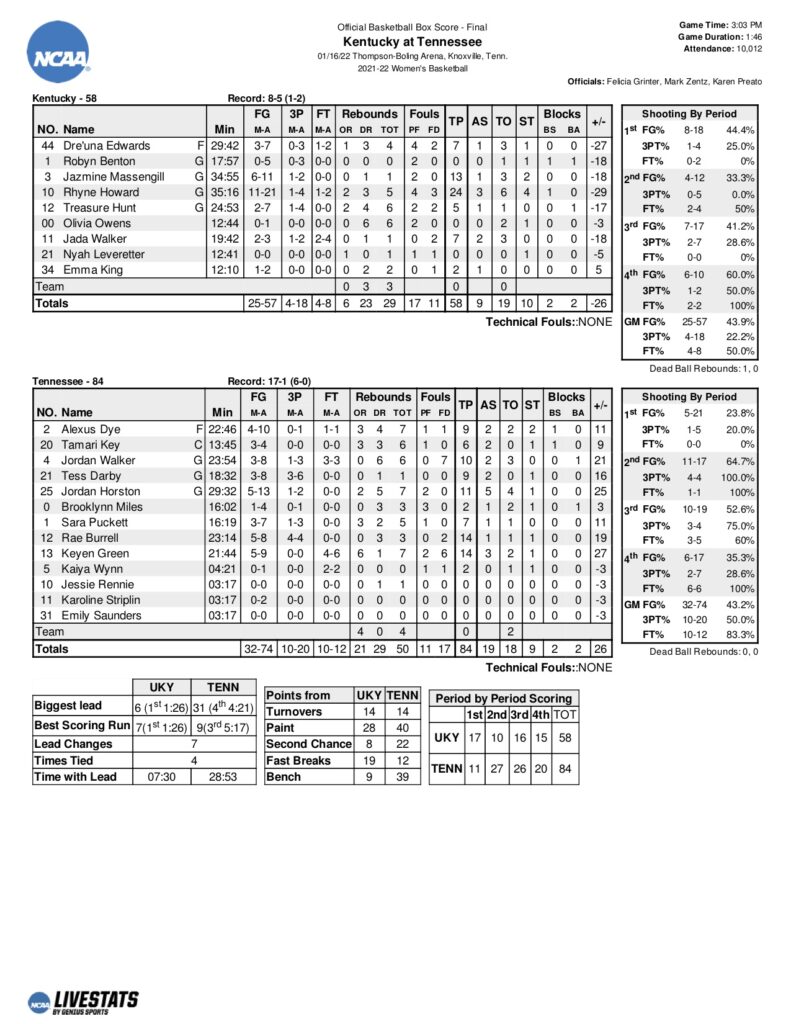 Kentucky returns to Memorial Coliseum this Thursday to host Florida. It's the first home game with fans since December 19.
John Calipari will be live on your radio tonight
There is no Monday press conference to follow as this week's Kentucky Basketball game is on Wednesday, not Tuesday; but John Calipari still has some things to say. Later tonight, he will sit alongside Tom Leach for his weekly call-in show. They'll be live on the UK Sports Network from 6-7 p.m. and KSR will listen in to let you know anything you missed if you can't tune in.
TyTy Washington chasing fourth straight SEC weekly award
TyTy Washington and Auburn star Jabari Smith Jr. are once again competing for the SEC Freshman of the Week award. If Washington can win it or even a share of it, it will mark four consecutive weeks for the Kentucky guard as the SEC's Freshman of the Week. Two weeks ago, Washington and Smith shared the trophy.
Looking at the numbers, Washington averaged 21.5 points and 4.5 assists in wins over Vanderbilt and Tennessee with 16-of-24 shooting efficiency in those games. Smith Jr. averaged 20 points and 5 rebounds in road wins at Alabama and Ole Miss. They're also in the conversation for SEC Player of the Week, but Mississippi State's Iverson Molinar is eyeing that trophy with games of 28 and 24 points, both wins for the Bulldogs.
If Washington can take another SEC Freshman trophy or even a share of it, he'll match Devin Booker in 2014-15 with four in a row and five in one season. Nobody in the league has done it since.
New college basketball rankings coming soon
Kentucky is up to No. 4 in the KenPom rankings and in a few hours we will see where the Wildcats land in the new Associated Press and USA Today Coaches' polls. Currently at No. 18 and 17 on those charts, Kentucky stands to climb with a new 28-point win over Tennessee on its resume. However, the teams ranked ahead of Kentucky didn't lend much help as most went undefeated since last week's update. The Cats will need to do some hurdling on this week's ballots.
Hoophall Classic Headlines
With all of the fun in Rupp Arena on Saturday and then a full day of NFL Playoffs on Sunday, you may have missed all of the happenings up in Springfield, Massachusetts, where some of the top high school prospects in the nation are competing in the Hoophall Classic. KSR has boots on the ground at the five-day tournament with Jack Pilgrim and Zack Geoghegan reporting from the scene. They'll have content throughout today's final round of games from the Naismith Hall of Fame; until then, play catch-up on what they have written to date.
— "KSR's Kentucky Basketball scouting reports from Hoophall Classic"
— "Kentucky staying consistent with 5-star wing KJ Evans following offer"
— "Chris Livingston shines at HoopHall Classic in front of John Calipari"
— "5-star PG DJ Wagner likes Kentucky, enjoying the recruiting process"
Happy Birthday, Sahvir Wheeler!
Kentucky's All-SEC point guard turns 21 years old today so say hello if you see him on campus or wherever the team takes him out to celebrate tonight.
The birthday boy is currently ranked first in the conference and third in the country in assists per game (7.3). On Saturday, he earned game MVP honors with 21 points and eight assists in his comeback from Tom Crean's chokehold.
UK Rifle made history on Sunday
Kentucky Rifle rewrote the record books yesterday with the highest team score in NCAA history. In a match against NC State at West Point, of all places, Kentucky posted a team aggregate score of 4,752, a new school and NCAA record.
Helping the Wildcats get there, senior Will Shaner—who won a gold medal last summer—matched the NCAA individual record with an aggregate score of 1,195, his new career-high. In air rifle, junior Mary Tucker had a perfect 600, the second perfect score of her career. Tucker won silver in last year's Olympics.
I'll be honest, I don't know a lot about what I'm saying here so read the UKAthletics.com story to gain a full appreciation for Kentucky Rifle's record Sunday. Congrats to longtime coach Harry Mullins and his team.
Tune in to KSR at 10 a.m.
Matt Jones is somewhere in Texas, I think, and Ryan Lemond is plugged in from his couch in Lexington. In Louisville, Shannon The Dude is running the board to keep them connected for two hours of Kentucky Sports Radio. Tune in.