KSR Today: Will Levis' calves and Kentucky MBB out recruiting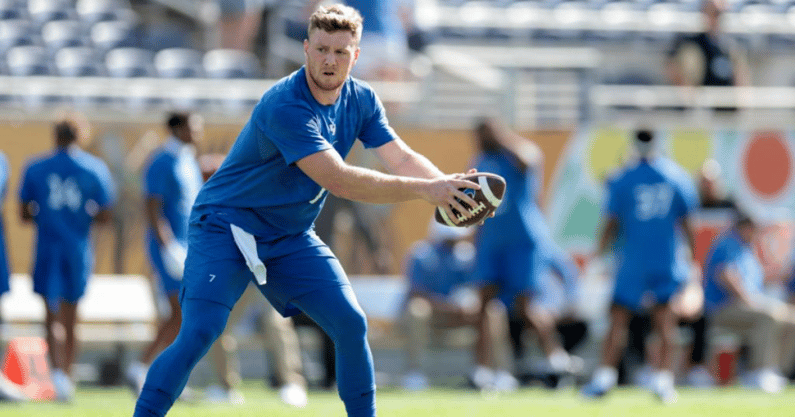 Good morning, folks! A happy Sunday to you all. Surprise, surprise, it's going to be another toasty one in the Bluegrass State, but it's the summer now. Go outside. Be alive. Embrace the sunburn. What else do you have to do? (Besides checking in on your friends over at KSR dot com throughout the day, of course)
Enough chit-chat. Let's dive right into what you need to know ahead of your Sunday.
Will Levis standing out at Manning Passing Academy
The year of Will Levis continues into the summer.
The Kentucky signal-caller is spending his week in Peyton and Eli Manning's back pocket. One of 40+ college quarterbacks attending the Manning Passing Academy this week in Louisiana, Levis is trying to learn as much as he possibly can from the unique experience.
"I want to be a sponge and soak up as much information as I can from these guys," he told reporters this week. "Every one of these quarterbacks has something we can learn from each other. And obviously Peyton and Eli, with their experience, it's so invaluable. To ask them questions — I'm making sure I am spending as much time as I can without bugging them too much. I just can't wait to take advantage of this."
Serving as a camp counselor at Nicholls State through Sunday, Levis was one of the best of the best in Friday's Air-It-Out Challenge. In the skills competition between all of the college quarterbacks on campus, Levis advanced to the finals against Texas A&M's Max Johnson.
On3's Charles Power was at the camp to soak in all of the action. Here's what he wrote about Levis, who was one of the camp's standouts. Spoiler: Levis has great calves.
Will Levis has received considerable off-season hype as a potential top ten pick in next year's NFL Draft. It's easy to see why after watching him throw in person at the Manning Passing Academy. First off, Levis immediately sticks out among the group from a stature and size perspective. He has a muscled build, looking to be over 6-foot-3, 230 pounds. Event emcee Cooper Manning awarded him with "best calves at the camp."

The ball jumps out of Levis' hand. He showed the best combination of a quick release and velocity of all the quarterbacks on Friday. Levis is able to access the entire field with his arm strength. He didn't have to strain to drive the ball 60-plus yards. Levis tested as a top athlete as a high school prospect and looks to have maintained those explosive qualities. There's no question the Kentucky quarterback's physical tools are top shelf.

Charles Power, On3
But the real question is: which quarterback throws a football better with their left hand?
John Calipari offers Travis Perry
How's this for a change in recruiting pace?
Following an unofficial visit to Lexington this weekend, Lyon County standout Travis Perry picked up a scholarship from John Calipari and the UK coaching staff. The 6-foot-1 point guard announced the news Saturday afternoon.
Contact with Kentucky ramped up following a standout performance at the Titans-Rockets Shootout in Shelbyville, KY last weekend. Calipari and the UK staff reached out to express interest, with an unofficial visit scheduled shortly after.
"Travis played pretty well on Saturday and Sunday both, but luckily Coach Cal was there for the Sunday game and got to watch him play," Perry's father, Ryan, told KSR. "I think it was the first time Coach Cal has gotten to see him play. Travis had a good afternoon and played well, then we got some contact from the Kentucky coaching staff, they got our contact information, that kind of stuff. We just got in touch, had a telephone call about our whole high school team, how we play, all that kind of stuff. Then we talked about Travis — I think the staff that was there thought Travis played pretty well. We got some interest that way, so we're gonna go up, talk to them, take a look at campus. This (past) weekend is kind of when it all went down."
Perry marks the fifth class of 2024 prospect to earn an offer from the 'Cats, although he is the only one not ranked by On3. The other four are all considered to be among the On3 Consensus' top 10 recruits: Ian Jackson, Tre Johnson, Isaiah Elohim, and Karter Knox. Calipari's aggressive recruiting approach with rising high school juniors to begin the contact period continues.
Kentucky watches Booker and Edwards
Speaking of recruiting… Calipari isn't just ramping up his efforts with the '24 class. He's also trying to put the finishing touches on his '23 class, which now has two commits on board following Robert Dillingham's Friday night decision (Reed Sheppard being the other).
On Saturday, Calipari traveled northeast to watch five-star Justin Edwards suit up for Imhotep Institute (PA), according to Ari Rosenfeld. Considered a top 10 talent per the On3 Consensus, the 6-foot-7 wing has been trending towards Tennessee over the last month or so, but Kentucky has made multiple visits to watch Edwards play during that span.
Also on Saturday, assistant coach Orlando Antigua went to Indiana in order to watch new five-star Xavier Booker play for his Cathedral Catholic (IN) program. This is the second consecutive weekend that UK has sent someone to watch Booker play, although no offer has come in yet for the 6-foot-10 stretch big man. Following an impressive spring, he's jumped from a relatively unknown prospect to a clear-cut top 10 player in the '23 class.
As a side note, I should also mention another '23 center on Kentucky's radar, Ugonna Kingsley, who has seen a similar rise in popularity to that of Booker over the last few months. The 6-foot-11 elite rim protector is now the No. 5 overall recruit in On3's individual rankings and has been hearing from UK as of late. But how likely is he to commit to the 'Cats? Well, it's apparently not all that unlikely. In fact, earlier this week, Rivals national basketball analyst Travis Graf placed a pick in favor of Kingsley choosing UK.
Something to keep an eye on…