KSR's Ultimate 2022 NFL Draft Guide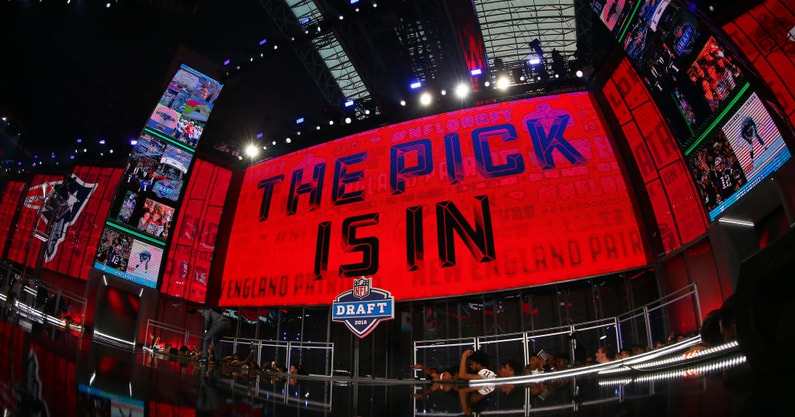 We have reached the biggest non-game event of the sports calendar. On Thursday evening, the NFL Draft will take center stage over three days with 262 picks stretched out over seven rounds. It is the Super Bowl for those in the scouting world as the next stars of the NFL are picked wisely or unwisely by professional franchises.
Entering the spectacle, the Kentucky football program has seven players who have a realistic chance at hearing their names called throughout the draft. To help get the Big Blue Nation prepared for the event, we have put together another draft guide to give you a quality reference to get prepared for a wild weekend.
Kentucky likely won't have a player go off the board on the first night, but there will still be plenty of buzz in Las Vegas coming through the television screens at home. KSR's Ultimate 2022 NFL Draft Guide's goal is to get you prepared for the entirety of the event.
Storylines, buzz, advanced stats, team fits, and pick projections are all right here. Let's dive in.
Day One
1.) Jacksonville Jaguars
2.) Detroit Lions
3.) Houston Texans
4.) New York Jets
5.) New York Giants
6.) Carolina Panthers
7.) New York Giants
8.) Atlanta Falcons
9.) Seattle Seahawks
10.) New York Jets
11.) Washington Commanders
12.) Minnesota Vikings
13.) Houston Texans
14.) Baltimore Ravens
15.) Philadelphia Eagles
16.) New Orleans Saints
17.) Los Angeles Chargers
18.) Philadelphia Eagles
19.) New Orleans Saints
20.) Pittsburgh Steelers
21.) New England Patriots
22.) Green Bay Packers
23.) Arizona Cardinals
24.) Dallas Cowboys
25.) Buffalo Bills
26.) Tennessee Titans
27.) Tampa Bay Buccaneers
28.) Green Bay Packers
29.) Kansas City Chiefs
30.) Kansas City Chiefs
31.) Cincinnati Bengals
32.) Detroit Lions
All eyes are on the Jacksonville Jaguars and that means some high quality entertainment. No one seems to have any real clue what the AFC South franchise will do at No. 1 overall, but it appears to be down to two candidates: Aidan Hutchinson (EDGE, Michigan) and Travon Walker (EDGE, Georgia). There are rumors circulating that general manager Trent Baalke prefers Walker's traits over Hutchinson's production.
It's easy to understand why.
There is much drama surrounding the top pick, but with the Houston Texans on the clock at No. 3 feels like where the draft will officially start. At that point, premium prospects such as Kayvon Thibodeaux (EDGE, Oregon) Ikem Ekwonu (T, NC State), Evan Neal (T, Alabama), Ahmad Gardner (CB, Cincinnati), and Kyle Hamilton (S, Notre Dame) will start to come off the board.
After that, the run on wideouts should be very interesting to monitor. Jameson Williams (Alabama) is getting some late buzz while Garrett Wilson (Ohio State) and Drake London (USC) were the previous top contenders for WR1. Elsewhere, Chris Olave (Ohio State), Treylon Burks (Arkansas), and Jahan Dotson (Penn State) should all go off the board on Thursday. Monitoring how the Chiefs and Packers manage this position at the end of first round will be intriguing. Star quarterbacks — Patrick Mahomes and Aaron Rodgers — both need help at wide receiver. George Pickens (Georgia), Skyy Moore (Western Michigan), or Christian Watson (North Dakota State) could emerge as surprise late first round picks.
However, we can't get out of here without talking quarterbacks. It does not appear that a team in the top-10 will take a quarterback. That might be true for any team in the top-15. A trade up at some point should be the expectation once the draft gets into the double digits.
The Steelers are the only real clear team that appears to be in the quarterback market, and the franchise could go with the high ceiling of Malik Willis (Liberty) or the safe floor of Desmond Ridder (Cincinnati). After that, anything is up for grabs. Would the Saints or Titans get greedy and chase a quarterback? We'll find out soon but don't be surprised if former QB1 Kenny Pickett (Pittsburgh) falls out of the first round due to the fear of lack of upside.
Day Two
On Friday night, rounds two and three will take place. For my money, this is the best day of the draft as these players can have a big impact at the next level. Winning franchises usually separate themselves with efficient drafting during day two. Of the 73 picks on Friday, Kentucky will be heavily involved.
Let's take a look at the prospects that will be in play.
Josh Paschal
— 6-2, 270, EDGE
— 52 games, 37 starts, 139 tackles, 23.5 non-sack tackles for loss, 13.5 sacks, 3 forced fumbles, 3 blocked kicks
— Grades and mocks have the redshirt senior landing between rounds two and three
— SCOUTING REPORT: Josh Paschal appears to have one of the highest floors in the draft due to high-level run support ability combined with positional versatility. The prospect projects to be a player who could turn into a solid NFL starter for multiple seasons as long as the injury bug stays away due to high level intelligence and plus athleticism.
Josh Paschal's best fit will be in an odd front defense where the edge can be used in multiple techniques, and his ability to shot gaps and shed blocks will make him a valuable run defender. His pass rush value may need to come as a situational rusher as a 3-technique. The production combined with athletic testing has created real round two buzz for the All-SEC performer.
Darian Kinnard
— 6-5, 328, G/T
— 46 games, 39 starts, 12th consensus All-American in Kentucky football history
— Grades and mocks have the senior landing between rounds two and three
— SCOUTING REPORT: Darian Kinnard looks the part stepping off the bus. Standing over 6-foot-5 and checking in at 320-plus pounds with nearly a seven-foot wingspan and very large hands, this appears to be a prototypical offensive tackle. However, there are some concerns.
In pass protection, Kinnard tends to overset without the use of proper footwork. His punch placement is also off, and the feet do not keep up with the upper half. Playing with a nasty streak and motor, Kinnard is one of the best drive blockers in this class, and his size comes into play here. Due to this, many think he will be better suited long-term at guard as the run block strengths will be enhanced and the footwork/hand placement issues will be less of an issue in pass protection due to playing in more of a confined space.
Wan'Dale Robinson
— 5-8, 178, WR
— 31 games, 25 starts, 195 receptions, 2,248 yards, 10 touchdowns
— 54.1% receiving success rate, 19.9% explosive catch rate, 45.2% first down/touchdown rate at Kentucky
— Grades and mocks have the junior landing in the third round
— SCOUTING REPORT: Wan'Dale Robinson plays much bigger than your typical 5-foot-8 receiver. With the ball in his hands, Robinson is explosive in space with an excellent dead leg move that often allows him to create space from defenders in those open-field situations. Upon contact, Robinson does a good job absorbing blows and can oftentimes fall forward to collect extra yards. In the passing game, Robinson's short-area quickness out of breaks allows him to create separation, and that often makes him a tough cover both in-breaking and out-breaking concepts.
With plus athleticism to go along with short-area burst and football instincts, Robinson can be a solid option for an NFL offense out the slot, but windows could be smaller for quarterbacks at the next level due to the sheer lack of size for the receiver.
Luke Fortner
— 6-4, 307 pounds, iOL
— 55 games, 36 starts, mechanical engineering degree, master's degree in aerospace engineering, MBA
— Grades and mocks have the super senior landing between rounds three and four
— SCOUTING REPORT: Luke Fortner plays with strong hand placement tied with good footwork that leads to success in multiple blocking schemes. The center displays play strength when facing power players in both run and pass concepts but has enough agility to complete reach blocks. Thanks to a good base, Fortner plays with balance and that leads to success when combined with his efficient hand placement.
The super senior might be best suited in an outside zone scheme at the next level, but the interior player has proven to be successful in multiple schemes. Look for wide zone teams — Rams, Bengals, Browns, 49ers, Dolphins, Jets, Packers, Titans, Falcons — to potentially target Fortner in the mid-rounds.
Day Three
On Saturday, the draft will be in marathon mode for eight hours as four rounds go off the board at a rapid rate. After a busy day two, Kentucky will have a few prospects involved during the final day.
Dare Rosenthal
— 6-6, 306 pounds, T
— 24 games, 20 starts at both Kentucky and LSU
— Grades have the redshirt junior landing between rounds five and six
— SCOUTING REPORT: Dare Rosenthal has very good feet and looks comfortable operating in pass sets using his athleticism to his advantage but quite often his punch arsenal lacks both accuracy and power. This allows defenders to get inside him and eventually win reps with power more often than not.
In the run game, Rosenthal can latch on if the punch is not missed but there is not a lot of power in his lower half. Therefore, drive blocks are often stoned. The prospect could be a great fit in a zone scheme due to the athleticism and movement skills. Rosenthal has high potential as a reach blocker, and those athletic traits give him tons of room for growth in pass protection.
Yusuf Corker
— 6-0, 203, S
— 50 games, 37 starts, 240 tackles, 5.5 non-sack tackles for loss, 14 PBUs, 3 INTs
— Grades have the redshirt senior landing between rounds five and six
— SCOUTING REPORT: Yusuf Corker was very comfortable playing in the box as an extra run defender. The safety flashed some real value as a blitzer as he looked to time snap counts on simulated pressures and fired without hesitation on stunt calls. There should have been more interceptions in his high volume of snaps, but the safety made a good jump in 2021 making more plays on the ball despite not recording an interception.
Due to his willingness to play downhill and seek contact, Corker will have plus value as a special teams performer where the job is to run and find the football. High football intelligence will get him on many draft boards as day three rolls on.
Marquan McCall
— 6-2, 354, Nose
— 40 games, 11 starts, 57 tackles, 1.5 sacks, 8.5 non-sack tackles for loss
— Grades have the senior landing between rounds six and seven
— SCOUTING REPORT: Marquan McCall is a space-eater along the interior of the line of scrimmage that is difficult to move. At his best, McCall has potential as a two-gap run-stuffing defensive tackle who showed some burst at the Shrine Bowl that could give him some pass rush value.
McCall still needs some work on hand technique, but when he gets everything right this can be a dominant zero technique due to his sheer size and play strength. However, endurance is a huge question as McCall has had to work very hard to keep his weight down in college.
Luckett's Favorites
In many ways, the draft is in my wheelhouse. It's where high school recruiting meets college football production while projecting how players fit into NFL schemes and organizations. We all love transactions — recruiting, transfer portal, free agency — and the NFL Draft is the biggest transaction event of the year.
Usually a few of you devoted readers ask me yearly who are some guys that need to be paid attention to as the draft progresses. So this year in our draft guide I decided to pick some of my favorites of the class on a round per round basis. Let's bookmark this and see if these guys stick at the next level.
***These projections were based off of grades done by both Dane Brugler (The Athletic) and Jordan Reid (ESPN).***
— 1st Round: Garrett Wilson (WR, Ohio State), Kyle Hamilton (S, Notre Dame), Zion Johnson (iOL, Boston College), George Karlaftis (EDGE, Purdue)
— 2nd Round: Jalen Pitre (S, Baylor), Jaquan Brisker (S, Penn State), Boye Mafe (EDGE, Minnesota), Nick Cross (S, Maryland)
— 3rd Round: James Cook (RB, Georgia), Chad Muma (LB, Wyoming), Cam Jurgens (C, Nebraska), Leo Chenal (LB, Wisconsin)
— 4th Round: Zach Tom (iOL, Wake Forest), Romeo Doubs (WR, Nevada), Charlie Kolar (TE, Iowa State) Verone McKinley III (S, Oregon)
— 5th Round: Tycen Anderson (S, Toledo), Kevin Austin Jr. (WR, Notre Dame), Cordale Flott (Nickel, LSU) Alec Lindstrom (iOL, Boston College)
— 6th Round: JoJo Domann (Nickel/Sam, Nebraska), Cade York (K, LSU), Kyron Johnson (LB/EDGE, Kansas) Micah McFadden (LB, Indiana)
— 7th Round: Baylon Spector (LB, Clemson), Jack Sanborn (LB, Wisconsin), Jermaine Waller (CB, Virginia Tech), Austin Allen (TE, Nebraska)
Enjoy the weekend, folks. I hope you don't hate your team's draft.