KSR's 2022 HoopHall Classic Recap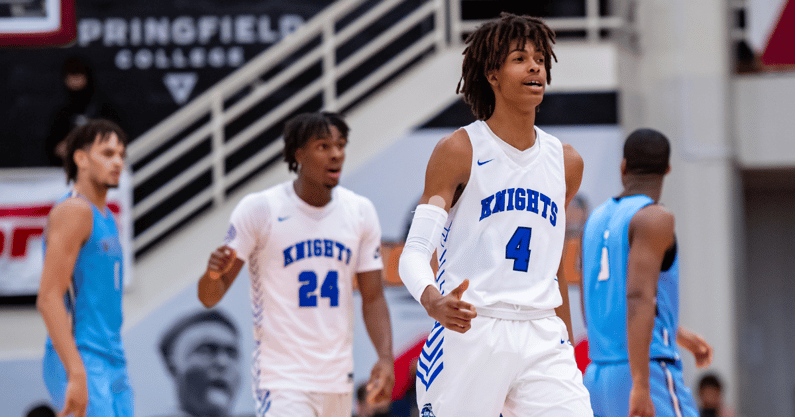 The 2022 HoopHall Classic wrapped up on Martin Luther King Jr. Day earlier this week, and KSR did not leave disappointed in the level of basketball that was put on display. Both Jack Pilgrim and Zack Geoghegan spent the holiday weekend up in Springfield, MA, home of the Basketball Hall of Fame, to check in on the best high school hoopers the country has to offer.
From Kentucky commits Chris Livingston and Skyy Clark, to down-the-road targets such as Mookie Cook and KJ Evans, to young up-and-comers such as Nassir Cunningham and Ian Jackson, there was plenty to observe and talk about from a jam-packed few days of basketball. To recap the entire event, we've dropped all the links from our content thus far, including some additional notes below from what we saw and liked.
Let's dive right in.
KSR's HoopHall Classic links
Jack Pilgrim
Zack Geoghegan
What KSR liked…
Jack Pilgrim
The Hoophall Classic is a collection of the nation's best high school talent across all age groups, all held under one roof in Springfield, MA. Loaded with powerhouse programs such as Montverde, IMG, Oak Hill, AZ Compass Prep, Prolific Prep, Link Prep and Sunrise Christian, it was four days of must-see basketball featuring the sport's biggest future stars.
Six top-10 recruits in the class of 2022 and seven top-10 recruits in the class of 2023 participated in the prestigious event, one that was sold out from Friday to Monday. Over 60 ranked prospects played across the four-day stretch. Between the high-scoring performances, highlight slams, ankle-breaking crossovers, serious defensive intensity and close finishes, it's hard to ask for a better event from start to finish in Springfield, the birthplace of basketball.
KSR attended the event to check out current Kentucky signees Chris Livingston and Skyy Clark along with the school's top future targets in DJ Wagner, KJ Evans, Mackenzie Mgbako and Mookie Cook, among numerous others.
In terms of top standouts, Cook looked every bit like the top-five prospect he's touted to be. Standing 6-7, 200 pounds, the long forward is a dynamic two-way threat capable of taking a game over on both ends of the floor. Boasting an endless motor, he prides himself on defense and looks to make winning plays on offense, even if it means not getting shots himself. A former teammate of TyTy Washington, Kentucky joins Oregon as the top college options for the five-star wing.
Elsewhere, Livingston broke through in game two, finishing with 19 points on 7-14 shooting, 1-3 from three and 4-5 from the line to go with 13 rebounds, five assists, three blocks and zero turnovers. It was a complete all-around performance for the Kentucky signee, one where he was assertive offensively and engaged defensively. Carrying a 6-7, 215-pound frame, Livingston is a mismatch nightmare when he wants to be. He's simply too strong, athletic and skilled to be stopped when he has a full head of steam off the dribble and in transition. His jump shot wasn't falling, but it's fundamentally sound with no clear hitches and he's growing more confident taking it. The future Wildcat played up to his top-10 ranking in Springfield.
Mgbako is an interesting player, one I have a few questions about moving forward. He's a gifted shooter and pure scorer in the midrange and from deep, thriving particularly in catch-and-shoot opportunities. That part of his game is clearly ready for college, hence why he's listed as a consensus top-five prospect in the nation. That being said, he's a bit of a tweener at 6-8, 210 pounds with limited athleticism and lateral quickness. He's strong, but his hips are stiff — to his credit, he did injure his MCL and tibia last season, forcing him to miss almost the entire year. Mgbako is comfortable attacking off the dribble, but touch and feel could improve. The scoring is there, but he's not a complete package quite yet. I'll be interested to see him again this spring and summer as he distances himself further from his previous injuries. As for his recruitment, Duke and Kentucky are battling at the top of his list.
I would also like to give props to Mikey Williams and the performance he had to open the event. Known as a social media sensation with hype-driven outlets following his every move, my expectations were admittedly low on the junior guard providing real production to match the oohs and ahhs that come during pregame warm-ups. I was wrong. Williams played extremely well, putting up 22 points on 8-18 shooting and 4-7 from three to go with six steals, five rebounds, four assists and just two turnovers in a win over Dereck Lively's Westtown squad. He's strong, athletic and skilled with a pure jump shot. I entered the event skeptical, but came away quite intrigued with his basketball future. The production matched the hype.
Zack Geoghegan
To quickly start off with, the event itself was one of the best I've ever covered in terms of how it was run. Everything was well-organized and players were made readily available for interviews while keeping health and safety protocols in mind. I'm a sucker for free food setups too, which helped make the 10-hour stretches of basketball a bit easier to manage. I was taking those free water bottles as if they were candy on Halloween night.
Now for the actual basketball…
Considering this was my first time watching several of these prospects in person, I didn't know entirely what to expect. I figured some new names would pop up on my radar while the five-star prospects would blow me away. For the most part, that was the case.
Naasir Cunningham perhaps made the biggest impression on me. He was one of a couple of sophomores at the event who had people leaving little doubt if he'll be a star in the class of 2024 moving forward. He's incredibly long and versatile at 6-foot-7 with the ability to score from anywhere on the floor, particularly from beyond the arc.
He needs to bulk up considerably, but there is plenty of time for him to do that before hitting the college level. Cunningham is already a borderline elite scorer at the high school level and looked widely impressive against very good, older competition. Whenever Kentucky seriously begins to look at the class of 2024, Cunningham will assuredly be near the tip-top of the Big Board.
I left equally as intrigued by five-star forward KJ Evans from the class of 2023, who comes off the bench behind Montverde Academy's senior starting five that consists of two five-stars and three highly-rated four-stars. That won't be the case for much longer though, as Montverde's well-respected head coach Kevin Boyle believes Evans is due for a major breakout next season as his minutes increase. But even in the short stints of clock he earned at HoopHall, there was plenty to love about Evans' long-term potential.
His 6-foot-9, 200-pound frame is incredibly agile and brings back memories of players in a similar archetype such as Chris Bosh. Evans is lanky, runs the floor, can score off the dribble, and can knock down shots from deep when asked. There's a very good reason he's already been on Kentucky's campus and subsequently picked up an offer–the coaching staff sees the potential in Evans. He's among the top three or so recruits from this class that I would personally love to see in a Kentucky jersey.
Lastly, I want to talk about two important point guard options for Kentucky: current 2022 commit Skyy Clark and 2023 target DJ Wagner. Both had up-and-down performances over the weekend, leaving me with more questions than I initially had when I first arrived in Springfield.
Starting with Clark, it's almost unfair to judge him so quickly after his five-month layoff due to a serious knee injury. But that being said, he hasn't exactly looked the part of a borderline five-star prospect in his first several games back. His impact as the floor general on an admittedly stacked Montverde team has been limited. Clark's vision is clearly one of his strongest suits, but otherwise, he's struggled to find his shooting stroke and hasn't been all that aggressive hunting for his shot. On defense, he doesn't make the impact you might expect out of a 6-foot-3, 200-pound guard. He simply looks and plays a step slow, but again, coming off a brutal injury should grant him some leeway.
Moving on to Wagner, it's obvious that he brings a level of shot-making that not many in all of high school basketball can supply. While the shot wasn't always falling, his ability to knife through defenses and finesse his way around defenders gave off Ja Morant-type vibes. That being said, he still shot just 14-39 from the floor (35.9 percent) and 5-16 from deep (31.3 percent) in two outings for Camden High School. Some shots appeared as if he wasn't even looking at the rim when the ball left his hands. It resulted in some bad shot attempts that left a lot to be desired.
But there is still a very good reason he's the consensus No. 1 player in 2023. Wagner's speed and quickness is tough to match and he has incredible instincts playing the passing lanes. Keeping up with him in the open floor is a task not meant many. He's only a junior, too, meaning there is plenty of room for development when it comes to learning when to take the right shots. Pairing him next to Reed Sheppard as Kentucky's future backcourt is still an incredibly scary (in a good way) thought.
Non-Kentucky targets who impressed
Jack Pilgrim
Class of 2022: Adem Bona [UCLA commit] 5-star, No. 8
Class of 2022: Kyle Filipowski [Duke commit] 5-star, No. 10
Class of 2022: Dillon Mitchell [Texas commit] 4-star, No. 24
Class of 2022: Chance Westry [Auburn commit] 4-star, No. 34
Class of 2022: Bruce Thornton [Ohio State commit] 4-star, No. 44
Class of 2022: Denver Anglin [Georgetown] 4-star, No. 95
Class of 2023: Mikey Williams [undecided] 5-star, No. 13
Class of 2023: Kylan Boswell [undecided] 5-star, No. 10
Class of 2023: Marvel Allen [LSU commit] 4-star, No. 18
Zack Geoghegan
Class of 2022: Kyle Filipowski [Duke commit] 5-star, No. 10
Class of 2022: Mark Mitchell [Duke commit] 5-star, No. 15
Class of 2022: Dillon Mitchell [Texas commit] 4-star, No. 24
Class of 2022: Gradey Dick [Kansas commit] 4-star, No. 28
Class of 2022: JJ Starling [Notre Dame commit] 4-star, No. 29
Class of 2022: Judah Mintz [undecided] 4-star, No. 64
Class of 2022: Denver Anglin [Georgetown] 4-star, No. 95
Class of 2022: Willie Lightfoot [Bowling Green] 3-star, No. 211
Class of 2023: Kylan Boswell [undecided] 5-star, No. 10
Class of 2023: Miles Rubin [undecided] NR