KSR's day two takeaways from the 2022 NBPA Top 100 Camp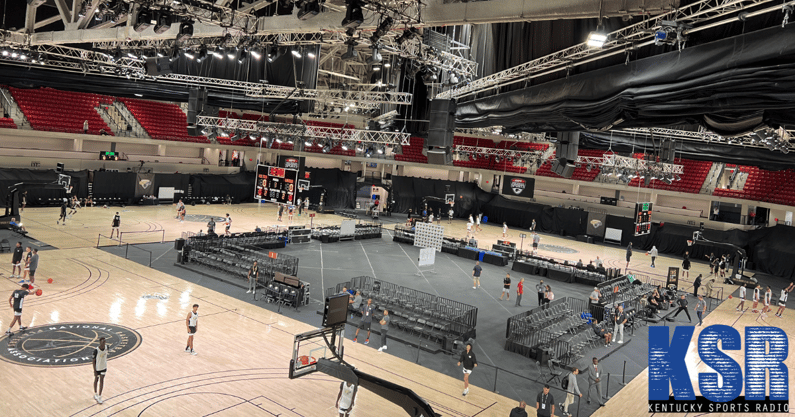 Day two of the 2022 NBPA Top 100 Camp has come to a close, with more standouts emerging in Orlando on Thursday. Both Jack Pilgrim and Zack Geoghegan were in attendance to soak it all in for KSR, following along with Kentucky's top recruiting targets and keeping an eye on who the coaching staff was watching.
What were the top takeaways on day two of the prestigious event? KSR has you covered.
Aaron Bradshaw is Mr. Consistent
The top Kentucky frontcourt target continues to prove he is one of the most consistently productive centers in the class. He opened day two with a smooth 10 points (5-9 FG), 10 rebounds and two assists in 25 minutes, then followed it up with 12 points (4-6 FG, 4-4 FT) and five rebounds in 24 minutes in game two.
His production comes primarily from inside lay-ins and dunks, along with lob catches, but his mid-range jumper continues to fall with growing consistency. He fights on the glass and finishes through contact, while also using his length and size to hold his ground on the other end of the floor. The five-star center isn't flashy — although he had a few interesting rebound-and-go opportunities in transition he finished for coast-to-coast buckets — but you know exactly what you're going to get from him when he steps on the floor.
Kentucky is the heavy favorite for Bradshaw with a decision coming in the near future.
— Jack Pilgrim
Reed Sheppard still looking to hit his groove
I'm going to be critical for a second… Kentucky commit Reed Sheppard has not looked the part of a top 50 player in the country this week in Orlando. Participating in his first major national camp event appears to have zapped him of the aggression we've grown used to seeing when he suits up for North Laurel. But this isn't Kentucky high school basketball — Sheppard is going up against the best prospects in the nation.
He admitted on Wednesday that his mindset coming into the camp wasn't about scoring as many points as possible, but rather "having a good time" and soaking in the experience. Sheppard is also committed to Kentucky, so he doesn't necessarily have as much to prove in this setting as others in front of so many college coaches.
But at the same time, he didn't look anywhere near the player I watched dominate the competition a dozen times this past season. Sheppard has struggled with his jump shot and — more shockingly — turning the ball over. Early on he was simply turning down shots he would normally take, but even once he did begin to fire, the shots just wouldn't fall. While his team defense was quite impressive and there wasn't a more positive player on the floor from either team, his performances through four games have left plenty to be desired.
Perhaps this isn't a setting we should be critically judging Sheppard, though. Again, this is his first major national event and he has little to prove to media members such as myself at this point of his high school career. He's never been someone who wants to go out and score 30-plus points every game — it happens at North Laurel out of necessity, not by personal preference.
Sheppard is still going to be a productive player at Kentucky once he arrives in Lexington for the 2022-23 season, but it's tough to ignore how the first two days have played out for him.
— Zack Geoghegan
Flory Bidunga is really, really good
Jack mentioned Flory Bidunga in yesterday's takeaways, but we have to bring him up again. He might be the most dominant big man in all of high school hoops, regardless of class.
What makes his dominance all the more surprising is his apparent lack of an offensive game outside of 3-4 feet. But that should tell you all you need to know — this kid dunks everything around the rim, inhales rebounds, and moves his feet on defense in ways that a 6-foot-9 center shouldn't. Bidunga executed back-to-back blocks directly at the rim in about two seconds, which brought the entire arena to a halt.
The only legitimate knock on his game right now is his stamina, but that will increase with more training. He hasn't even been in the United States for a full year yet. He will be a five-star in the On3 rankings very soon. Bidunga's recruitment is a bit of a mystery right now, but Kentucky is clearly interested.
— Zack Geoghegan
Welcome to the party, KJ Evans
Going into the afternoon set of games on Thursday, five-star forward KJ Evans had outings of nine points (4-8 FG, 1-3 3PT), 10 points (4-7 FG) and two points (1-11 FG, 0-5 3PT). Considered one of the most versatile and skilled bigs in the class of 2023, it's been a relatively underwhelming grassroots season for a player who has looked to turn his second-to-none potential into production. The shot attempts are always there, but the efficiency has left much to be desired.
To close out the day Thursday, though, the 6-foot-9 forward had a breakthrough, finishing with 24 points on 8-17 shooting, 4-5 from three and 4-6 from the line to go with nine rebounds, four steals, one assist and one block. He finally looked like the top-five prospect recruiting services have been listing him as for the last few years.
It's about consistency, though. He can't have 1-11 FG performances like he showed in the morning session, and he can't disappear on the perimeter for extended stretches if he's not getting touches. The potential is clear, but it can't remain potential forever.
— Jack Pilgrim