KSR's evening notes on Kentucky's stay/go decisions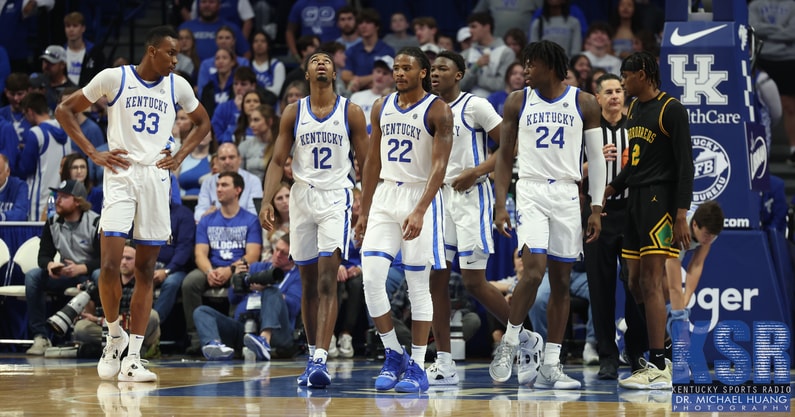 Tangible developments are finally underway for Kentucky basketball, specifically regarding the toss-up players with several options on the table. Cason Wallace (pro), Jacob Toppin (pro) and Sahvir Wheeler (transfer) are all officially gone while Ugonna Onyenso (portal) is back — those are the confirmations. From there, though, Oscar Tshiebwe, Antonio Reeves and Chris Livingston are testing the draft waters, while Daimion Collins, CJ Fredrick, Adou Thiero and Lance Ware haven't announced their future plans — the expectation at a school like UK whether there's a real decision to make or not.
As discourse ramps up regarding the latest rumors and rumblings on the remaining Wildcats, KSR has had its ears to the ground looking to come up with some answers. The result? Some good and some bad. Let's talk it over with some evening notes.
---
KSR spoke with individuals close to both Chris Livingston and Antonio Reeves this week as they navigate the draft process, which hasn't really started for either quite yet. Workouts are in the process of being scheduled, and as of this week, neither had received official feedback yet from the NBA regarding potential grades. Both players are training, but things won't ramp up until the start of May.
It is fair, though, to address what they're each looking for leading up to the May 31 withdrawal deadline for players considering a return to college. Despite recent optimism regarding Livingston's potential return, nothing has changed on his end, a source close to the freshman forward tells KSR. All options are being considered, but the NBA is and always has been his ultimate dream. If a promising path presents itself — nothing specific on what that could entail (first or second round, guaranteed contract, two-way, etc.) — that's what he's going to do.
I'll add that Livingston is not interested in the unnecessary grind of the G League. If feedback indicates he's got no shot to hear his name called, the former five-star is open to a return to college. He's not willing to kill his basketball future by turning pro just for the sake of turning pro; it has to make sense.
If you're looking for good news, there it is. On the flip side, Livingston is represented by some of the most powerful voices in basketball with Klutch Sports Group, led by superagent Rich Paul — the right-hand man of LeBron James. They may not be able to swing a first-round guarantee, but the second round of every draft is a total crapshoot. That's where teams take risks and add guys who can help them down the road, like Livingston. All it takes is one team to like what they see during the draft process and Klutch can figure out the rest in terms of working out a guaranteed deal. The Akron native will have to weigh the benefit of that route vs. coming back to college and developing into a potential lottery pick in a weak 2024 draft class — Kentucky's pitch (and hope).
Role concerns from Livingston's debut season should also be kept in mind when discussing his potential return to college, as well. A second year at Kentucky remains on the table, but some assurances would likely need to be made that the same loyalty John Calipari has shown to other returning players in the past would also be shown to the former five-star. Now or next offseason, his priority is turning his NBA dreams into reality. If he doesn't feel that can be accomplished in Lexington, the portal could be an option, with May 11 being the deadline to enter.
NBA teams and those in national basketball circles believe Livingston will ultimately keep his name in the draft. Kentucky knows it's a tough hill to climb considering Klutch's pull, but optimism remains it can convince him to stay.
As for Reeves, he's exploring the draft process thoroughly and awaiting feedback from teams, but things are much more positive regarding a potential return to Lexington. In fact, that should be seen as the expectation at this point in time.
Those close to Reeves understand he's not on the draft radar and he'd likely have to figure things out as an undrafted free agent. And the G League path with minimal financial return is not something the dynamic scoring guard is willing to entertain, certainly not when NIL is available in Lexington with one final year of eligibility. And again, the 2024 draft class is significantly worse and the odds of being selected next season are undeniably higher than now. That's a major factor, as well.
Reeves and his family will sit down with John Calipari in the not-too-distant future and talk things over, discussing the roster and anticipated role next season, along with potential NIL opportunities, before making a final decision. Assuming all goes well, as expected, the Wildcats should be returning their second-leading scorer from this past season in 2023-24.
A few quick-hitters to wrap up:
CJ Fredrick has taken some time away to clear his mind and let his body heal while considering his options. He's weighed a return to Kentucky, a potential transfer, and even the possibility of turning pro and playing overseas. Though he's loved his time in Lexington, a transfer has emerged as the likely path, one that would allow him to play an expanded role in his final season of college basketball
Though no public announcement yet, the expectation remains that Daimion Collins will hit the portal, as well, transferring closer to home
Adou Thiero's father tells KSR that his son is expected to return for his sophomore season, though no announcement has been made. As long as a path to playing time remains, no drama is expected there
Kentucky is prepared to take Hunter Dickinson's commitment if that scenario were to present itself, during his visit to Lexington this weekend or beyond. Oscar Tshiebwe remains focused on the NBA Draft, with workouts already scheduled with teams
Discuss This Article
Comments have moved.
Join the conversation and talk about this article and all things Kentucky Sports in the new KSR Message Board.
KSBoard