KSR's Friday night Kentucky football recruiting notebook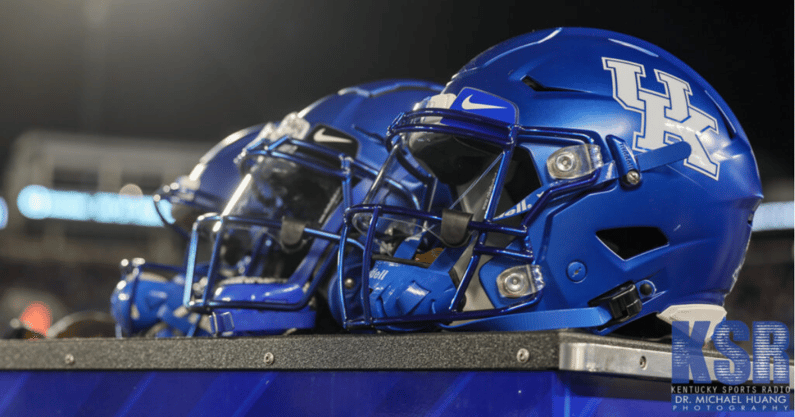 Time for our weekly recruiting update presented by our friend Andy Luedecke at MyPerfectFranchise. Andy is a huge college sports fan and franchise veteran, having owned multiple franchises and businesses. Using his expertise, he helps others find their American Dream through a very thorough consultation and evaluation process.
---
The 2022 college football season is nearing an end, but we all know that recruiting never stops. With the early signing period under a month away, Kentucky could use some momentum on the trail. The Wildcats have been offering a slew of late bloomers from the class of 2023 over the last couple of weeks, with a handful of them listed below. We'll also briefly touch on some of the prospects expected to visit Lexington this weekend for the in-state showdown between Kentucky and Louisville at Kroger Field, along with a couple of other minor notes to close out the workweek.
Let's get rolling.
Prospects recently offered by Kentucky
Class of 2023
CJ Blocker (CB) 5-10, 160 | New Caney (New Caney, TX)
3-star: No. 540 overall, No. 46 CB
November has been a life-changing month for fast-rising senior CJ Blocker. Not only did his New Caney High School (TX) team finish with an undefeated regular season record and win their district, but he's quickly become a highly sought-after prospect. Missouri, Southern California, Florida State, and now Kentucky have all offered him this month, with the 'Cats reaching out on Nov. 20. Just a few days after UK's defensive backs coach Chris Collins offered, Blocker decommitted from Utah, where he'd been a pledge since June. The likes of TCU and Michigan State have also recently offered. Blocker will visit Alabama this weekend with OVs to TCU and USC also on the docket. He is in the process of trying to set something up with UK.
Asa Newsom (LB) 6-4, 205 | Waverly-Shell Rock (Waverly, IA)
3-star: No. 584 overall, No. 57 LB
The home-state Iowa Hawkeyes have been all over Asa Newsom's recruitment, but Kentucky decided to throw its hat into the ring earlier this week. Defensive coordinator Brad White extended the scholarship to Newsom, who recently made visits to Kansas State and Minnesota. No timetable for a decision has been made.
Farradj Titikpina (DL) 6-3, 280 | (Deutschland, Germany)
An international prospect out of Germany, Farradj Titikpina picked up an offer from Kentucky's associate head coach Vince Marrow on Nov. 23. He was recently in Lexington for a visit, which resulted in him leaving town with an offer to play for the 'Cats. Titikpina also received an offer from Maryland this month after visiting the Terps and has visited Penn State, although no public offer has been announced. Ole Miss was his first Divison I offer, which he earned in June. Keep an eye on him moving forward.
Class of 2024
Zavier Mincey (S) 6-3, 180 | Mainland (Daytona Beach, FL)
3-star: No. 331 overall, No. 28 S
Kentucky offered Zavier Mincey on Nov. 22, joining a big group of the nation's top programs that have already done so. Florida, LSU, Penn State, Tennessee, Michigan State, Florida State, Wisconsin, and several others have reached out with scholarship opportunities.
Max LeBlanc (TE) 6-5, 200 | Baylor School (Chattanooga, TN)
The younger brother of Kentucky men's tennis player Alex LeBlanc, 6-foot-5 tight end Max LeBlanc could follow in his sibling's footsteps. Max was in Lexington last weekend for the Georgia game and left with an offer from Coach Marrow. LeBlanc has also earned offers this month from the likes of Coastal Carolina, Cincinnati, NC State, Duke, Missouri, Purdue, and Louisville. Prior to November, he held zero Divison I offers. This will be another prospect to watch closely.
Mello Jones (WR) 6-1, 175 | Swainsboro (Swainsboro, GA)
Continuing the theme of Kentucky offering red-hot prospects across the country, Mello Jones is up next. Just this month, he's picked up scholarships from powerhouse schools such as Alabama and Georgia. UK offered Jones on Nov. 20, a couple of days before the Crimson Tide got into the mix. He was at South Carolina last weekend to watch the Gamecocks upset Tennessee.
Deuce Walker (CB) 5-10, 175 | Salisbury (Salisbury, NC)
The fourth Divison I offer for Deuce Walker came from Kentucky's Coach Collins on Nov. 20. His previous three came from Charlotte, Duke, and Campbell. Walker has visited UK unofficially and holds a three-star rating by On3's individual rankings system.
Class of 2025
Jon Adair (OT) 6-5, 260 | Lipscomb Academy (Nashville, TN)
So far, the likes of Vanderbilt and Missouri have made sophomore offensive tackle Jon Adair a priority. He already holds offers from the SEC schools — with Missouri being his first from a Division I program — and has visited both this season. Adair did stop by Lexington this season, too, and earned an offer from Coach Marrow on Nov. 21. South Carolina is also involved in his recruitment.
Transfer options
Gabriel Plascencia (P/K) 6-1, 225 | College of San Mateo (JUCO)
Originally a Mississippi State commit from the class of 2021, Gabriel Plascencia ultimately backed off that decision in February 2022 and spent his first year out of high school in the Junior College ranks. He took a visit to UK for the Georgia last weekend and is eyeing a debut in college for the 2023 season. Plascencia is considered the No. 2 overall transfer kicker available on the market, per Kohl's rankings. San Diego State is also involved.
Expected Visitors for UL-UK
Jason Hewlett (LB) 6-3, 215 | Chaney (Youngstown, OH)
3-star: No. 742 overall, No. 75 LB
One of two '23 Youngstown, OH products expected to visit Kentucky this weekend, per 247Sports, is Jason Hewlett, who decommitted from Cincinnati (where he was a pledge for over a year) on Thanksgiving coming off his visit to Michigan last weekend. The Wolverines are trending for Hewlett, but the 'Cats will have its own shot to make a pitch when Louisville comes to town on Saturday.
DJ Waller (S) 6-3, 195 | Chaney (Youngstown, OH)
3-star: No. 1,572 overall, No. 147 S
Teammates at Chaney with Hewlett is DJ Waller, who we mentioned last week as a prospect offered by Kentucky. Previously committed to Toledo, Waller backed off that decision in mid-October and has since heard from Michigan (where he visited last weekend with Hewlett), along with the 'Cats. West Virginia also offered him in September.
Chase Spellman (QB) 6-3, 205 | Kettle Moraine (Wales, WI)
After winning a Wisconsin state championship last week, unranked quarterback Chase Spellman will visit Lexington this weekend, he announced on Twitter. Spellman underwent shoulder surgery in the 2021 offseason and is a bit of an under-the-radar recruit, but Kentucky has had eyes on him since at least the spring. He's listed as a 2023 prospect on all recruiting services but tabs himself as a '24 on social media.
Julian Murdic (QB) 6-0, 175 | Cane Ridge (Antioch, TN)
Looking a few years down the road, class of 2026 QB Julian Murdic was originally expected at Alabama this weekend but changed that to Kentucky late in the week. Ole Miss, Vanderbilt, and Middle Tennessee have all had him on campus this season.
DL transfer Jacob Lacey commits to Oklahoma
On Oct. 6, Bowling Green (KY) South Warren product Jacob Lacey decided to enter the transfer portal and spend his redshirt senior season somewhere else after a four-year run at Notre Dame. Kentucky quickly emerged as an immediate player in this transfer recruitment.
The 'Cats hosted the transfer for a visit on Oct. 15 for Kentucky's impressive 27-17 home win over Mississippi State. However, Lacey also took visits to Oklahoma and LSU in November.
Head coach Brent Venables and his coaching staff appeared to make a big impression. On Thanksgiving, Lacey ended his transfer recruitment with a commitment to Oklahoma.
Two Kentucky commits earn major honors
Earlier this week, a pair of future Kentucky Wildcats were recognized for their incredible respective seasons. Four-star WR Shamar Porter recently shared that he's been invited to this year's All-American Bowl while three-star ATH Ty Bryant was the latest in a long line of future Wildcats to win the Paul Hornung Award, which is awarded annually to the state of Kentucky's top overall football player.
Bryant is the third consecutive Frederick Douglass player to receive the Paul Hornung Award, following other current 'Cats, Dane Key and Jager Burton. The Paul Hornung is one of four annual honors awarded to the best high school football player in the state of Kentucky.
Over the years, plenty of Kentucky Wildcats have concluded their prep careers in the All-American Bowl. Vito Tisdale actually held his commitment ceremony in the middle of the 2020 game. Last year, the Wildcats had five players in the prep showcase: Alex Afari, Barion Brown, Kiyaunta Goodwin, Nik Hall, and Keaten Wade.
The All-American Bowl will be played at the Houston Astrodome Saturday, Jan. 7 at 1:00 pm on NBC.
---
Learn more about Andy Luedecke and franchise ownership through these resources:
Andy's Story
Why a Franchise
Service Based vs Brick and Mortar
Semi Absentee Ownership
The Process and How It works
Book time with Andy: Andy's Calendar