KSR's Kentucky Basketball scouting reports from Hoophall Classic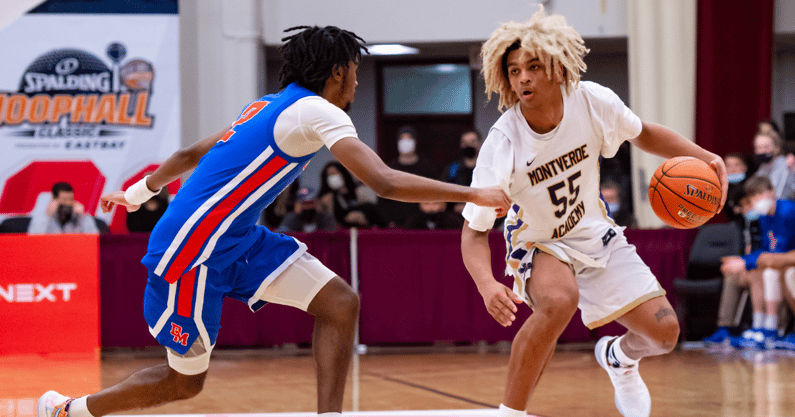 The Hoophall Classic brought the nation's best to Springfield, MA this weekend, including a slew of high-profile Kentucky signees and targets, namely in future Wildcats Chris Livington and Skyy Clark.
With so much talent participating in the prestigious high school basketball event, you already know KSR made sure to have boots on the ground. Both Jack Pilgrim and Zack Geoghegan are at the event and had the opportunity to closely watch all the recruits of interest. This is just from the first two days, though; there are still two more jam-packed days ahead.
Below is a brief, one-game scouting report on the Kentucky targets and commits that you need to know about. Let's dive right in.
Mackenzie Mgbako (2023)
Gill St. Bernard
Final stats: 5 points (2-10 FG, 1-1 3PT), seven rebounds, two assists, three turnovers.
Size: 6-8, 200 pounds
Mackenzie Mgbako boasts a college-ready body at 6-8, 200 pounds with versatility, playing a point-forward role for Gill St. Bernard. He's a strong rebounder and vocal defender with a smooth shooting stroke on the offensive end. Struggles with feel at times and is a little stiff with limited lateral quickness, but finds mismatches with his strength. Not overly athletic on either end, rather more finesse and size. Drives well coming off the left and right wings, but touch around the basket is inconsistent. Plays better through contact.
He's a bit of a tweener, a mix of the three and four positions. Identifying a clear role will be important this summer and going into his senior year.
— Jack Pilgrim
Naasir Cunningham (2024)
Gill St. Bernard
Final stats: 11 points (5-12 FG, 1-5 3PT, 0-1 FT), six rebounds, two blocks, one steal, and four turnovers.
Size: 6-7, 175 pounds
The No. 1 sophomore in the country simply oozes potential with his length and athleticism. Cunningham glides across the floor with long strides in transition and boasts a quick first step in the half-court. Gets solid lift on his jumper, but still a work in progress in terms of touch. Defensively, he's engaged and active, looking to jump the passing lanes and block shots at the rim. He's long and disruptive on that end of the floor.
Cunningham will need to add weight and he's still incredibly raw — as one could expect with a 2024 prospect — but his long-term talent is clear.
— Jack Pilgrim
Chris Livingston (2022)
Oak Hill Academy
Final stats: Seven points (2-9 FG, 0-5 3PT, 3-3 FT), eight rebounds, six blocks, three turnovers
Size: 6-7, 210 pounds
Physically, it's all there for Chris Livingston. At 6-7, 210 pounds, the Kentucky signee has a college-ready body and knows how to use it. He's physical and finishes through contact well, both in transition and in the half-court on drives to the basket. Best used as a mismatch specialist at the four, but growth as a ball-handler and shooter allows him to play on the perimeter. A four-out offense fits him well. His shot is fundamentally sound and he's confident taking it, but it needs to fall with more consistency. Strong and physical defensively, can defend four positions on the floor. Chase down artist in transition and impressive in helpside block situations.
He's an athletic and physical freak, giving him day-one impact potential in Lexington. The tools are there, but he needs to stay engaged on both ends and avoid settling for shots on the perimeter. Would like to see him assert himself and take games over more often.
— Jack Pilgrim
Skyy Clark (2022)
Montverde Academy
Final stats: 11 points (4-8 FG, 3-4 3PT), three rebounds, two assists, one steal and four turnovers
Size: 6-3, 200 pounds
Now five games into his senior campaign following ACL surgery back in July, Skyy Clark had his best offensive performance since the injury. Scoring a season-high 11 points, the future Wildcat was efficient with his shot at the rim and from outside, including three makes from deep. He's growing more confident in his body coming back from injury, stepping up to take charges and diving on the floor for loose balls. The five-star guard is dealing with some minor hip pain following Montverde's game vs. Camden a few days ago, but fought through for the solid all-around performance.
Rust is to be expected coming off major knee surgery, but Clark has bounced back as well as one could hope. He's not playing perfect basketball — he had four turnovers and could be more aggressive finding his shot — but the comfort and confidence are growing by the game.
— Jack Pilgrim
Clark is still getting his legs under him following a five-month rehab. But he's showing more and more confidence on that fully healed leg as he's beginning to take the shots that are presented to him. His feel for the game is still unbelievably impressive and he can still dictate the pace of a game by himself. The willingness to try and take charges (he attempted two on Saturday, both of which went against him but could have–and probably should have–easily been called the other way) is impressive considering what he's gone through recently. Clark finds ways to impact the game without doing it through the simple box score stats.
— Zack Geoghegan
KJ Evans (2023)
Montverde Academy
Final stats: 3 points (1-2 FG), five rebounds, one assist, one block
Size: 6-8, 190 pounds
Playing just nine minutes off the bench for an absolutely loaded Montverde Academy team, Kwame "KJ" Evans Jr. still managed to flex his unlimited potential. He's a thin 190 pounds, but the 6-foot-8 frame combined with ball-handling abilities make him a unique prospect in the class of 2023 and worthy of his five-star ranking. Evans posted three points, five rebounds, one assist, one block, and one steal in his limited playing time. He's a player that expects to blow up on the national stage next year as a senior once the slew of future Power 5 players in front of him head off to college.
— Zack Geoghegan
Mookie Cook (2023)
AZ Compass Prep
Final stats: 16 points (6-7 FG, 3-4 3PT), six rebounds, two assists, one block, one steal
Size: 6-7, 210 pounds
The first thing that sticks out about Marquis "Mookie" Cook when you see him in person is his frame. Clocking in at 6-foot-7, 200 pounds (he's probably closer to 215 pounds), the five-star junior already physically looks the part of a Power 5 starter. Against National Christian Academy, Cook proved that he knows how to use his size to his advantage. He posted 16 points, six rebounds, one assist, and one steal (with zero turnovers) on 6-7 shooting, including a 3-4 clip from beyond the arc. His level-headed decision-making was impressive for someone his age. But it's on defense where his body really showcases itself. Cook prides himself on stopping the other team and that's obvious when he plays. His length, quickness, and athleticism make him incredibly tough to beat. There's an argument to be made he's the most impactful two-way player in the class of 2023.
— Zack Geoghegan
DJ Wagner (2023)
Camden High School
Final stats: 12 points (5-20 FG, 2-9 3PT), four rebounds, four steals, five turnovers
Size: 6-3, 170 pounds
A 12-4-4 stat line doesn't tell the story of Wagner's performance in a 28-point loss for his Camden squad. The nation's No. 1 junior struggled to get much of anything going, misfiring on shots at all three levels with heavy pressure all night. Coming off a six-point effort vs. Montverde this week — his career-low — those same efficiency issues came into play again in Springfield. He boasts a tight handle with quick twitch and got to his spots, but simply couldn't get his shot to fall. As momentum built for Calvary Christian, Wagner's play deteriorated as he looked to shoot Camden back into the game.
The five-star guard has tight handles and quickness with the ability to score in bunches, but as he gets older and teams continue to zero in on him defensively, he's got to find a way to overcome the pressure that comes with being No. 1.
— Jack Pilgrim
Admittedly, it was not the best outing from the top-ranked player from the class of 2023, DJ Wagner. The 6-foot-3 point guard shot just 5-20 (2-9 on shots from deep) on Saturday night, finishing with 12 points, four rebounds, zero assists, four steals, and five turnovers. His Camden squad was blown out from the jump against Calvary Christian Academy, falling 66-48. Wagner simply struggled to knock down shots, oftentimes forcing the issue by overdribbling and tossing up tough shots at the rim. It's obvious that he has impressive speed and is an above-average athlete, it just didn't help make up for his jumper abandoning him. The timing of Wagner's pickpocketing brilliance was put on display, but other than that, it was a relatively disappointing performance.
— Zack Geoghegan