KSR's Kentucky vs. Louisville Predictions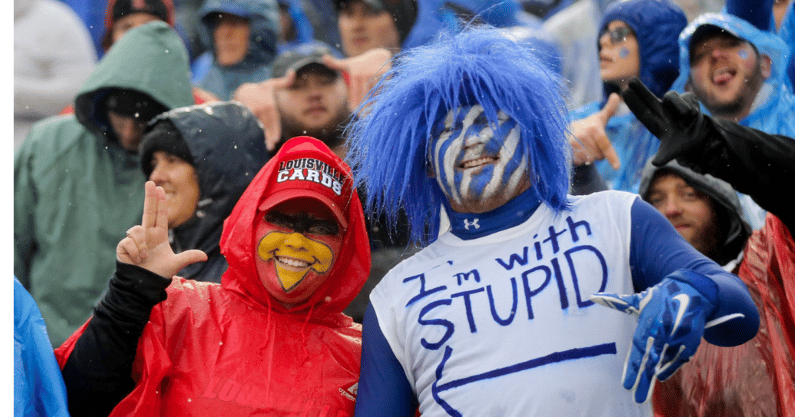 The 2021 Governor's Cup is almost here. Before the game kicks off at Cardinal Stadium, the KSR crew forecasts what will happen Saturday night. Enjoy a handful of Kentucky vs. Louisville predictions after you watch that incredible hype video one more time.
Tyler Thompson
Kentucky's underwhelming second half of the season and Louisville's blowouts of Syracuse and Duke have the Big Blue Nation a bit on edge. Yet, the Cats are still the superior team. Yes, Louisville has Malik Cunningham, and yes, he will score. He's the exact type of slippery playmaker capable of giving Kentucky's defense fits; however, Kentucky's offense is potent too. The Cats racked up over 700 yards last week vs. New Mexico State. Louisville's defense is better than the Aggies', but they're certainly not good, giving up almost 400 yards per game.
This will be a shootout, with both teams getting on the board early in a wild first half. Kentucky will eventually take control in the second half behind Chris Rodriguez and the running game, and the defense will make just enough stops to secure the Cats' third straight Governor's Cup victory.
Prediction: Kentucky 45, Louisville 38
---
Nick Roush
The more I think about this game, the more I believe in blue. The optimism was only amplified after surveying Louisville fans at Thanksgiving.
Louisville has one really, really good player. You cannot win with one good player alone, just ask Lamar Jackson (hell, he even had help and that team still lost). You can keep the game closer than expected with one really good player and a lot of by the opponent turnovers. I don't think Kentucky will punt, but will hand the ball over a few times to the Cardinals, making it closer than some UK fans would like to see before the Wildcats ultimately pull away.
Chris Rodriguez will rush for more than 150 yards and three touchdowns to earn Howard Schnellenberger MVP honors and keep the Governor's Cup in Lexington for another year.
Prediction: Kentucky 45, Louisville 27
---
Drew Franklin
Kentucky hasn't lost at Louisville since 2014, back when Mark Stoops was beginning a rebuild from the gutter and Bobby Petrino was beginning his turnaround as a man of faith or golf caddie for his daughter or whatever the narrative was in his second run as Louisville's head coach. Since then, Louisville's entire athletic department has been a complete mess while Stoops' football program has grown into a second-place team in the SEC East. The Cats have won three of four in the Governor's Cup rivalry.
Later today, Kentucky will make it four of five and extend its winning streak in Papa John's Murphy's Cardinal Stadium with a high-scoring win over Scott Satterfield's Louisville. UofL standout quarterback Malik Cunningham will get his stats against a Kentucky defense guarding the big play, but no one will dominate the game more than the Big Blue Wall where Kentucky has the biggest advantage of the game.
Chris Rodriguez runs for a million; Will Levis and Rodriguez protect the football; Wan'Dale Robinson breaks Kentucky's season record for catches; Kentucky's defense forces two punts and a turnover; the Wildcats win another in Louisville for a 9-3 record in 2021.
Prediction: Kentucky 41, Louisville 31
---
Zack Geoghegan
The odds of this one ending with the winner scoring 35-plus points feel more than likely. Kentucky's defense has fallen off the cliff in the second half of the season while Louisville's has never been all that great to begin with. One side will have to make a big play to turn the tides.
On offense, these two programs have outscored their last two opponents by a combined score of 193-60. Louisville outscored Duke and Syracuse 103-25 while Kentucky outscored Vanderbilt and New Mexico State 90-35. I'm expecting that offensive trend to continue. Slowing down Malik Cunningham is obviously the biggest goal for the UK defense, but the 'Cats will have multiple playmakers bound to get loose. Chris Rodriguez dominates in the trenches while Will Levis tosses for at least 320 yards as Kentucky sneaks out of enemy territory with a dub.
Prediction: Kentucky 38, Louisville 31
---
Adam Luckett
The overreactions have been strong by many in the last few weeks. The main story is that Kentucky is a solid but not great team, and Louisville is better than their record.
UofL will have the best player on the field on Saturday with dual-threat quarterback Malik Cunningham, but Kentucky has the better team in most other areas. The Cardinals thrive off the big play, and that's what Kentucky takes away best. Meanwhile, top-50 offenses are averaging 35.4 points per game and 6.45 yards per play. Kentucky sits at No. 21 in yards per play offense entering the game.
Kentucky will have a ton of success moving the football and their balance will give Louisville issues as long as the ball security holds up. Meanwhile, Kentucky will limit explosive plays and make it difficult for an offense that is not an efficiency machine and needs home runs to consistently score touchdowns.
After an exciting start by both sides, Kentucky's offensive efficiency allows the Wildcats to build a double-digit lead in the second half. Louisville makes a run late, but the ground attack grinds out first downs in the fourth quarter as the Wildcats collect their third consecutive victory in the rivalry.
Prediction: Kentucky 34, Louisville 28
---
Jack Pilgrim
I'm so sick and tired of hearing about Louisville's explosive offense and Malik Micale Malik Cunningham. I'm so sick and tired of hearing how Cunningham is this close to Lamar freaking Jackson and the records he broke against garbage ACC competition. So sick and tired of hearing "Scott's Tots" Satterfield and the Louisville fanbase whine about Kentucky's non-conference schedule.
Mark Stoops, his coaching staff, and his team certainly are, as well.
Kentucky's play — specifically on defense — has slipped up to close out the regular season as Louisville's offense has ramped up. As a result, UofL media and fans have bloated confidence about tonight's game, ignoring the fact that they've lost to Ole Miss, Wake Forest, Virginia, NC State and Clemson — and spoiler alert, their defense is nothing special, either.
Securing two blowout wins over Syracuse and Duke in November doesn't make you world-beaters, no matter how hard you want to believe. You can't speak this into existence.
I'm sick and tired of being sick and tired. Kentucky rolls again.
Prediction: Kentucky 45, Louisville 24