KSR's notes and takeaways from Monday evening's Mark Stoops Show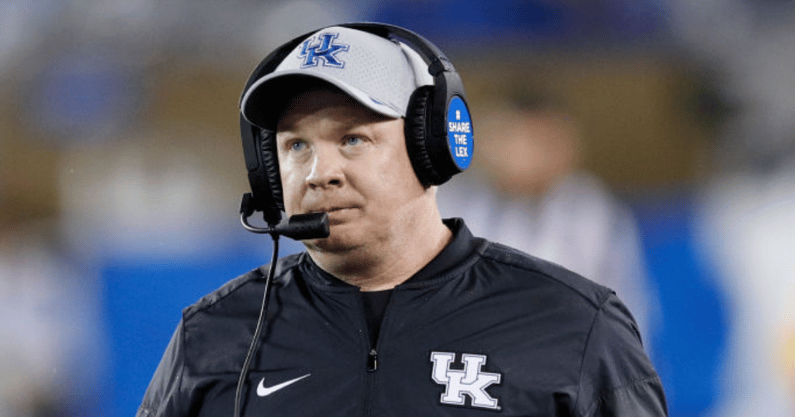 While Mark Stoops typically speaks to the media a few times per week during the season, the Kentucky head coach usually uses his weekly call-in radio show to kick back and relax a bit. During the hour-long show with Tom Leach, Stoops opens up about his team's performance from the previous week, previews their upcoming opponent, and answers questions via phone and social media from the Big Blue Nation.
Following Kentucky's win over New Mexico State, Stoops used this evening's edition of the call-in show to discuss what went right and preview this week's rivalry game against Louisville, among other topics.
Here are the top takeaways from the Mark Stoops Show this evening:
---
Mark Stoops says Monday was one of Kentucky's best practices in recent memory
"We've been getting better and better. I really like our approach. Will was ripping it, throwing the ball around. Looking good. Good start. Guys were focused. It was a good practice."
A long wait for kickoff
Stoops said he was a bit frustrated to see kickoff time set for 7:30 p.m. ET against Louisville on Saturday. After a long holiday week, he was hoping for a noon kick.
"I like these rivalry games at noon, but it is what it is. It's a long wait."
Stoops says Louisville's Malik Cunningham is playing at a "high level"
"The big thing is Malik, he's got a good corps around him. They're much more balanced than they've been as a whole team. Malik is really playing at a high level right now. He's an exceptional athlete, but he's been throwing the ball very accurately. They're playing better."
Stoops hopes Jordan Wright will play vs. Louisville
"I hope he'll be able to play, we'll see how it goes. It's still a little early in the week, but hopefully he'll be able to go."
D'Eryk Jackson impresses in return
After suffering what was expected to be a season-ending Achilles injury back in the spring, linebacker D'Eryk Jackson returned to game action on Saturday against New Mexico State.
"D'Eryk was a guy we were really high on. His injury put a damper on things. It was really great to see him back out there. Getting his feet back underneath him and playing in space, being able to run at the level that he used to. That's what we're still working on."
Running backs continue to impress
"We've had two anchors there from the start (in Chris Rodriguez and Kavosiey Smoke). La'Vell Wright, really nice (day). You saw Jutahn (McClain). You're seeing him at full strength. We've been high on him, as well. He's a tough, downhill runner.
"It was really good to get a lot of guys some snaps last week."
Jordan Dingle is making plays
"He's gonna be a really good tight end and very athletic. He's your prototypical (tight end). He's going to get bigger and stronger, can make athletic catches. We're very high on him."
Defensive backs need to keep moving forward
After struggling in recent weeks, Stoops says the Kentucky secondary continues to improve, specifically in practice.
"They've just got to continue to work at it and play the ball. (We're giving them) some deep shots in practice, making plays on the football. We've been going back to two-a-days, certain segments of practice good against good. We've gone back to two days of seven-on-seven, going good against good. Each day going good against good. We added the day back to give them some full-speed reps as the season goes on, so they'll be fine. They just got to continue to compete.
"If you're gonna coach the secondary, they're going to get some of those, but you got to get yours. That's where we've been coming up a little short. We've got to come down with our fair share."
Louisville is an explosive team
"Louisville hits a lot of big plays, a lot of that has to do with Malik. He is so exceptionally fast. He can also buy time, you have to be disciplined in your rush lanes."
What is Stoops' favorite Thanksgiving dish?
He couldn't pick just one item.
"The whole mixture. The whole deal. Everyone can take one good look at me and know I'm not picky."
Beau Allen looks the part in his late-game reps
Going 3-4 for 40 yards in the fourth quarter, Stoops was impressed with what Beau Allen brought to the table against New Mexico State.
"I was really pleased to get him in there. He really executed well. Nothing rattles Beau. He was getting pressure, breathing down his neck, but still delivered passes. It was good for him to get reps, he needs as many as he can get. We're really glad he's on our team."
Kentucky nominated for the 2021 Joe Moore Award
Strong praise for UK's offensive line coach after hearing of the position group's prestigious honor.
"Greatly appreciate Eric Wolford and the job he does. He works hard and it's very personal to him. He's a very good offensive line coach and he does a nice job with these guys."
Lynn Bowden returns to Lexington
The former Kentucky star returned to Kroger Field to watch the Wildcats from the sidelines.
"He really did look good. It's fun to see him, great to have him back in town. He's a great young man. He's a great young man, always puts a smile on my face."
How does Marquan McCall look?
"Marquan is getting better. He seems to be feeling better. That's good news. Hopefully Jordan (Wright) will be near 100% and be effective."
Any draft decisions yet? Will any seniors be back?
No news yet on potential draft decisions.
"They have to make some decisions and we'll have those discussions after this game."
Kentucky is prepared for rivalry week
The Wildcats had an extra pep in their step on Tuesday.
"Definitely an extra step out there in practice today, it was good to see. We need to continue to do that, have a great week of preparation. As I mentioned in the press conference, everybody wants to win on Saturday, but it's too late. If you amp up your excitement, and if you wait till Saturday, you better be putting everything into the preparation and being on top of things. I like the start of the week, but we've got to finish very strong, as well."