KSR's quick takeaways from Kentucky's 86-61 win over Albany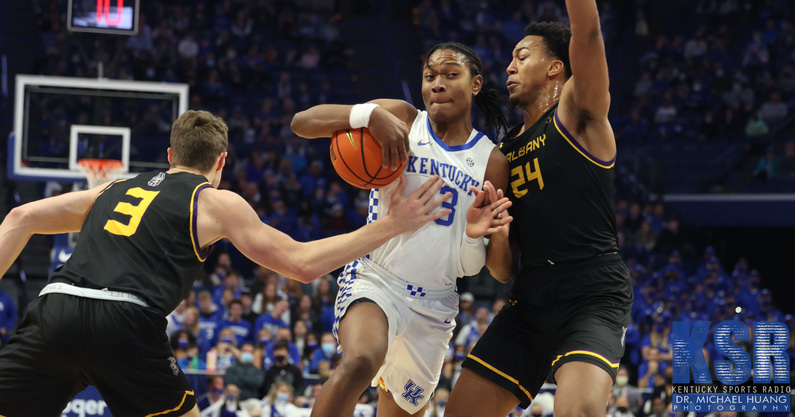 Four home games down, four blowout victories to show for it. This time, it was an 86-61 victory for Kentucky over Albany, pushing the team's record to 4-1 on the year.
How did Kentucky come out on top? And what does it mean for the Wildcats as they look ahead to North Florida?
Kentucky comes in shorthanded
Kentucky was already down one scholarship player in CJ Fredrick, who will miss the rest of the year with a hamstring injury. Jacob Toppin and Lance Ware were both questionable entering the night with shoulder and ankle injuries, respectively. They were both declared out prior to tip-off.
To throw a new wrench into things, Davion Mintz was also declared out with an illness, leaving Kentucky with just eight scholarship players on Monday. He is considered day-to-day.
Down four players — two guards, two bigs — UK was left with just four available guards, three forwards and just one center.
They managed to get by, but clearly a tough situation for the Wildcats.
A season-high in turnovers
Kentucky came out on top, but it wasn't pretty. In fact, it was a pretty sloppy performance from start to finish, with the Wildcats turning the ball over nine times in the first half and eight times in the second for a total of 17.
Individually, Sahvir Wheeler led the way with five turnovers, followed by Oscar Tshiebwe with four, TyTy Washington Jr. and Keion Brooks Jr. with two apiece, and Kellan Grady, Daimion Collins, Dontaie Allen and Bryce Hopkins with one. All eight scholarship players turned the ball over at least once.
Kentucky's previous high in turnovers came against Ohio (15) on Friday. The team has also had games of 13 (Duke), 12 (Mount St. Mary's) and 10 turnovers (Robert Morris) on the year.
TyTy Washington picks up where he left off
Make that four straight games in double figures and back-to-back 20-point performances for TyTy Washington.
After starting the season cold against Duke — he finished with nine points on 3-14 shooting in the loss — he's since scored 10 points against Robert Morris, 16 against Mount St. Mary's, 20 against Ohio, and now 20 against Albany.
It was yet another impressive all-around performance for the freshman guard, finishing with 20 points on 7-14 shooting overall, 2-3 from three and 4-5 from the line to go with six rebounds, three assists and two blocks in 38 minutes.
Washington came in praised as an elite scorer at all three levels, and now, the consistency is there to match the hype. The kid can play.
Oscar Tshiebwe goes for (another) double-double
He struggled with foul trouble again, but Oscar Tshiebwe still managed to go for a double-double in Kentucky's win over Albany. Playing just 23 minutes, the 6-foot-9 center finished with 12 points on a perfect 6-6 shooting to go with 14 rebounds and a steal.
For those keeping track at home — that would be all of us — Tshiebwe has finished with 10 or more rebounds in every game this season. Five straight games, five consecutive double-digit rebound performances.
Through five games, Tshiebwe is now averaging 13.4 points (62.5% FG, 70% FT) and 16.0 rebounds in 26.6 minutes per contest. Not too shabby.
Five players finish in double figures
Shorthanded due to injury and illness, Kentucky still managed to see all five starters finish in double figures. TyTy Washington led the way with 20 points (7-14 FG, 2-3 3PT, 4-5 FT), followed by Keion Brooks Jr. with 17, Sahvir Wheeler with 15, Kellan Grady with 14 and Oscar Tshiebwe with 12.
The bench combined for just eight points — Daimion Collins had six and Bryce Hopkins had two — but it was still a strong all-around performance for the starting five.
Dontaie Allen struggles from deep
With Davion Mintz out, it was an opportunity for Dontaie Allen to step up in his absence. He got his chances, playing 13 minutes and getting five shot attempts from three.
Unfortunately for the junior guard, though, none of those shots fell.
Allen finished the day 0-5 from three to go with two rebounds, one assist, one steal and one turnover in 13 minutes. He found open looks and didn't hesitate to fire when the opportunities presented themselves, but just couldn't knock any down.
John Calipari has been critical of Allen's defense, but he was mostly fine in that area tonight. He was also active on the glass and looked to facilitate — he had one errant pass that almost hit the top of the scoreboard on an alley-oop attempt, but we'll ignore that one.
His only major downfall — a significant one, mind you — was that he just couldn't get his shot to fall. Just one of those nights.
Dominique Hawkins was tonight's 'Y'
Kentucky did not have a 'Y' during its first three home games of the season. That changed Monday evening, as former Wildcat Dominique Hawkins was welcomed out to midcourt at Rupp Arena and showered with cheers from Big Blue Nation.
Hawkins played four years at Kentucky from 2013-17, scoring 293 career points, dishing 103 assists and picking up 47 steals. He was named to the SEC All-Tournament Team after scoring a career-high 14 points in the title game.
A well-deserved ovation for the Richmond, KY native.