KSR's quick takeaways from Kentucky's blowout win vs. Central Michigan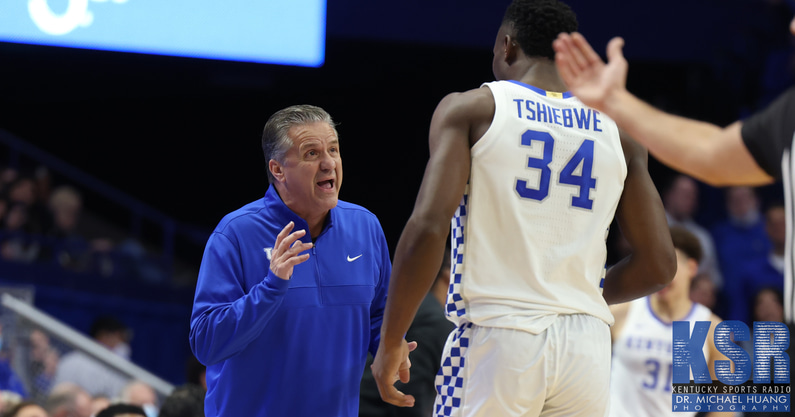 Six home games down of a seven-game homestand, six blowout victories to show for it. This time, it was an 85-57 win for Kentucky over Central Michigan, pushing the team's record to 6-1 on the year.
How did Kentucky come out on top? And what does it mean for the Wildcats as they look ahead to Southern University next week?
The return of Tony Barbee
It's hard to call it a happy homecoming, but it was a homecoming nonetheless. Tony Barbee returned to Lexington for the first time since taking the head coaching job at Central Michigan in April, celebrating seven years at Kentucky.
The 50-year-old coach arrived in Lexington prior to the 2014-15 season and stayed through 2020-21. Barbee's departure aligned with Joel Justus also leaving to take an assistant coaching job at Arizona State, moves that allowed Kentucky to bring in Orlando Antigua and Chin Coleman.
Barbee played under John Calipari at UMass before joining his coaching staff in 1995. He then followed Calipari to Memphis, serving as an assistant on his staff from 2000-06 before taking head coaching jobs at UTEP (2006-10) and Auburn (2010-14).
Keion Brooks Jr. returns to the lineup
After missing Kentucky's game Friday night vs. North Florida due to illness, Keion Brooks Jr. returned to the starting lineup against Central Michigan on Monday.
There was speculation that several players were feeling under the weather leading up to tip-off, but Davion Mintz was the team's lone absentee during pregame warmups. He's now missed three straight games due to illness.
In his return to game action, Brooks finished with 9 points on 3-10 shooting, 1-2 from three, and 2-3 from the line to go with four rebounds and a steal in 18 minutes. Not his best performance as a Wildcat, but certainly good to see him back on the floor.
A quick start for the Wildcats…
Fans hoping for an entertaining performance were treated to an electric start, as Kentucky managed to score 25 points in the first eight minutes of the game and led by as many as 31 before the break. UK held a 43-12 lead at one point (5:55, 1H).
At halftime, Kentucky shot 52.6% overall (20-38) and 71.4% (5-7) from three while holding Central Michigan to 33.3% shooting (10-30) and 40% from three (4-10). It was highlight play after highlight play, crushing the Chippewas on both ends of the floor.
… but an ugly second half
Everything you loved about the first half vanished in the second, with the Wildcats shooting just 32.4% (11-34) overall and 10.5% from three (2-19) after halftime.
Meanwhile, the Chippewas knocked down half of its shots overall (13-26) and from three (3-6) after intermission. After going into the break up 51-25, Kentucky was just plus-two in the second, winning the half 34-32.
Make that six double-doubles for Oscar Tshiebwe
Seven games, six double-doubles for Kentucky's anchor in the middle this season. The only time Oscar Tshiebwe failed to reach that mark was a game he was forced to sit the entire first half due to foul trouble — and he still finished with 10 rebounds.
This time, Tshiebwe finished with a team-high 20 points on 6-8 shooting and 8-11 from the line to go with 16 rebounds, three steals and one block in 17 minutes.
The 6-foot-9 center's game log is just absurd at this point.
17 points and 20 rebounds vs. Duke
14 points and 20 rebounds vs. Robert Morris
24 points and 16 rebounds vs. Mount St. Mary's
0 points and 10 rebounds vs. Ohio
12 points and 14 rebounds vs. Albany
12 points and 16 rebounds vs. North Florida
20 points and 16 rebounds vs. Central Michigan
Six out of seven isn't too shabby.
TyTy Washington goes for 15 and 6
Following his inefficient shooting night against Duke to open the season, TyTy Washington has finished in double figures every game since. More importantly, he's done so on efficient shooting, going above 50% from the field in five of six games. His lone sub-50% finish was a 6-13 (46.2%) shooting night vs. North Florida on Friday.
Tonight, Washington finished with 15 points on 6-11 shooting and 3-5 from three to go with six rebounds, two assists and zero turnovers.
"That's his mentality. That's his personality," John Calipari said after the win. "He's really comfortable in his own skin, comfortable with who he is as a player."