KSR's quick thoughts from Kentucky Basketball Pro Day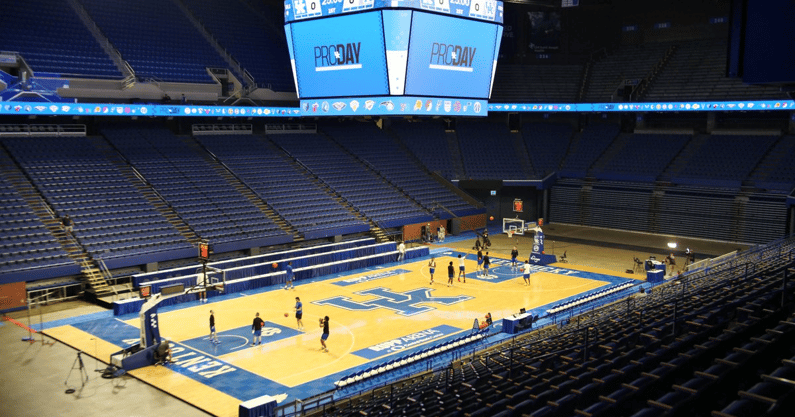 We're still one month away from the season-opener, but preseason festivities have officially begun for the Kentucky men's basketball team. After just under two weeks of preseason practice, UK hosted its annual Pro Day event, where scouts and personnel from all 30 NBA teams were in attendance to watch the 2021-22 Wildcats in action for the first time.
The team participated in measurements, agility testing, shooting drills, and scrimmaging in the two-hour event, which broadcast live from 5:30 p.m. to 7:30 p.m. ET on Sunday.
How did the team look? Who were the biggest standouts? Any potential weak spots? KSR has the rundown of tonight's festivities.
---
Injuries
John Calipari opened the event by announcing Jacob Toppin (shoulder), CJ Fredrick (leg) and Bryce Hopkins (back) would not participate in full-contact drills or scrimmages due to injury. All three have been limited in practice recently, but are expected to be back at full strength next week.
Despite the injuries, all three participated in agility and shooting drills.
Testing
Jacob Toppin

3/4 sprint – 3.33
Lane Agility – 11.17
Shuttle Run – 2.61
Vertical Leap – 42.5″
Oscar Tshiebwe

3/4 sprint – 3.20
Lane Agility – 10.97
Shuttle Run – 2.77 V
Vertical Leap – 33.0″

Bryce Hopkins

3/4 Sprint – 3.39
Lane Agility – 11.45
Shuttle Run – 2.87
Vertical Leap – 31.5″

CJ Fredrick

3/4 sprint – 3.41
Lane agility – 11.71
Shuttle run – 2.86
Vertical leap – 28.0″
Other testing numbers and measurements are expected to be available tomorrow.
TyTy Washington names his superlatives
During his one-on-one interview with Tom Hart, the five-star freshman was asked to name a few superlatives on the roster.
Best shooter? "Me." Fastest player? "Sahvir (Wheeler)." Strongest player? "Oscar (Tshiebwe)." Best leader? "Probably Keion (Brooks)."
Scrimmage teams
With Kentucky down Fredrick, Toppin and Hopkins in the scrimmage portion of the evening, nine scholarship players were split between two teams, with a walk-on — Zan Payne — being the tenth piece.
The teams were split into the following groups:
Blue – Sahvir Wheeler, TyTy Washington, Zan Payne, Daimion Collins, Oscar Tshiebwe
White – Davion Mintz, Kellan Grady, Dontaie Allen, Keion Brooks Jr., Lance Ware
No real takeaways with scrimmage team distribution until UK returns to full strength next week, but interesting nonetheless.
Kellan Grady hit a roadblock early
In one of the most revealing quotes of the night, John Calipari noted that Grady struggled to adjust to the athleticism, speed and length of the SEC to begin his time in Lexington. As a result, he's had to play catch-up.
"This is all new to him because he's playing faster than he's ever played," Calipari said on the broadcast. "He's been so well-coached in the game of basketball (at Davidson), but the speed, the athleticism, the length, it's different for him. It took him a while. I'll be honest with you, three weeks ago, you started looking like, 'Man, I'm not sure.' The biggest thing for guys is, you have to be able to slow your mind down. Your feet move fast, but your mind is slow.
"Some of that, you're like a duck — underneath the water (you're paddling), but you're not moving. You've got to drill it, you've got to move fast, and you've got to play that way."
Shooting is a clear strength
The Kentucky roster is not only loaded with shooters, but clear makers, as well.
In our first opportunity to see CJ Fredrick suit up in blue and white, his impressive shooting stroke was on clear display for scouts in attendance. TyTy Washington, Davion Mintz, Dontaie Allen and Kellan Grady also proved to be clear shot makers in various drills throughout the evening.
Shooting is going to be a clear strength for this team.
Play-by-play
The scrimmage was broken up in to two segments, with one being a guard vs. bigs portion and the other being a true five-on-five open run. Let's start with a quick play-by-play before jumping into the overall takeaways.
Perfect Stop
Davion Mintz face-up jumper with a hand in his face (Daimion Collins) from the left wing
Sahvir Wheeler jumps the passing lane on left corner for a steal, pass by Davion Mintz
Daimion Collins helpside block on Lance Ware left hand drive and shot attempt
Sahvir Wheeler missed pull-up 17-footer from right elbow, Daimion Collins missed follow-up dunk attempt (full head above the rim on offensive rebound)
Lofted interior pass by Daimion Collins, Oscar Tshiebwe fouled on interior attempt
TyTy Washington forced shot from the left elbow with a hand in his face, but follows his shot for an easy three-foot floater
Sahvir Wheeler drives from left wing, up-and-under layup attempt — fouled by Dontaie Allen at the rim

Quick first step, beat Allen off the dribble. Strong close-out by Allen, but clipped Wheeler in the face

Daimion Collins turnover on a dribble handoff on the left wing, stolen by Kellan Grady
Dontaie Allen beautiful 17-footer from the left wing on the dribble handoff from Daimion Collins
Dontaie Allen turnover on the interior pass, but quick instinct for Keion Brooks on the steal.

A couple instances of Allen looking to make the right play, but playing too fast and overthinking at times.

Dontaie Allen quick-trigger three rims out, but solid look from the right wing
Daimion Collins falls for Brooks pump fake, fouls on the baseline trying to close out.

Going to find himself in foul trouble as a young, raw freshman. Like Isaiah Jackson, though, going to have unreal highlights as a rim protector and pure athlete

Keion Brooks misses a three from the left wing, open attempt hits back iron.
Kellan Grady misses pull-up 3-pointer from the top of the key, strong defensive rebound by Oscar Tshiebwe
Dontaie Allen comes off the screen hard for the silky runaway baseline jumper from 15 feet.

Hard screen by Oscar Tshiebwe to create the open look
Five-on-five scrimmage
Steal by Sahvir Wheeler at the top of the key, turnover by Dontaie Allen
Catch-and-shoot look for TyTy Washington rolls out from the right wing
Smooth dribble move for TyTy Washington leads to lane touch, nice pass to right corner three for Zan Payne, but misses
Davion Mintz goes coast-to-coast, attacks the rim for soft floater, but rolls out
TyTy Washington euro-step blocked by Daimion Collins, but Oscar Tshiebwe cleans up with strong follow-up dunk in traffic
Keion Brooks patient one-handed floater through contact, drives from the top of the key
Daimion Collins catch-and-shoot three from left wing hits off front iron
Kellan Grady drives from left wing to hit soft floater from five feet
Kellan Grady dribble-drive from left wing, defense collapses, leads to alley-oop dunk for Lance Ware

Beautiful pace and timing on the left-side finish

Daimion Collins offensive rebound, strong putback dunk
Sahvir Wheeler forces a cross-court pass to from the right wing to left corner. Leads to a full-court coast-to-coast finish at the rim for Davion Mintz.
Oscar Tshiebwe defends 20 feet away from the basket, nearly comes up with the steal
Keion Brooks missed three from left wing
Zan Payne missed three from right wing in transition
Strong defensive rebound by Daimion Collins, TyTy Washington turnover in transition
Takeaways
Keion Brooks Jr. was one of the first players Coach Cal raved about on the broadcast, said he was much-improved from last season. The junior forward thrived in shooting drills, but couldn't get his shot to fall in the scrimmage portion of the event. More patient with the ball and doesn't get sped up.

"I want to continue to get better, continue to show my versatility and expand my game a little bit."

Davion Mintz was quick to get out in transition and attack the basket, like we saw quite often in 2020-21. No new developments, just good, solid play from the veteran guard.
Sahvir Wheeler is shifty, unbelievably quick first step. Soft finisher at the rim. Going to create some easy catch-and-shoot opportunities for his Kentucky teammates this season. Overdribbles at times and makes errant passes, but court vision and playmaking clearly second-to-none on the team.
TyTy Washington is a pace scoring guard like Brandon Knight, not a speed guy. Lack of quickness may hurt him in the SEC as a pure point guard, but strong ball handler. May end up being UK's best off-ball option. Pure shooter and scorer.
Oscar Tshiebwe is a ball magnet on the glass and comfortably knocked down jumpers in the mid-range. Mechanics have improved on his jumper, much more confident. Clearly a point of emphasis this offseason. Struggles when putting the ball on the floor, but going to be a force on clean-up scoring opportunities.

Tshiebwe says he wants to average 20 rebounds per game: "I think anything is possible if you work hard at it. … I can get that, that's not a big deal."

Kellan Grady is quite comfortable as a primary ball handler and regularly brought the ball up the floor in the scrimmages. Only took two shots in the live period (1-2 FG), so no real shooting takeaways. Played within the offense.
Daimion Collins has an impeccable nose for the ball as a shot-blocker and rebounder. Agile, quick and explosive. Comfortable taking shots in the mid-range and from deep. Raw, but further along than given credit for.
Lance Ware looks much quicker and athletic in year two. Something that jumped out in highlight snippets and made clear in agility and rebounding drills, along with scrimmages. Mid-range jump shot looks to be improved.
Dontaie Allen looked more comfortable coming off of screens and creating his shot as opposed to being limited to catch-and-shoot opportunities. Still forces the issue at times and appears rushed, but clear improvement as an offensive threat.
---
All in all, it's hard not to feel optimistic about this team after our first live viewing opportunity. This group is fast, athletic, deep, and filled with veteran talent and shooters — and we didn't even get to see Fredrick, Toppin or Hopkins scrimmage.
Kentucky will host an open practice for the media on Monday, meaning more in-depth notes and takeaways are on the way. Stay tuned.