KSR's Rapid Reaction to Kentucky-Stonehill
Friday night in Rupp Arena was a lot of fun for the Big Blue Nation. Reed Sheppard and Rob Dillingham were absolutely electric off the bench, combining for 45 points. Together, they were 16-of-20 from the field with 14 assists. Sheppard hit seven of eight shots from outside.
Their performances were the main talking point in KSR's Rapid Reaction from courtside in Rupp Arena after the game. Tonight's Rapid Reaction celebrated the 34-point victory with late-night takeaways about the win and what's next on the schedule. If you're up for it, hit play to hear the recap of Kentucky-Stonehill. Also, hit subscribe and leave a few comments on the video if you like what you see.
Go Cats.
Got thoughts? Continue the conversation on KSBoard, the KSR Message Board. New members can try 1 month for $1.
---
More Kentucky News and Views on the KSR YouTube Channel
Kentucky Sports Radio has expanded its coverage of the Wildcats in the most ridiculous manner possible on our YouTube Channel. Here you will be able to find interviews with coaches and players, as well as commentary from the KSR crew. From Rapid Reactions following big events to our lengthy lineup of live shows, subscribe to the KSR YouTube Channel to stay up to date on everything happening around the Big Blue Nation.
Monday: Mark Stoops Press Conference & Rapid Reaction
Monday, 8 PM: KSR Football Podcast
Tuesday evening: Interviews with Liam Coen and the offense
Tuesday, 8 PM: Sources Say
Wednesday, 1 PM: Stoops' comments from the SEC Teleconference
Wednesday evening: Interviews with Brad White and the defense
Wednesday, 8 PM: 11 Personnel
Thursday Afternoon: Pigskin Preview
Thursday evening: Final comments from Stoops after practice
Thursday, 8 PM: Point Kentucky, KSR's new Volleyball Show
Friday night: Kroger KSR Game of the Week recap, highlights
Saturday: Postgame Press Conferences, Interviews, Rapid Reaction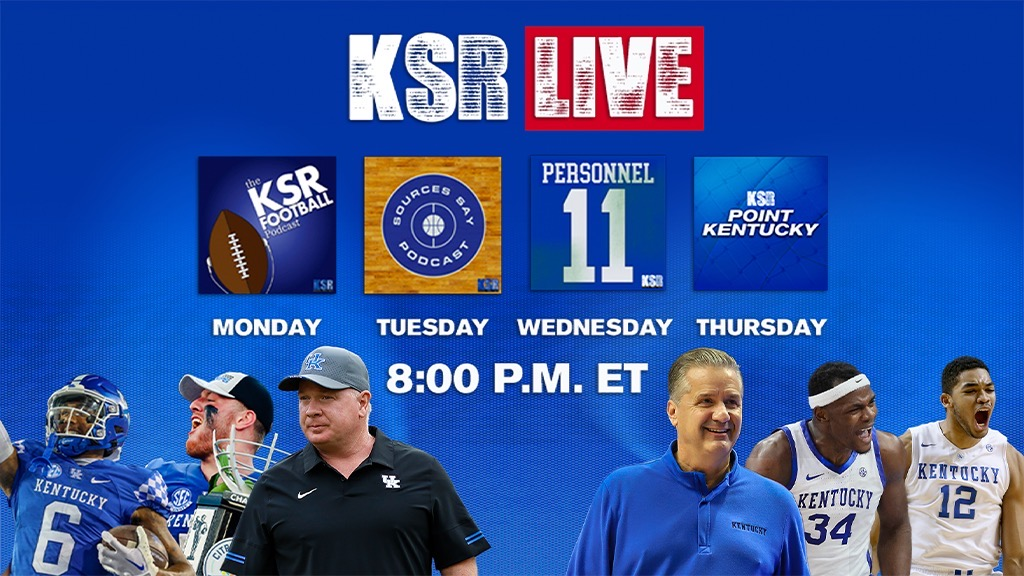 Discuss This Article
Comments have moved.
Join the conversation and talk about this article and all things Kentucky Sports in the new KSR Message Board.
KSBoard