KSR's Scouting Reports from Open Practice Day at the NCAA Tournament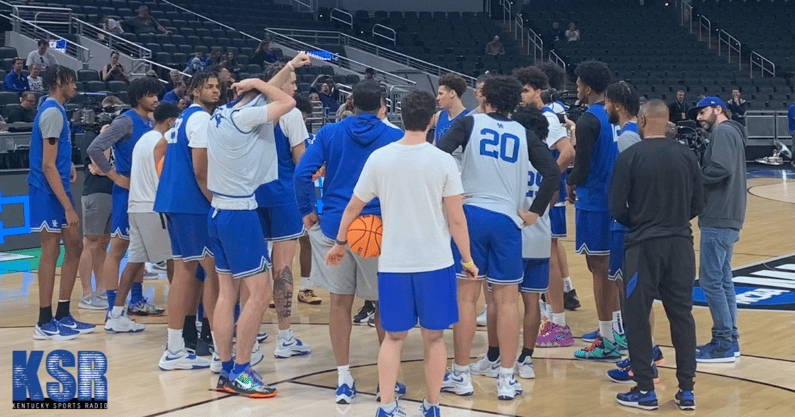 The NCAA Tournament presents a unique opportunity for fans in attendance, starting the event with an open practice of all participating teams at each site prior to the opening round. In Indianapolis, eight different teams are set to compete across two different regions, with Tennessee, Colorado State, Longwood and Michigan representing the South and Kentucky, Murray State, San Francisco and Saint Peter's representing the East.
The South Region got things rolling in the late morning on Wednesday, followed by the East getting started in the early afternoon. KSR was in attendance to see the latter region's open practices, starting with Kentucky to open the late session.
How did each team look leading up to tomorrow's matchups?
Kentucky
The Wildcats were all smiles and laughs as they walked out of the tunnel and onto the floor at Gainbridge Fieldhouse, noticeably loose following the team's disappointing loss in Tampa at the SEC Tournament. TyTy Washington and Sahvir Wheeler were among the most vocal, cracking jokes and cheering on their teammates.
Unlike Tennessee's practice immediately before it — the Volunteers essentially shot around for 40 minutes — John Calipari and his assistants led drills for the majority of their allotted time on the floor. It started with full-court lay-up drills, followed by individual position skill work and situational, efficiency and volume shooting drills.
And for those curious, yes, Kentucky shot much better than we saw in the SEC semifinals.
Washington shot particularly well, locked in and calling his makes before the ball left his hands. Kellan Grady also found his groove again, regularly rattling off four- and five-make streaks from deep. Dontaie Allen and Shaedon Sharpe were also standouts among shooters, with Jacob Toppin having his own hot streak during a live four-on-three drill. He made four 3-pointers in a row with a hand in his face, with a fifth rolling out.
Above all else, team morale was clearly high going into win-or-go-home games. That's the big takeaway.
Another takeaway? John Calipari needs to add a little more oomph on his half-court heaves.
Murray State
Speaking of strong team morale, Murray State oozed confidence during its open practice, coming out looking to make a statement. The Racers were fast and high-energy on both ends of the floor, with drills being done at 110% from start to finish.
"Gotta anticipate, gotta fly around," Murray State head coach Matt McMahon said at mid-court prior to one defensive drill.
Emphasis was placed on getting out in transition and pushing ahead for easy buckets at the rim. The Racers didn't take a single shot from outside the paint the first 15 minutes of practice to drive this point home. Playing with speed, tempo and energy was the name of the game.
When shooting drills began, the Racers shot well, but not otherworldly. Tevin Brown, who averages 16.9 points per game on 38.9% shooting from three, was the hottest of the bunch.
KJ Williams, the team's leading scorer and rebounder at 18.2 points and 8.6 rebounds per contest, is a versatile threat down low at 6-10, 245 pounds. From there, though, Murray State's frontcourt is quite small with only two players standing 6-7 or taller.
Saint Peter's
For all of the energy and charisma Kentucky and Murray State opened the afternoon with, Saint Peter's was the exact opposite. The Peacocks walked out of the locker room like they were about to attend a funeral, lethargic and disengaged for the majority of the practice.
There was limited communication, coaches were quiet and teammates weren't cheering for one another. The shoe squeaks and bouncing balls echoed through the arena, but that was the extent of the sounds. For a team making its first NCAA Tournament appearance since 2011, Saint Peter's certainly didn't appear excited to be there.
From a player perspective, there were no real standouts that caught your eye like the other practices. KC Ndefo is second on the team in scoring at 10.6 points per game, but also averages 6.2 rebounds, 2.7 blocks and 1.3 steals per contest. On the other hand, he's quite undersized at 6-7, 195 pounds, a considerable difference from Kentucky's 6-9, 255-pound anchor down low — even if Saint Peter's head coach says Ndefo is a "smaller scale" version of Oscar Tshiebwe.
The Peacocks may have made the Big Dance, but they clearly didn't have the energy of a team planning to stick around long.
San Francisco
The biggest story of the afternoon came when San Francisco star forward Yauhen Massalaki was declared out for the team's game against Murray State with a knee injury. The All-WCC member came into the week averaging 13.5 points, 9.4 rebounds and 2.2 blocks per game.
Now, the Dons are down their leading rebounder, top shot-blocker and third-leading scorer.
It's a major hit, but San Francisco is still quite talented. Jamaree Bouyea leads the team in scoring at 16.7 points per game to go with 5.1 rebounds, 4.0 assists and 1.8 steals per contest. He shoots 46.8% from the field and 37.0% from three, and it showed, torching the nets during the open practice. Massalaki told a fan in the stands that Bouyea will play in the NBA one day and raved about his teammate's ability to score at all three levels and defend. He was a clear standout in practice.
Khalil Shabazz also impressed, with the senior guard averaging 14.0 points per game on 35% shooting from three. He leads the team in 3-point attempts (223) and makes (78) on the year.
As a group, the Dons' size was noticeable right when they walked into the gym, with eight players standing at least 6-8. It's a clear advantage over Murray State, who will have to rely on strong guard play to pull off the win, even with Massalaki out for San Francisco.