KSR's takeaways from Day 2 of McDonald's All-American Game practices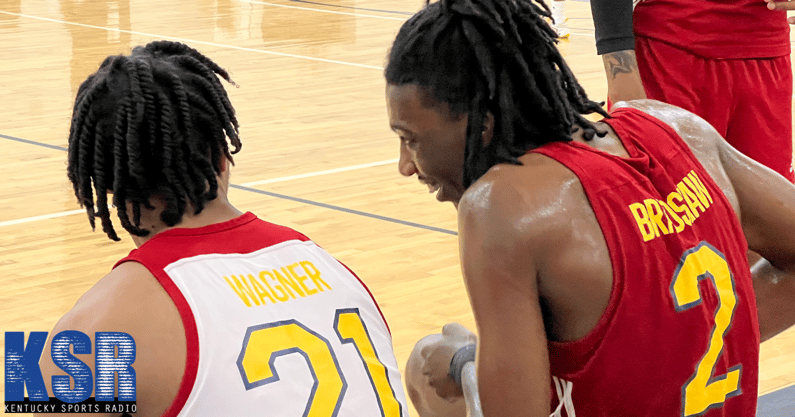 KSR is back with boots on the ground for day two of the McDonald's All-American Game practices in Houston, TX — this time with one more representative. Jack Pilgrim was back, focusing his attention on Kentucky signees Justin Edwards and Reed Sheppard, while Jacob Polacheck of KSR+ arrived on the scene to keep a close eye on Aaron Bradshaw and DJ Wagner.
How did the future Wildcats look against elite competition ahead of the head-to-head battle Tuesday evening? What should you expect from all four in the prestigious event? KSR has some quick takeaways.
DJ Wagner
It was difficult to assess the games of the East Team players in a great capacity due to the lack of five-on-five plays during the practice. The majority of the practice was focused on drill work, so we lacked the opportunity to see players in live game action. However, Wagner was very competitive in drills. I was especially impressed by Wagner's competitiveness after a very strong day-one showing. He didn't let up one bit and looked the part of a top-three prospect in the class. 
Wagner looked confident shooting the ball and was able to impact the game in numerous facets. While his play was not up to the sky-high performance as Sunday, it was still a solid effort overall, giving confidence for next season.
-Jacob
Reed Sheppard
The 6-foot-3 guard is not a camp kid, nor does he fit seamlessly into an all-star setting. Sheppard isn't going to hunt his shots, looking for his as a go-to offensive threat. What he does, though, is make winning plays — making the extra pass, jumping the passing lanes and getting deflections, blocking shots, knocking down open catch-and-shoot looks. It may be frustrating at times to see a guy score at will at the high school level play a different style in other settings, but it's never to the detriment of the team. That's what he's been this week in Houston.
You can probably count his made buckets on two hands, but he's been a clear plus and certainly looks like he belongs among the top talent in his class. He won't make many highlight reels at the conclusion of the event, but it's inarguable that he has made a difference. And to his credit, it's likely the role he'll have in year one at Kentucky — fitting well into a system and contributing to winning basketball.
Interestingly enough, he played very well in scrimmage reps playing alongside Bronny James, who has exploded in the rankings over the last month or two.
-Jack
Aaron Bradshaw
I was perhaps most impressed by Aaron Bradshaw during Monday's practice, displaying a versatile offensive game. In shooting drills, he looked more than competent from beyond the arc, knocking down several threes with ease. He also defended a variety of different athletes from Colorado commit Cody Williams to G League Ignite's Matas Buzelis. His ability to stretch the floor is an area that will hopefully be utilized during his time at Kentucky. 
Bradshaw made headlines when he said he would be playing some of the three positions during his time at Kentucky and while it's my opinion he would be better suited at the four or five, the shooting range proved that he may be able to stretch out to the perimeter.  
-Jacob
Justin Edwards
The smooth lefty impressed on the final day of practice, a step up from what we saw in the live scrimmage Sunday afternoon. He was in attack mode while also knocking down jumpers in shooting drills, working well alongside DJ Wagner in the backcourt — they're developing some really impressive chemistry together. Competitive scrimmaging was limited for the East squad on Monday, but he still found ways to make an impact and separate himself from his peers. His biggest highlight came on a tough block on Aaron Bradshaw on a shot attempt in the post, despite the clear size disadvantage. Dude just makes plays on that end of the floor.
His best day in Houston was Saturday evening during a private practice in front of NBA scouts, looking the part as the best player on the floor for his team. He's a do-it-all threat, never doing too much but always giving something — points, rebounds, assists, steals, blocks, whatever he has to do to win games. Undoubtedly a good week of production for the five-star wing.
-Jack