KSR's top takeaways from Big Blue Madness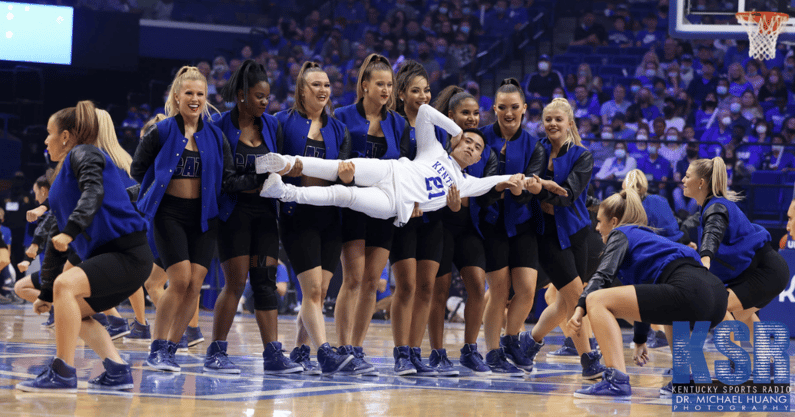 Calipari's speech was a win, but the event could use a makeover
Admittedly, I went into Big Blue Madness with low expectations. The event has become much of the same year after year, essentially the same itinerary every season. Player intros and lighthearted competitions for both teams, a weak scrimmage and a state of the program speech from John Calipari with a rehash of old comments and go-to phrases. "This is the gold standard of college basketball," "Kentucky is not for everyone," and "You people are crazy!" to create the ultimate Cal-ism trifecta.
Some of the criticisms remain and I do think the event is in need of a makeover. As other programs find ways to be fresh and innovative with their respective season tip-off events, Kentucky needs to do the same.
To give credit where it is due, though, Calipari hit a home run with his speech this year, specifically by honoring the late Terrence Clarke with his family in attendance. Clarke's mother, grandmother and siblings were showered with love and cheers by the Kentucky fanbase, a well-deserved moment of closure for both parties. The UK head coach showed emotion and vulnerability, handling a difficult situation with grace and respect.
Calipari hit some of his common trademarks — friendly wagers on a "You people are crazy!" quote will be honored — but focused on the value of Big Blue Nation and how much the program missed its presence in 2020-21.
After a year of adversity and hardship, it felt good to see Coach Cal back in his element. — Jack Pilgrim
Kyra Elzy is a certified badass
Not only does Kyra Elzy have to deal with the pressure of taking over the program that Matthew Mitchell built brick by brick during his 13-year tenure as head coach, but she also has to compete with his celebrity dancer status at Big Blue Madness.
As most of us know, Mitchell was famous for getting down with dances of all genres at BBM. From the likes of James Brown to Michael Jackson to Bruno Mars to whatever dance-craze was taking over the Internet at the time, Mitchell performed it all. His surprise retirement ahead of the 2020-21 season presented question marks surrounding the future of the Women's Basketball program, but it also left a void in the BBM entertainment department.
Elzy, who is about to enter her first full season as head coach, has embraced the challenge of continuing Mitchell's BBM legacy, but she took a slightly different route. The Kentucky native made her debut by rappeling down from the rafters of Rupp Arena before welcoming her son, Jackson, to the court for a clever handshake.
Her Blue Carpet fit was equally as awesome, too.
Welcome to the BBN, Kyra. You have officially been inaugurated. — Zack Geoghegan
The scrimmages gave us nothing
No one expects any of the players to go through Big Blue Madness like it's the closing minute of a Final Four game. And personally, I'm fine with it, as I would prefer them not do anything that might result in an injury. I felt like a jinx just watching Kentucky's open practice from earlier in the week when Sahvir Wheeler went down with a minor ankle injury (he's fine, by the way).
It sure doesn't make for entertaining television, though. As Jack mentioned earlier, Big Blue Madness does need a bit of a face-lift, and the scrimmage is on that to-do list, but what more can be done? There wasn't (or shouldn't be) a single fan in Rupp Arena that would sacrifice 100 percent health for a 10-minute light scrimmage. Calipari even appeared to sense that as he cut the scrimmage short after the first half.
It's fun to see the players showcase some athleticism with runway dunks and personality with fancy passes and in-game banter, but it's the furthest thing away from a scouting report. The Blue-White Game scheduled for this Friday is much better at giving fans of the Big Blue Nation an inside look at what's to come on the hardwood this season.
Even with the women's squad, the scrimmage was dull. The actual basketball portion of Big Blue Madness might be the most uneventful of the entire evening. — Zack Geoghegan
CJ Fredrick takes the 3-point contest crown away from TyTy Washington
All eyes were on TyTy Washington, who entered Big Blue Madness as Kentucky's defending 3-point contest champion. The former five-star recruit took home the event title at the Fans First Fan Fest and also won the 3-point contest at the Iverson Classic earlier this spring.
To this point, it's been rare to see Washington miss any 3-pointers, much less lose a shooting competition. He's a certified sniper, proving it in every available setting, both publicly and behind the scenes.
In CJ Fredrick's first appearance as a Wildcat, though, the Iowa transfer took down the reigning champion to take home the Big Blue Madness 3-point contest title.
Washington topped Fredrick in the opening round 25-19, but the latter came away victorious in the rematch with 22 points in the championship.
The event title is insignificant compared to the real takeaway — Kentucky has an abundance of shooters on the roster, with Fredrick being the latest threat to emerge. He shot nearly 50 percent from deep last season at Iowa — 47.4 percent on 2.8 attempts per game to be exact — and doesn't appear to be slowing down anytime soon.
Combine Fredrick's efficiency with the likes of Washington, Kellan Grady, Dontaie Allen and Davion Mintz, and it's hard not to get excited about the team's shooting. — Jack Pilgrim
Kentucky has some athletes
Only three Wildcats participated in the Dunk Contest–Jacob Toppin (the winner), Daimion Collins, and Kareem Watkins–but at least 10 of them could have if they wanted. Even if you missed the actual Dunk Contest, you were able to watch a mini version during the scrimmage.
Kellan Grady was throwing down tomahawk slams, Bryce Hopkins was going between his legs for crams, and Davion Mintz's first jump might be the quickest of anyone on the team. Not to mention Keion Brooks Jr., the seasoned veteran who isn't mentioned as often as he should be.
Even the bigs are wildly athletic. Obviously, Collins is a pogo stick in human form, but Oscar Tshiebwe and Lance Ware know how to run the floor and finish alley-oops. If Sahvir Wheeler had an extra three or four inches on his head, he'd be throwing down dunks, too. Instead, he converts all of his athleticism into blinding speed.
Calipari loves to build teams that are comprised of insane athleticism and he's done just that once again with the 2021-22 roster. — Zack Geoghegan
---
All in all, Big Blue Madness was a success. While the event is due for some format changes, it's still a fantastic way to get the Big Blue Nation ready for basketball season.