KSR's top takeaways from Kentucky basketball's open practice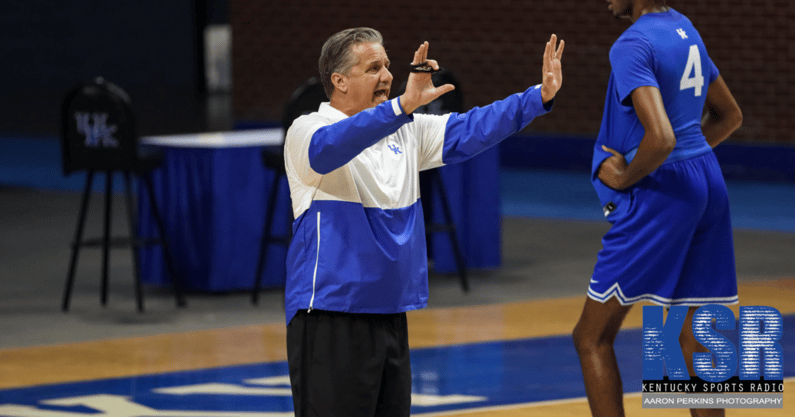 After a successful Pro Day event on Sunday, John Calipari opened his basketball practice to NBA scouts and local media on Monday.
How did the Kentucky Wildcats look? KSR has you covered.
A rundown of events
Speed, agility drills

Full-court sprints, layups, catch-and-shoot jump shots in transition

Full-court shooting drills

Designed to build stamina and maximize shooting when tired

Baseline to baseline 3-point shooting drills
Full-court transition scoring opportunities off turnovers
Defensive rotation drills
4-on-4 situational drills

Hands-on instruction rather than a free-flowing scrimmage

4-on-3 defensive drills

Four walk-ons (plus Brad Calipari) passing the ball around on the perimeter with three scholarship players chasing and making defensive rotations

5-on-5 situational scrimmage

Again, this time was dominated by hands-on instruction and live adjustments rather than a true scrimmage
John Calipari gets whistle-happy
Narratives of Coach Cal simply rolling balls out and letting his superstar players run practices themselves year after year were clearly put to rest Monday. With NBA scouts and media in attendance, the UK head coach spent the majority of practice hitting reset and making adjustments on the fly. Every single drill and scrimmage portion was met with pauses for teaching moments, sometimes multiple stops in action within a single possession. Whistles were blowing anywhere between 5 and 20 seconds apart for the better part of an hour to close out the practice.
The players got their fair share of coaching, but at the same time, the flow of play was killed due to the lack of continuity. The scrimmages felt more like walkthroughs than live game settings for scouts to really get a feel for individual talent. Many times we didn't even see shots leave players' hands because the play hadn't progressed enough to reach that point.
When they were able to get shots up, they were rushed and missed more often than not. In fact, there were only a handful of makes during the team's scrimmages, 20-plus minutes worth. Bad shot selection and good defense are partially to blame, but lack of flow was a clear factor, as well.
Calipari admitted during the Pro Day broadcast that he's blowing his whistle a bit too much and it has hurt the flow of practice as a result. That was evident Monday.
To his credit, though, we're still four weeks away from the season opener and if there was ever a time to lay the foundation of fundamental basketball, it's now. This is the time for adjustments and fine-tuning.
Injuries galore
Jacob Toppin (shoulder), CJ Fredrick (leg) and Bryce Hopkins (back) were already being held out of full-contact drills and scrimmages due to injury. Calipari said Sunday at UK Pro Day that the trio of Wildcats would return as full participants within the next week or so.
By the time UK's open practice for scouts and media concluded on Monday, though, two more players were added to the injury report. Calipari announced Lance Ware had been "hit ian the throat" and would be held out of practice for the day. And then to close out practice, Sahvir Wheeler hit the floor with a left leg injury while playing defense during one of the scrimmages. He was unable to put weight on his ankle as he was helped off the floor and taken to the locker room for medical evaluations.
12 scholarship players on the roster, but by the end of the day Monday, Kentucky was down to seven.
Toppin, Fredrick and Hopkins participated in shooting and agility drills and their returns to full-contact situations are imminent. Calipari confirmed Ware's injury was minor and he was simply taking it easy on Monday. The only real question is Wheeler moving forward.
Still, though, five injuries for any team isn't easy to deal with.
A "speed team" is coming
"We're going to be a speed team. If you're not running as fast as you can, you're not playing. You're running."
Calipari stopped practice during early speed and agility drills to drive that point home with his players. Between the full-court sprints, transition shooting drills, turnover offense and cross-court passing work, it's clear the UK head coach wants this to be an up-tempo, run-and-gun team capable of putting points on the board in a hurry.
With so many shooting, scoring and playmaking threats lining the roster, it's no surprise Calipari wants to maximize the team's strengths.
Individual standouts
While the scrimmage portion of the day didn't present many opportunities for major team takeaways, there were some clear individual standouts across the board.
Though neither were full-contact participants, Bryce Hopkins and CJ Fredrick both looked the part given their anticipated roles on the team. Hopkins continues to prove why Calipari hyped him up as one of the biggest surprises on the team, showing off a deep bag of tricks as a fundamentally sound hooper. The freshman forward is unbelievably skilled for his age and will be a rotation piece from day one.
Fredrick is a known shooter — he knocked down 47.4% of 3-point attempts in 2020-21 — but he's also a strong defender and underrated playmaker. He showed off all three traits in early drills Monday before sitting out in the scrimmages to close out practice. Calipari is running a lot of individual sets to create catch-and-shoot opportunities for him, really unique looks to maximize his shooting ability. It's clear the UK head coach has confidence in his abilities as a knockdown threat. Strong debut for the Iowa transfer.
Calipari had a revealing quote about Kellan Grady being a step behind when he first arrived on campus during Pro Day, but he looked the part on Monday. He was one of the few players to hit a shot during the whistle-filled scrimmage portion and comfortably ran the point guard position. He's patient and doesn't force the issue as a distributor.
Oscar Tshiebwe has shown off an improved mid-range jump shot this preseason and remains a force on the glass. That being said, he's still raw offensively and struggles when putting the ball on the floor. He lost the ball on a few occasions when driving toward the basket and working in the post to create a shot. That part of his game remains a work in progress.
Before he got hurt, Sahvir Wheeler was one of the biggest bright spots of the day. His playmaking ability is clear and was put on full display at Pro Day, even with a jump shot that remains a work in progress. The 5-foot-9 guard is also loud and active on defense, an absolute pest for opposing teams. His effort on that end of the floor is contagious.
Sticking with the defensive side of things, outside of Wheeler, Daimion Collins and Jacob Toppin stood out, with Dontaie Allen also making plays with his length throughout the day. The team's length and physicality made life difficult for the offense, forcing bad shots and creating turnovers. That was a major plus for the group.
"We've got a ways to go… but this group has a chance."
It isn't all sunshine and rainbows right now, but there's reason for optimism. Following practice Monday, Calipari said his team "has a chance" to make some noise this season.
The reason? His group's fight.
"We were down to eight today, but I'll tell you what, the kids fought, they're coming together, they're spirited," said Calipari. "They're creating for each other, shooting the ball pretty well, doing some good stuff.
"We've got a ways to go, it's going to be a climb, but this group has a chance because of their fight, their physicalness, their competitive spirit. They're smart basketball players."
Time will tell
Through two live practices for media to watch on Sunday and Monday, it's clear this team is talented and an improvement from last season. It's a roster loaded with shooters, scorers, playmakers, size, length and veterans, 12 scholarship players capable of producing.
With the regular season now just four weeks away, though, the Wildcats have still not practiced with all 12 players at the same time. First it was Fredrick, then Toppin, then Hopkins, now Ware and Wheeler. It's fair to feel optimistic, but any clear takeaways about the long-term potential aren't fair until we see the group take the floor in its entirety.
It's a roster with plenty of talented pieces and team synergy is strong, but the wait remains to see how they work together as the 12-man unit we're expected to see during the season.
---
Big Blue Madness is scheduled for Friday evening at Rupp Arena, the next opportunity we'll have to see the Wildcats in action.
We'll see you then.