KSR's top takeaways from a 60-41 Kentucky win over Bellarmine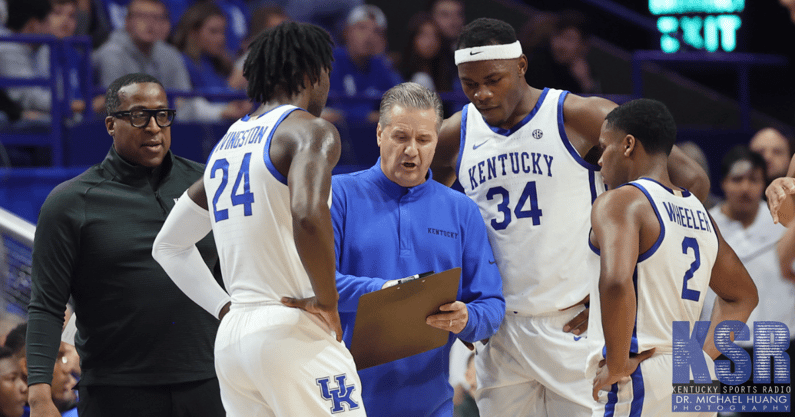 Well, that was certainly a basketball game.
On Tuesday night in Rupp Arena, the No. 19 Kentucky Wildcats (5-2) found themselves in a dogfight with a pesky in-state opponent, the Bellarmine Knights (2-6). Led by head coach Scotty Davenport, Bellarmine employed an aggravating, yet effective, style of play against the 'Cats: move the ball, move it some more, then move it five more times. Even if it took the entire 30-second shot clock (and boy did it), the Knights were content to keep hunting for better looks. The ball would hardly touch the floor on half of their possessions. It didn't always result in clean looks, but it sure as hell made Kentucky work from the opening tip to the final buzzer.
Kentucky managed to run away with the win down the stretch, securing a 60-41 victory that was much closer than the score would indicate. To be blunt, this was not a fun or exciting game to watch if you're a fan of the 'Cats. 21 points at halftime were the fewest since 2018. There was legitimate concern early in the second half if Kentucky would even be able to pull it out.
But, as the old saying goes, a win is still a win. With Jack Pilgrim on the mend, I was tasked with handling KSR's top takeaways from the night. Let's break down what we learned.
Rotation frustration
Some of the first-half lineups from Kentucky would have made any basketball coach from the 1970s proud. But in 2022, they were mainly a recipe for disaster. There were multiple instances of lineups with three to four complete non-shooters on the floor at the same time — a theme not unique to Tuesday night, but particularly noticeable against the Knights. Players were constantly being rotated in and out, with a handful only playing a couple of minutes at a time before getting yanked.
Nine 'Cats played at least four minutes in the opening 20 minutes. Kentucky scored just 21 points and shot 30 percent from the field over that span. There was very little opportunity to build some momentum with any of the lineups, even if the spacing wasn't ideal to begin with. Granted, Bellarmine played sound, team defense, but UK's dribble handoffs weren't generating much of anything on offense against a group as disciplined as the Knights.
The second half was much smoother, particularly in the final 12 minutes, but it shouldn't mask the apparent disorganization that happened beforehand. Head coach John Calipari was tossing lineups at the wall in hopes that something would stick, but most of it fell right onto the hardwood. Not so coincidentally, when Calipari tightened his second-half rotation down to five main guys (Tshiebwe, Toppin, Reeves, Wallace, and Wheeler), Kentucky began to find points in a hurry. He was able to lean on that five to slow the game down in UK's favor.
"We worked three days on how we finish a game," Calipari said postgame. "First half, 10 turnovers. Not enough movement. So we went to our grind-it stuff. Which we have worked on now. So, you saw that we were grinding it out. Which, there are some games you've got to do it."
Rupp Arena's energy was at a low
It took 30 minutes of in-game action for the Rupp Arena crowd to finally provide some energy. It certainly wasn't the fan's fault it took that long, though — it's tough to buy into a constantly tied ball game against a clearly inferior opponent. The only time the arena made its presence felt in the first half actually happened shortly after it during the halftime break.
It took a pair of college students playing a simple game of knockout for the energy to come alive. When a young female UK student hit the winning shot against her male counterpart, you'd have thought Kellan Grady was on one of his signature Rupp Arena heaters from a season ago.
This was the loudest moment of the night, which was admittedly cool to watch.
The vibes didn't get much better out of the break, either. At one point — roughly midway through the second half — the boo birds came out from the Big Blue Nation for the first time this season following a Kentucky turnover with the score still locked. It wasn't until some shots began to fall for the 'Cats down the stretch that the crowd was able to inject some life into the arena and the Wildcat players. Having Tyler Ulis as the "Y" helped pump some energy in, too.
As you might be able to understand, it's just not that easy for fans to fully immerse themselves in these types of games. But the fans did provide a much-needed jolt of energy at a critical time.
Defense was the bright spot
If you're looking for a positive, Kentucky absolutely dominated Bellarmine on the defensive end. The Knights shot 29.2 percent from the field in the first half and 31.8 percent in the second, including a combined 8-28 mark from beyond the arc. Despite Bellarmine's constant passing and backdoor trickery, the 'Cats defended for the entire shot clock throughout the vast majority of the night, forcing them into several shot clock violations.
"It took unbelievable discipline to play (Bellarmine's offense) the way we played it," Calipari said. "And there a team, any time you break down, which happened in our other couple games — the good teams, when you break down, they make you pay. So it takes unbelievable discipline throughout the possession for 40 minutes."
After the game was over, both Calipari and the players referenced how tough it was to keep up with all that endless movement from the Bellarmine side.
Kentucky did an excellent job of defending for the entire clock. They ran all over the floor to keep up with Bellarmine's constant movement. If it wasn't a shot clock violation for the Knights, it was a tough, contested jumper right before the horn. I'm not sold that UK has the same amount of success against a roster with more quickness that can attack the rim, but that's not who was in front of the 'Cats tonight.
Reeves, Toppin woke up in the 2nd half
After an all-around lackluster first-half display from Kentucky, it took a pair of 'Cats to finally began to get the offense into a rhythm. Jacob Toppin and Antonio Reeves combined for 26 of UK's 39 points in the second half (Bellarmine had just 20 as a team after halftime), shooting a combined 9-12 from the floor. Toppin was attacking the paint while Reeves was in "shoot 'em all" mode.
When their aggression levels are high, good things typically happen for both of those players.
"I just played through contact," Toppin said postgame about what changed in the second half. "I was more physical. I wasn't shying away from anything and that's what (Calipari) always tells me, that I need to be more physical. That's what it is. If I'm more physical on my drives, taking the bump instead of accepting the bump, I can be able to finish around the rim better and everything will just seem better."
"When that first one went down, it definitely built my confidence," Reeves, who hit his first 3-pointer of the night in the second half, said. "I just needed to see one go in. I know I missed three in the first half and as a shooter, you just got to keep shooting."
With Oscar Tsheiwbwe performing below his usual All-American levels (he still managed eight points and 12 rebounds in 32 minutes), Kentucky needed someone (or multiple someones) to step in. There will be instances later in the season where Calipari needs someone other than Tshiebwe to make something happen. Toppin and Reeves will be two prime candidates for that role depending on the situation. Their second half on Tuesday night was a step in that direction.