[caption id="attachment_206463" align="alignnone" width="731"]
Credit: Ray Carlin-USA TODAY Sports[/caption]
South Carolina 13 Vanderbilt 10
https://www.youtube.com/watch?v=-SbtPP_cuZk Elliot Fry hit a game-winning field goal and the Gamecocks rallied against the Commodores to win 13-10. Vanderbilt jumped out to an early 10-0 lead, but the Gamecocks rallied to tie on an 8-yard run by Deebo Samuel.
(#1) Alabama 52 (#20) USC 6
https://vine.co/v/5iYXh2dhWDb We knew that Alabama was going to be good this year. What we didn't know, is how good they really are. USC took their opening drive down the field and connected on a 47 yard field goal. Alabama then ran off 38 unanswered points, before finally winning 52-6. In case we needed to put more salt on the wound after last night's Kentucky game, Alabama was led in rushing yards by, Damien Harris, who rushed for 138 yards on only 9 carries.
Arkansas 21 LA Tech 20
https://twitter.com/Conference_USA/status/772182543353249792 In one of the better games of the day, Arkansas survived against the Bulldogs of Louisiana Tech. Austin Allen connected with Jeremy Sprinkle to give the Razorbacks the lead with 6:37 remaining in the 4th quarter. The Razorbacks leave the game with a lot of question marks, primarily on the offensive line. In fact, it took Arkansas going 3-3 on fourth down to truly be able to win this game.
(#2) Clemson 19 Auburn 13
https://vine.co/v/5i36WmKbgjP Auburn surprised a lot of people in this game. Most believed that Clemson would win by double-digits. Auburn had two chances to connect on a hail mary at the end of game, but both were batted down by the Clemson defense. Wide Receiver, Mike Williams, returned for Clemson and had a monster game. Also for Clemson, Wayne Gallman rushed for 123 yards and a touchdown. Auburn should be feeling really good after this game. They surprised a lot of people and their defense, for the most part, slowed down one of the best players in College Football.
(#25) Florida 24 UMass 7
https://twitter.com/GatorsFB/status/772280931440848900 If there was anything that could make Kentucky fans feel better after last night's embarrassment, it would be this game. Florida was favored by 35 points and instead won by 17. New quarterback, Luke Del Rio, passed for 256 yards and 2 TDs. Defensively, the Gators were solid, holding the Minutemen to only 187 yards of total offense, but that is well overlooked in a game that the Gators should have won by more.
(#18) Georgia 33 (#22) North Carolina 24
https://twitter.com/TheOpening/status/772239792369078272 Nick Chubb returned from a gruesome leg injury to lead Georgia to a 33-24 victory over North Carolina. Chubb rushed for 222 yards and 2 touchdowns, which included a 55 yard TD run that iced the game with 3:34 left to give Georgia what would be their final lead. Overall, Georgia definitely is looking like a contender to win the SEC East. If Nick Chubb continues to have a big season, the Kirby Smart era could begin very nicely.
Wisconsin 16 (#5) LSU 14
https://vine.co/v/5iVWpFMPr2j This game was everything you want in a College Football game. Wisconsin jumped out to a 13-0 lead halfway through the 3rd quarter and the LSU offense was looking stagnant. Then in the period of a little over a minute, LSU stormed back following a interception returned for a touchdown and a Brandon Harris touchdown pass. Wisconsin kicked the go-ahead field goal with 3:47 left. LSU began to march down the field until Brandon Harris threw a bad interception, continuing to make Tiger fans wonder about his maturity. Leonard Fournette did have 176 yards of total offense, with 138 of those coming on the ground.
South Alabama 21 Mississippi State 20
https://twitter.com/RedditCFB/status/772153611283468292 In the upset of the day, Mississippi State's major question mark at quarterback showed and South Alabama won 21-20. The Bulldogs jumped out to a 17-0 lead at the half, but South Alabama scored two touchdowns, including the game-winner, in the fourth quarter. Mississippi State kicker Westin Grave then proceeded to miss a chip shot that would have let the Bulldogs survive.  
West Virginia 26 Missouri 11
https://www.youtube.com/watch?v=ZzlCxH8E6uY The primary strength of the Missouri team, the defensive line, struggled against the Mountaineers. Offensively, the quarterback position continues to be a worry, as Drew Lock struggled with accuracy, completing only 45% of his passes. Luckily, the passes that he did connect on, he had a lot of success, as he did pass for 280 yards. Overall, Missouri looks to be headed on the path of another down year. This should be a game that the Cats can make up after last night.
(#9) Tennessee 20 Appalachian State 13 (OT)
[caption id="" align="alignnone" width="800"]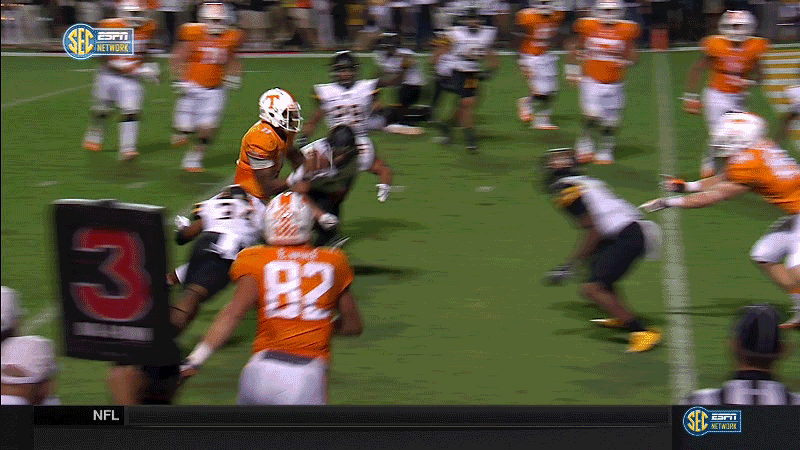 Courtesy: Deadspin[/caption] The Vols escaped this one. There is no other way to describe it. Joshua Dobbs did not live up to the hype and almost cost Tennessee the game with a big fumble on the goal line. Luckily, for Tennessee, the ball was recovered by Jalen Hurd. If Appalachian State would have managed their time better during their 2 minute drill at the end of regulation, we could be looking at a major upset in week one. With all of this being said, Appalachian State is a legitimate football team. They very easily could finish with at least 10 wins.
Texas A&M 31 (#16) UCLA 24 (OT)
https://vine.co/v/5iVHWV916Ab Trevor Knight threw for 239 yards and a touchdown while also adding two more on the ground to lead the Aggies to a 31-24 win in overtime. In a game of runs, the Aggies were able to withstand the 15-0 run in the fourth quarter to force the game into overtime, where Knight rushed for a touchdown and the Aggie defense stopped Josh Rosen. In a game where Kevin Sumlin really needed a win, his team stepped up and got the job done.
(#15) Houston 33 (#3) Oklahoma 23
https://www.youtube.com/watch?v=4z4ZleWWkaM Houston outplayed Oklahoma in every way in this game. Big play after big play was made, which helped the Cougars upset the Sooners. Houston forced Oklahoma into a few turnovers in the second half and were able to take advantage of these mistakes. A lot now has to be asked on whether Houston has a shot at the College Football Playoff. Overall, this was an extremely impressive win for Houston and a bad second half performance from Oklahoma.
Georgia Tech 17 Boston College 14
https://www.youtube.com/watch?v=KWyrkOUUXDg Georgia Tech scored the go-ahead touchdown with 35 seconds left and the Yellow Jackets defeated Boston College 17-14. The Eagle defense proved yet again to be one of the nations best as they were able to slow down the Georgia Tech option attack offense. Patrick Towles did have a decent debut for Boston College as he passed for 137 and rushed for another 27 and a touchdown.
(#19) Louisville 70 Charlotte 14
https://www.youtube.com/watch?v=8u1rzUHzdGE As all Kentucky fans know, Lamar Jackson is REALLY good. He accounted for 405 yards of offense and 8 touchdowns... in the first half. The Cards lead 56-0 at the half and proceeded to win 70-14. Now Charlotte may not be a great football team, but if you score 8 touchdowns in one half against anybody, you are pretty good.  
If you are interested in being notified whenever one of my articles go live, please follow me on Twitter @GormleyKSR.