KSR's weekly Kentucky football scholarship offer roundup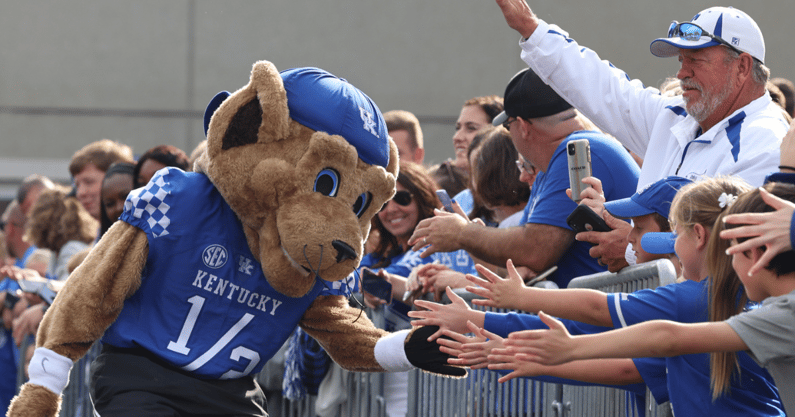 It's been an exciting (and busy) week for the Kentucky football staff.
For starters, the Wildcats picked up a massive commitment from local quarterback Cutter Boley on Thursday, who is arguably the program's biggest recruiting win in multiple decades. The four-star signal caller is a top 75 prospect in the class of 2024 and is a prospect you can build an entire offense around. Boley's pledge to the 'Cats is exactly what the program needed right now as the recruiting in '24 has been slow-paced so far. Ideally, his commitment injects some juice into UK picking up more talented pieces for the future.
That wasn't all the staff was focusing on this week, though. Elsewhere, the Kentucky coaches hit the recruiting trail with over a dozen new offers extended since the week began. Who did the Wildcats reach out to? Let's dive right in and find out.
But first, a word from our sponsor!
Time for our weekly recruiting update presented by our friend Andy Luedecke at MyPerfectFranchise. Andy is a huge college sports fan and franchise veteran, having owned multiple franchises and businesses. Using his expertise, he helps others find their American Dream through a very thorough consultation and evaluation process.
If you are wanting to find a way out of corporate America, wanting a side-hustle business, or a way to diversify…..reach out to Andy, as he's got a ton of knowledge in this world and best of all, his services are 100% free to you – always! After you finish this post, you can learn more or reach Andy at [email protected].
---
Class of 2024 offers
Duke Watson (RB) 6-0, 185 | Mary Persons (Forsyth, GA) –> KSR interview
4-star: No. 369 overall, No. 31 RB
Shortly after decommitting from Georgia Tech, Duke Watson received an offer from Kentucky offensive coordinator Liam Coen. The four-star back has been talking mostly with new running backs coach Jay Boulware and the Wildcats are looking to get Watson to Lexington for a visit soon. Watson doesn't have anything locked in just yet with UK, but does have an official visit with Penn State for the weekend of June 9.
Jason Patterson (RB) 6-0, 205 | Sneads (Sneads, FL) –> KSR+ interview
3-star: No. 502 overall, No. 41 RB
Another high-end running back to pick up a Kentucky offer this week was Jason Patterson, which came from defensive line coach Anwar Stewart. Boulware has also been involved in this recruitment. Patterson has visited UK once before for a gameday trip back in October and could visit the Wildcats again in July. He already has OVs scheduled for Rutgers (June 1-3), Boston College (June 9-11), Cincinnati (June 16-18), and Stanford (June 23-27). 
Jiquavious "Quavo" Marshall (ATH) 6-4, 180 | Westside (Macon, GA)
3-star: No. 565 overall, No. 27 ATH
Kentucky is the first SEC offer for Jiquavious "Quavo" Marshall, who has also earned scholarships this month from the likes of Pittsburgh, Iowa State, UConn, and Florida State. Michigan, Nebraska, and others have previously extended offers. Marshall is a pure athlete and is being recruited by schools to play on both sides of the ball. UK defensive backs coach Chris Collins was who extended the offer.
Justin Terrell (DL) 6-2, 285 | Rome (Rome, GA)
3-star: No. 953 overall, No. 89 DL
One of two Rome (GA) High School prospects offered this month, Justin Terrell was previously a Wake Forest commit before backing off that decision earlier this spring. He's since scheduled an official visit to NC State for June. On Thursday, Terrell announced an offer from Kentucky, tagging defensive line coach and defensive coordinator Brad White in his tweet. It's been a busy May so far for Terrell, who has also picked up offers from North Carolina, Missouri, Mississippi State, and Wisconsin.
Shamar Rigby (ATH) 6-5, 170 | Lakewood (Saint Petersburg, FL)
Although he's currently unranked, Shamar Rigby could be on the verge of a breakout in his recruitment. Kentucky associate head coach Vince Marrow offered Rigby on Thursday, just a couple of days after Nebraska did the same. Minnesota and West Virginia have also reached out with offers in the last few weeks. Rigby currently has an official visit scheduled to Purdue in June.
CJ Williams (OT) 6-8, 330 | Deerfield Academy (Deerfield, MA)
Another potential late-bloomer, CJ Williams is beginning to build some steam with his recruitment. Wake Forest, Boston College, Pittsburgh, Vanderbilt, and Virginia Tech have all reached out since the new year began. Kentucky got in the mix on Wednesday when wide receivers coach Scott Woodward reached out with an offer. Williams hails from Massachusetts, an area that Woodward is familiar with from his previous coaching days. At 6-foot-8, 330 pounds, Williams is one to keep an eye on if the 'Cats decide to pursue him further.
Class of 2025 offers
Phillip Bell III (WR) 6-1, 185 | Bishop Alemany (Sacramento, CA)
4-star: No. 27 overall, No. 6 WR
The first of two top 50 rising juniors to receive a Kentucky offer this week is Phillip Bell III, which he announced from Coach Woodward on Monday. Playing high school ball out of California, Bell is going to be a highly sought-after recruit. Alabama offered a few days before the 'Cats, joining a list that already included Southern California, Auburn, Georgia, Michigan, Ohio State, Oklahoma, and much more. The home state Trojans are the program to watch at this early stage in Bell's process.
Javion Hilson (EDGE) 6-4, 230 | Cocoa (Cocoa, FL)
4-star: No. 46 overall, No. 7 EDGE
The second top 50 rising junior with a fresh UK offer is Javion Hilson out of Florida, which he announced on Monday from inside linebackers coach Mike Stoops. Hilson has been hauling in offer after offer this month, with the likes of Penn State and Ohio State headlining some of his new interested programs. The Buckeyes extending a scholarship on Wednesday could change the course of his recruitment.
Waden Charles (WR) 6-3, 185 | Somerset Canyons (Boynton Beach, FL) –> KSR+ interview
4-star: No. 256 overall, No. 42 WR
Although he's not as highly ranked as Phillip Bell III, Waden Charles is a talented pass-catcher in his own right. He's also one of two Somerset Canyons (FL) prospects to receive a Kentucky offer this week. Charles earned an offer from the 'Cats on Tuesday, which came from Mike Stoops. He recently told Jacob Polacheck of KSR+ that he's hearing the most from the likes of Miami, Georgia, Texas A&M, Auburn, and LSU. A visit to Kentucky could happen this summer.
Kobby Sakyi-Prah (EDGE) 6-3, 210 | Roswell (Roswell, GA)
It's been quite the month of May for Kobby Sakyi-Prah, who holds offers from Minnesota, Georgia Tech, Wake Forest, Duke, Vanderbilt, Arkansas, and now Kentucky, which he announced on Friday morning. Sakyi-Prah has been a relatively unknown recruit before his big month, so he'll be another one to keep an eye on as his popularity starts to boom.
Jaedon Harmon (S) 6-1, 205 | Rome (Rome, GA)
The second Rome (GA) product now holding a Kentucky offer is Jaedon Harmon, which he announced on Thursday, tagging Coach Stewart and Coach White in his tweet. Missouri, Indiana, and Coastal Carolina have also reached out with scholarships this month.
Micah Rice (ATH) 6-2, 185 | Archbishop Moeller (Cincinnati, OH)
Not much is known about Micah Rice just yet, but he hails from a familiar school for the Wildcats in Archbishop Moeller, which has produced multiple Kentucky players over the years (including a few currently on the roster). Coach Marrow extended an offer on UK's behalf on Tuesday. Rice is a talented track and field athlete, as well.
Class of 2026 offers
Denairius Gray (WR) 6-1, 170 | Somerset Canyons (Boynton Beach, FL)
Go ahead and learn Denairius Gray's name now, because it's one you'll be hearing plenty of down the road. The rising sophomore wide receiver already holds offers from the likes of Auburn, Florida, Georgia, Florida State, Michigan, Miami (FL), Penn State, Texas A&M, and now Kentucky, which reached out with a scholarship on Tuesday. Gray is teammates at Somerset Canyons (FL) with Waden Charles. Not a bad duo of pass-catchers.
Chancellor Campbell (OT) 6-6, 270 | Lakewood (Saint Petersburg, FL)
The first Power 5 offer for rising sophomore Chancellor Campbell came from Kentucky on Thursday with Coach Marrow leading the charge. The only other offer for Campbell so far is Toledo, which he picked up in April.
---
Learn more about Andy Luedecke and franchise ownership through these resources:
Andy's Story
Why a Franchise
Service Based vs Brick and Mortar
Semi Absentee Ownership
The Process and How It works
Book time with Andy: Andy's Calendar