KT Turner on Cason Wallace, Chris Livingston: "They're not freshmen anymore"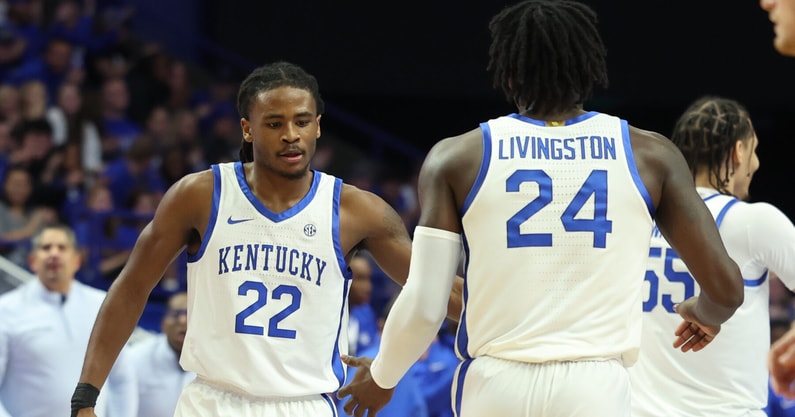 Right around this time every year, John Calipari's tune shifts regarding his blue-chip freshmen. It's inevitable, part of his script each and every season. A go-to Cal-ism.
"We are no longer freshmen," or some variation of the saying.
This is the time his diaper dandies lose their Pampers and grow up a bit, graduate to the next class. No more training wheels. They know what it takes to be successful as a student-athlete at the University of Kentucky and the expectations Calipari has for them at this point.
Five-star duo Cason Wallace and Chris Livingston are no exception. Freshmen, no more — they're sophomores.
"Yeah, both of those guys have really stepped up into their roles. They're not freshmen anymore," assistant coach KT Turner said of the former McDonald's All-Americans. "I consider them now — they're sophomores. They're doing good and they're both playing a lot of minutes, especially Cason."
Wallace has emerged as Kentucky's lead guard, exceeding expectations as a facilitator and playmaker. He's been brilliant feeding his teammates in the pick-and-roll while also setting up scoring opportunities for himself. He's now averaging 11.8 points, 4.1 assists, 3.7 rebounds and 1.9 steals in 31.6 minutes per contest.
"Cason is just, he's growing into that leadership role," Turner said. "Talking a lot more, speaking up a lot more in practices and timeouts, things like that.
As for Livingston, he's finally finding his groove after an up-and-down start to his career. He earned SEC Freshman of the Week honors Monday after averaging 12.5 points, 7.5 rebounds and 2.0 assists per contest in back-to-back wins, highlighted by his first career double-double against No. 10 Tennessee.
"Chris has really come along on both ends of the court, doing really well," Turner added. "We're happy with what he's doing and need him to continue to do it."
Wallace thrived from the beginning, mostly as an off-ball guard capable of scoring at all three levels. He was knocking down shots and using his quick first step and athleticism to find buckets around the rim while also being a terror on defense. His transition was rather seamless. Livingston, however, struggled quite a bit with minutes and role, not quite fitting in at either forward spot. He's only recently begun to figure things out and find his footing on both ends of the floor.
The breakthrough, though, has been quite fruitful. As the 6-foot-6 forward's production has picked up, so has the team's collective success. Like Livingston, Kentucky is playing its basketball of the season.
What has worked for the Akron native?
"Oh, I think it was a couple of weeks ago. He really took it upon himself to pay attention to the details defensively," Turner said. "And when you do that, your offensive game just automatically comes when you really focus on playing hard and doing things and paying attention to the details on the defensive end.
"Just seeing man and ball, the fundamentals, guarding the basketball, you know? Boxing out is a big thing for him. He's doing the little things, that's what I mean by the details."
He's particularly grown as a rebounder, attacking the glass on both ends. Offensively, he's securing putback opportunities, while also setting up grab-and-go looks on the defensive end. Averaging 31.3 minutes his last six games, Livingston is securing 5.3 rebounds per contest.
"He's a really, really good offensive rebounder, I think one of the best in the country," Turner added. "And we're on him about going all the time and then boxing out on the other end."
Not all freshmen are built the same, and Livingston is proof of that. What comes easy for some may not for others, the timelines don't always align. "It's different for different players," Turner said. "It's hard to play as a freshman anywhere in any conference."
But the finish line is always the same to close out the season. Kentucky needs both players to play like sophomores as postseason play quickly approaches, especially as C.J. Fredrick and Sahvir Wheeler work their way back from injury.
"We have a couple of guys, freshmen, that are playing a lot and playing big roles for us," Turner said. "… Those are both really good players and we're gonna need them down the stretch. It's really good that they're getting a lot of minutes right now. It's gonna help us down the line when we add CJ and Sahvir back."
Calipari's best teams see freshmen finding their groove going into March. This group is no different.