Kyle Wiltjer wants to be a guest announcer for Kentucky vs. Gonzaga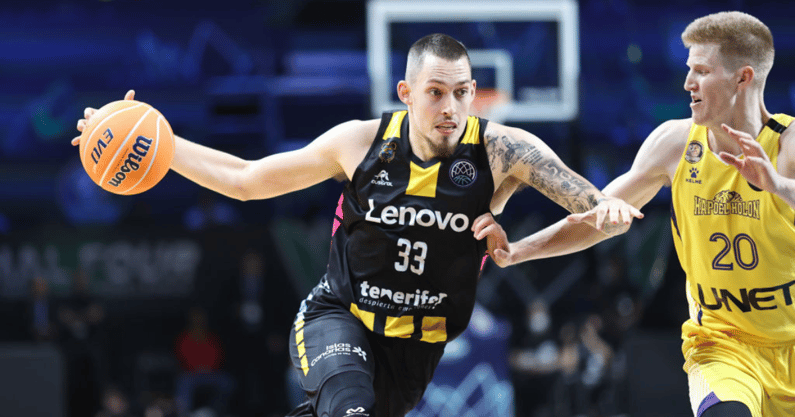 You're going to have to look long and hard to find an individual who knows the Kentucky Wildcats and Gonzaga Bulldogs better than Kyle Wiltjer. It's why he's ready to take over as a guest announcer when the head-to-head series between the two teams begins this season.
Shortly after the series was announced, Wiltjer — who played at Kentucky from 2011-13 and Gonzaga from 2014-16 — made it clear he was ready to join the television broadcast for the highly-anticipated matchups.
Who will the former Wildcat and Bulldog root for in the head-to-head battle? Expect Wiltjer to stay right down the middle — literally. He's already searching for a custom jersey featuring half Kentucky, half Gonzaga so he can cheer for both of his former teams.
A former five-star recruit out of high school, Wiltjer averaged 5.0 points and 1.8 rebounds per game as a freshman at Kentucky, knocking down 43.2% from deep off the bench to help the Wildcats claim the national title. He then returned to Lexington for his sophomore year, where he earned SEC Sixth Man of the Year honors after averaging 10.2 points and 4.2 rebounds per contest, knocking down 36.7% of his 3-pointers.
He then transferred to Gonzaga, where he averaged 16.8 points per game as a junior and 20.4 points as a senior. The 6-foot-10 forward went undrafted in 2016 and signed with the Houston Rockets as a free agent.
This past May, Wiltjer became a professional champion, giving him a title at every level between high school, college and the pros. Suiting up for Lenovo Tenerife (Spain), the former Wildcat earned his first professional championship in FIBA's Basketball Champions League. His team defeated BAXI Manresa by a final score of 98-87 to earn the title. He averaged 11.8 points on 52.2% shooting and 43.8% from three to go with 3.2 rebounds and 1.1 assists over 18 games this season.
Wiltjer, who has been playing professionally overseas since 2017, signed with Tenerife out of San Cristóbal de La Laguna in July of 2021. He previously played for Olympiacos Piraeus (Greece) from 2017-18, Unicaja (Spain) from 2018-19), and Türk Telekom (Turkey) from 2019-21.
Prior to his time in college and the pros, the former Wildcat won three consecutive state championships at Jesuit High School (Oregon).
Finding success at every level in the world of basketball, Wiltjer is now ready to give broadcasting a shot, and he wants to start with his two former schools.
The series between Kentucky and Gonzaga was announced this past week during UK's open practice for flood relief. Gonzaga head coach Mark Few called in to publicly accept John Calipari's offer of a home-and-home series with the Wildcats, starting with a trip out to Spokane on November 20. The Bulldogs would then return the favor with a trip to Lexington in 2023.
Game one of the series will not, however, take place at The Kennel, Gonzaga's on-campus arena officially known as the McCarthey Athletic Center. Instead, the matchup will take place at Spokane Arena, which seats 12,210 people for basketball games, over twice the capacity of The Kennel.
Calipari tweeted that he hopes the increased seating will allow more Kentucky fans to get in, even teasing that the series may be extended from two to four years.
"I'm excited about playing Gonzaga. I'm disappointed that we have to go there first, but to make it happen I was willing to do that. Playing in front of 13K crazy fans in Spokane Arena will be exciting just like it will be in front of 22K fans in Rupp next year.

I imagine there will be some #BBN and some Gonzaga fans too who will sneak in the game this year because there's more seats!

Anybody that wants us to play in a 6,000-seat facility, wants us to lose! And I get that. I tried to look back and find the last time UK played in a true regular-season road game with 6,000 or fewer fans. I stopped looking after the 70s.

This is great for both schools and I can't wait to get the series started. Maybe we make this four years?"
No matter the venue, Wiltjer wants to be a part of the action.