Kyra Elzy is embracing change in culture for Kentucky WBB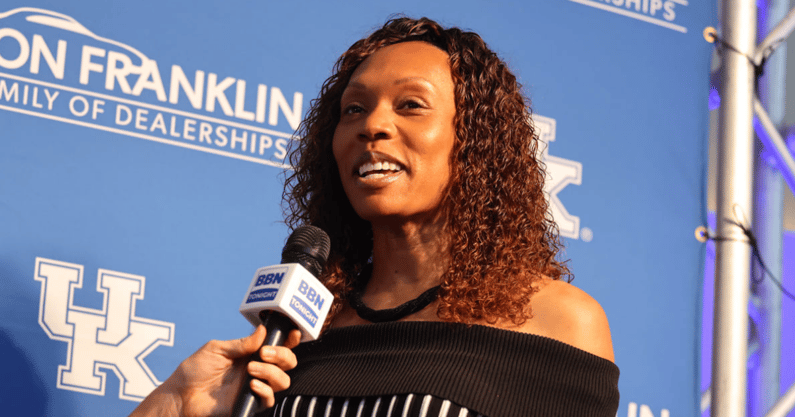 "Culture" is a big buzzword thrown around athletics these days. How a locker room is held together, the bond everyone creates from the coaching staff down to the walk-ons, the day-to-day commitment, and on and on. New head coaches particularly lean on this word as a way to establish a team's identity in the program's next era. Mark Stoops has preached culture in football and John Calipari the same in men's basketball.
Now we can add Kyra Elzy to the list for women's basketball.
Culture is critically important to the success of a program, even if the meaning of the word is starting to lose its flair. Maintaining a positive culture is how you succeed in recruiting. It's how you develop team chemistry, which leads to on-court success. If everyone doesn't buy-in, the whole foundation can collapse in an instant.
"Culture is something that we've talked about all summer long, or from the end of last year, all summer," Elzy said during Monday's Media Day. "It was funny, Coach Gail Goestenkors when she got here, we were doing our staff retreat, and she was like, I've heard culture more this summer than I've heard in the last five years."
To no one's fault, Elzy wasn't dealt a fair hand when athletic director Mitch Barnhart handed her the head coaching job, just one month after the surprise retirement of long-time head coach Matthew Mitchell. There was no time to build a culture or establish an identity. Hell, due to COVID-19, there wasn't even time to hang out with each other outside of basketball.
The results of that showed themselves rather quickly. Kentucky started the 2020-21 season with a 6-0 record (which earned Elzy the head coaching job) and eventually to 11-3 with multiple top 25 wins under its belt. But a 17-point loss to rival Tennessee in late January became a turning point in the season.
Energy levels were noticeably down from then. By the second half of the season, players were out of gas before halftime. The defense would show little interest at times and the team's best player would take plays off. By all accounts, it was a poor finish.
Kentucky would go just 7-6 to end the regular season before Georgia knocked the 'Cats out of the SEC Tournament in the second round. UK would earn a four-seed in the NCAA Tournament but narrowly escaped 14-seed Idaho State in round one before being annihilated by Caitlin Clark and Iowa in the Round of 32. And once it was over, hardly any fans of the Big Blue Nation were in shock.
"You always knew how important that summer was, but last year when we didn't have it we really just came in on the basketball court and started practicing. We didn't really have time to gel," Elzy added. "So you saw during points of the season when we hit adversity, the trust factor, understanding each other in different ways. It really showed itself."
So far this offseason, Elzy has done and said all of the right things to remedy how last season concluded. She brought on new strength and conditioning coach Lee Taylor, who has every player on the roster in the best shape of their lives right now. There will be no excuse for hands-on-hips or not sprinting in transition this time around. Elzy isn't going to let that slide.
She has two Hall of Fame coaches by her side in Lin Dunn and new assistant coach Gail Goestenkoers. There is an added importance on weight training and nutrition. Team bonding is a major point of emphasis, especially since it was unavailable a year ago.
Battling adversity as a team
The team's trip to Fort Campbell in August came up numerous times at Media Day; typically met with different reactions depending on who you ask. Kyra Elzy couldn't contain her excitement while talking about it, while the players could only smirk and let out a subtle laugh before admitting it was one of the best things they could have done this offseason.
No phones, no internet, a 5 a.m. pots and pans wake-up call, and a five-mile run with 30-pound weights. Every single coach participated with the players, too. If they wanted to get through it, they would have to do so together. Something they didn't have the time to fully understand and incorporate last season.
"It was the best thing because it really forced us to communicate and bond and be able to problem-solve," Elzy said about the Fort Campbell trip. "And so that was one of the biggest things that we didn't do down the stretch last year that we will be better this (year)."
The problem-solving will include more versatility and adjustments. Positionless basketball was brought up a handful of times. Elzy now has a full offseason as head coach under her belt now. This is officially her basketball team; one that will run the system she has spent the last couple of months implementing.
Committing to it
Kyra Elzy has branded Kentucky Women's Basketball with the "Commit To It" theme, which goes back to the team's culture. She is set on establishing her own identity at UK heading into year two. It's already paying off on the recruiting front, but now it's time to see the on-court result.
"That was really important to me to set the tone," Elzy said. "And this is my program now and change (of) the guards from (Coach Mitchell). So setting the tone and culture of how I wanted things was really important. And last year, I was kind of thrown into it, we were in the middle of the season. So it was survival mode."
But what does Elzy mean by the "Commit To It" tagline?
"We're asking them to commit to it on the court, whether it's how we play defense, whether it's buying into your role, how we want to play up-tempo, committing to the weight room, committing to nutrition, committing to the community. It's all-encompassing, and what we are trying to do to move this program forward."
Elzy sure does have some big shoes to fill. Matthew Mitchell collected a 281-125 record during 13 seasons in Lexington that included nine NCAA Tournament appearances and three trips to the Elite 8. He's easily the most successful coach this program has ever seen.
But Elzy learned under Mitchell for nine seasons before sliding over to the chair of her former boss. She's taken that knowledge and is now adding her own secret brand of culture sauce.