Lamar Jackson has 18 TD's on the season–more than 115 FBS teams, including UK
[caption id="" align="alignnone" width="707"]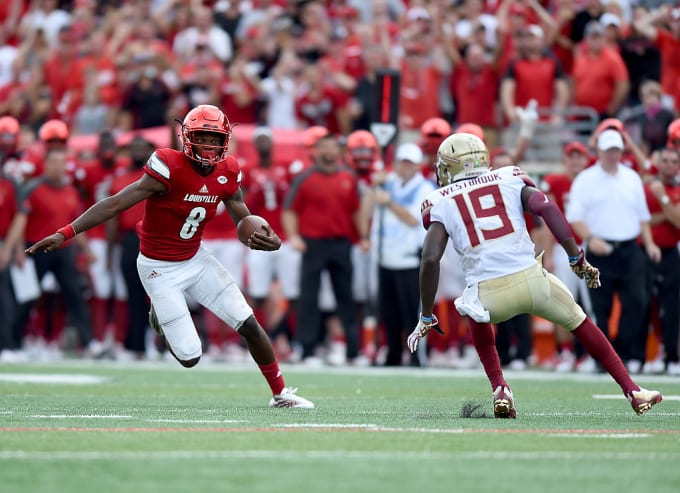 via complex.com[/caption] While Stephen Johnson had his own coming out party of sorts for UK, Louisville's dual-threat QB worked his team's way into the national title conversation, and penned a pretty promising Heisman resumé. In just three games, the true sophomore has racked up 1,377 yards and 18 touchdowns in just three games–both measures higher than UK football as a whole. I don't like this, mostly because it affirms my theory that Louisville football directly saps energy from us, but in the wake of a 63-20 romp over no. 2 FSU you have to give credit where credit is due. Many are hailing Jackson as the next Michael Vick, and for good reason. This might be an overreaction (actually, it definitely is), but I'd say Lamar is better than Michael Vick already.
The guy can flat out run–Exhibit A:
[embed]https://www.youtube.com/watch?v=q9XaPvz-Dcg[/embed] 2. He doesn't just have a cannon for an arm. He's got an a full-fledged rocket. [embed]https://www.youtube.com/watch?v=LlaiDT9Px8I[/embed] Take notes, Spacex. And that's in high school. Jackson's deadly combination of elite athleticism, on-field intelligence, and extraterrestrial arm make him the clear heisman favorite at this point in the season. Granted, we've got a lot of season left, but don't believe me, believe the experts: [embed]https://twitter.com/MikeVick/status/777237133379592194?ref_src=twsrc%5Etfw[/embed] [embed]https://twitter.com/CFTalk/status/777203309887234048?ref_src=twsrc%5Etfw[/embed] Not to rain on our parade but Little Brother (aka- U of Lamar Jackson) looks good.