Lance Ware is a "four-year player," HS coach says; Calipari praises work ethic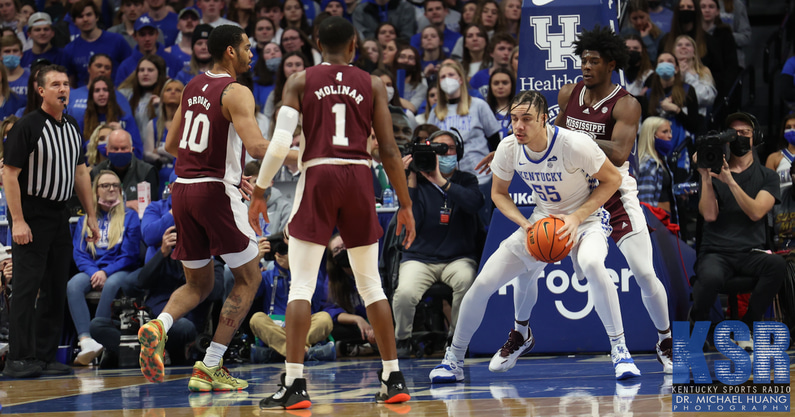 Lance Ware is on a different path than his peers at the University of Kentucky. It's been that way from the start.
Coming in as a top-40 prospect in the class of 2020, the 6-foot-9 forward chose the Wildcats over offers from Michigan, Ohio State and Georgetown, among others. He wasn't the flashiest player in high school, averaging 11.8 points, 7.9 rebounds, 1.3 assists, 1.4 steals and 1.3 blocks as a senior at Camden. And he wasn't seen as a player with otherworldly potential, one you'd have to slowly bring along until he was ready to explode.
Instead, Ware was a gritty, hard-nosed prospect with a "junkyard dog" mentality.
"He is a worker," Ware's high school coach Rick Brunson told KSR back in January 2020. "He's a junkyard dog, does all of the dirty things for you. He's going to sets screens, rebound, do the dirty work for you. … If you expect him to come in and average 20 points per game, you've got the wrong person. Lance is going to rebound for you, protect the rim, run the floor, and work extremely hard.
"… One of the most coachable kids I've ever been around. He's going to be coachable and show up for [John Calipari] every day. He's never going to take a day off, and he's going to bring a great attitude as he does it."
Fast forward two years, and Brunson's initial scouting report was right on the money — in limited opportunities, of course. As a freshman, Ware averaged 2.0 points and 3.0 rebounds while adding 11 total blocks and six steals in 12.0 minutes per contest. And then in year two, he's averaging 1.8 points and 1.7 rebounds in 6.6 minutes per game behind Oscar Tshiebwe, a contender for National Player of the Year.
The numbers don't jump off the page in the slightest, but don't tell John Calipari that. During almost every postgame press conference, media opportunity and call-in radio show, the UK head coach finds a way to praise the sophomore forward for his ability to make an impact when his number is called, no matter how often or long that may be.
"How about Lance?" has become a go-to Cal-ism in recent weeks, with the latest example being following Kentucky's overtime victory over Mississippi State on Tuesday. Ware finished with two points (1-1 FG) to go with four rebounds and one assist in seven minutes of action.
Calipari used Ware as a primary example of a player fighting for his minutes and then making the most of his time on the floor, and doing so with the right attitude.
"'Not playing me enough.' It's your fault," Calipari said. "You've got to take responsibility first for your performance. You've got to. Are you playing harder than the guy you're playing against or is he playing harder than you? Well, just let him play through it.
"… Own your performance. It's hard when Lance [Ware] – who played great again today – it's hard when you don't know, is Oscar [Tshiebwe] going to play so well that I'm not getting any minutes or many minutes, or is he going to struggle and be in foul trouble and I'm ready?"
The strong play is a product of hard work and dedication to his craft.
"Every day, Lance Ware is in the gym getting better. Every single day," Calipari said. "I look out my window and that kid's in there. I have all the confidence in the world."
All eyes were on Tshiebwe's 21-point, 22-rebound performance on Tuesday, but Ware's impressive play caught the attention of graduate senior guard Kellan Grady.
"Lance was awesome when he came in," Grady said. "What'd he play, seven minutes? He had four rebounds, had a nice finish. He was really good for us."
Now two years removed from high school, Ware's head coach at Camden says he's right on track for his college career, regardless of what the stats may show. This was always the plan for Ware, a long development under a Hall of Fame coach at Kentucky.
Unlike most players that come through Lexington, the former four-star recruit knows he's a four-year player.
"Lance is my guy, we talk twice, three times a week. He's doing great," Brunson told KSR at the Hoophall Classic in Springfield, MA last week. "He's doing good, just has to stay focused and work hard. I told you guys, he's a four-year player. Kentucky is used to having one-and-dones, that's not who he is. We're proud of him."
There's no rush to produce or get to the NBA with Ware. Instead, it's about consistent growth and being a good teammate while enjoying the process. That's his path.
"Coach is playing Lance exactly how he should be playing him," Brunson told KSR. "When Lance is a junior, senior, things will get a little bit better in terms of opportunity. He just needs to stay focused. He's a good player, but there are other good players out there. That's just the reality of it. I encourage him every time we speak, tell him to be a great teammate.
"We're proud of him no matter what. Whether he plays or doesn't play, that doesn't define you."