Lane Kiffin is Complimentary of Mark Stoops, Kentucky Football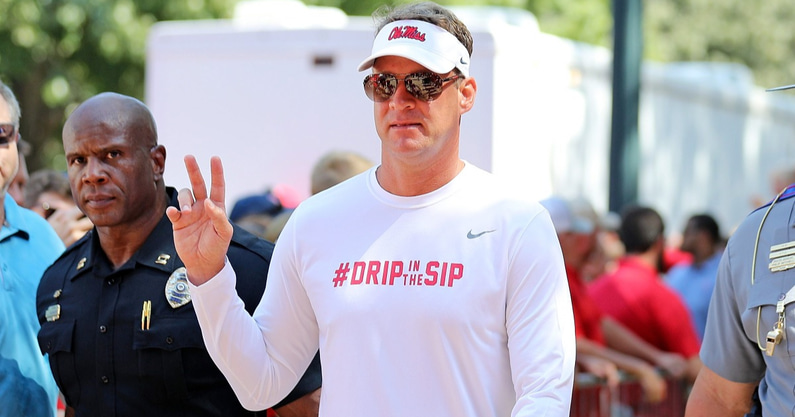 Lane Kiffin will not be calling the Kentucky Wildcats soft ahead of Saturday's Top 25 matchup in Oxford. The Ole Miss head coach had nothing but nice things to say about Mark Stoops' program on this week's SEC Teleconference. Even though the players have changed since the two last met in 2020, the UK defense shares some similarities.
"He and his brother are similar over the years, playing both of them, (they) are really tough and challenging," said Kiffin. "They can give you different third down packages, are very multiple and really do a good job of utilizing their players and programming them in there. They have two true freshmen starting already. That says a lot about coaching."
Ole Miss defeated Kentucky 42-41 in the pandemic-plagued 2020 season, giving Kiffin his first win as the Rebels' head coach. Chris Rodriguez had 133 yards and two touchdowns in that overtime loss. He'll make his 2022 debut for the Wildcats this Saturday.
"Obviously that's huge for them, to get a guy fresh at that position that carries the ball a lot to be able to get to the fifth game of the year without taking hits. It's very challenging. We're going to have to play the run a lot better than we did last week."
The Ole Miss head coach pointed out the durability factor because his running back room is feeling that physicality right now. Their top two backs, Ulysses Bentley IV and Zach Evans, may be sidelined by injuries for Saturday's game.
"We're going to have our biggest challenge on that vs. a very good front and linebackers that really come downhill, led by Jacquez Jones," said Kiffin. "Jacquez played really well when he was here and has improved a lot since then. He improved from last year to this year, so we have our hands full."
Lane Kiffin gained acclaim for his ability to create explosive plays on offense and develop playmakers at quarterback. Real certainly recognizes real when he turns on the tape to watch Will Levis.
"I think he's very accurate, I think he knows what he's doing really well and he doesn't make many mistakes," Kiffin described Levis. "He moves around to give himself out of trouble, so he looks like a composed, veteran quarterback."