<em>Last Man Standing</em>'s Tuesday Morning Wakeup

Getting back into the grind after a three-day weekend is never easy, so I'm going to start my day with how I've ended most nights over the last month with 
Last Man Standing
.  I am only slightly ashamed to say that I've spent hours of my life watching the Tim Allen ABC Friday night sitcom. The half hour show shares an almost identical premise as the GOAT,
Home Improvement
.  A man's man, Allen is a marketer for Outdoor Man, where he has a vlog that is basically a crappier version of
Tool Time
.  The biggest difference?  Instead of having three sons, he has three daughters. When I was told the show's premise, there was no way I was going to get roped into watching it.  But I gave it a try, and it's provided at least one-three laughs each episode.  Most importantly, it's not too clever and I don't mind falling asleep five minutes into an episode. Now that I've shared my guilty pleasure Netflix experience, share your own or make fun of me for liking Tim Allen too much.
Here's to Hoping You're Still Not Angry
Kentucky football fans aren't strangers to taking bad losses, yet learning to cope with this one was more difficult than most.  Even though I am still not content, watching Ole Miss fall apart in the same manner last night at least makes me feel a little bit better.  We are not alone.  We stand in solidarity with you, Mr. Mustache Meme.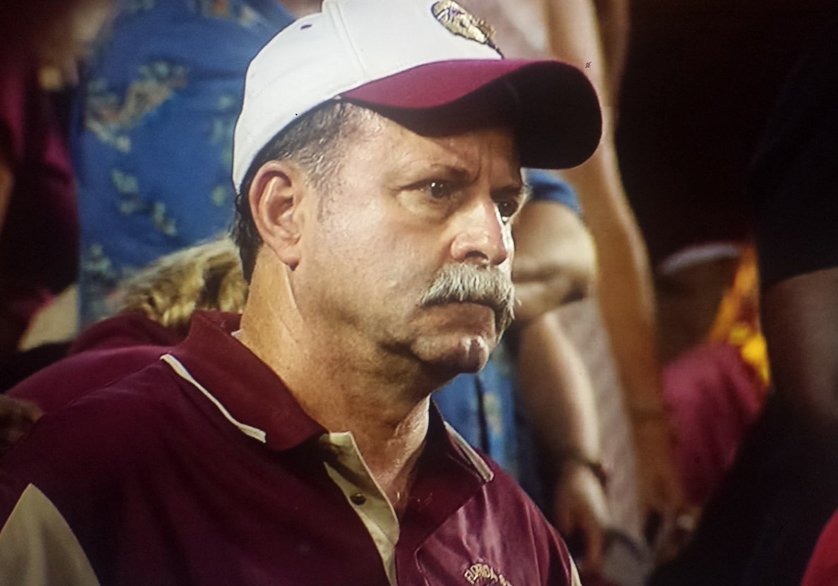 Still Upset?
Here's a six-month old baby water skiing.  That should help.
North Carolina dad says 6-month-old with "real strong grip" is world's youngest water skier. https://t.co/UNqgHCQuWp pic.twitter.com/MJkp8MuJE3

– ABC News (@ABC) September 6, 2016
We'll Hear from the Offense Today
You probably were too busy having fun at the lake to know that the schedule didn't change for Kentucky football.  Yesterday
Mark Stoops held his usual Monday morning press conference
, which means today we'll see Eddie Gran and the offense.  They at least have one good half to talk about, but it'll be interesting to hear them  explain what happened in the second half.
Moves on the Depth Chart
There weren't too many
depth chart
changes, but Stoops said on his radio show that the competition remains open at punter. The other notable absence on the depth chart was Blake McClain.  After experiencing a head injury, he missed practice yesterday and Stoops "anticipates" that he'll be able to play on Saturday.  Josh Allen also missed practice and his status is to be determined.
A New Depth Chart Podcast
After he hangs up the mic on The Leach Report, he's moving to the studio next door to record a new Depth Chart Podcast.  He has a few guests to help preview Florida, including Kyle Tucker from SEC Country.  Don't worry, I remembered to bring the podcast equipment.
This Craigslist Ad is Hilarious
I shouldn't think a fake job posting is this funny, but it's been two days and I still can't stop laughing.
For immediate hire we are seeking 1 complete coaching staff: Duties include: Making good calls Not making dumb calls Making good calls some more Avoiding allowing 34 unanswered points In general, don't be a dumbass. You will have the most modern facilities available for your use and a supportive administrative staff. You may even have some of a fan base left, but it's growing smaller by the day. Contact Mitch Barnhart for details.
Max Godby's Letter to Fans
The former UK center wrote an open letter to fans that has created quite a commotion.  Half are happy to share their unending support for the team, while the other half are tired of spending thousands of dollars to only have their heart broken in the stands.  
Read the letter
for the former player's perspective.
KSR in an Hour
Drew Franklin begins his new regular gig with the show.  If you don't want to vent, at least he'll make you laugh.