Latest version of Cats-Cards tonight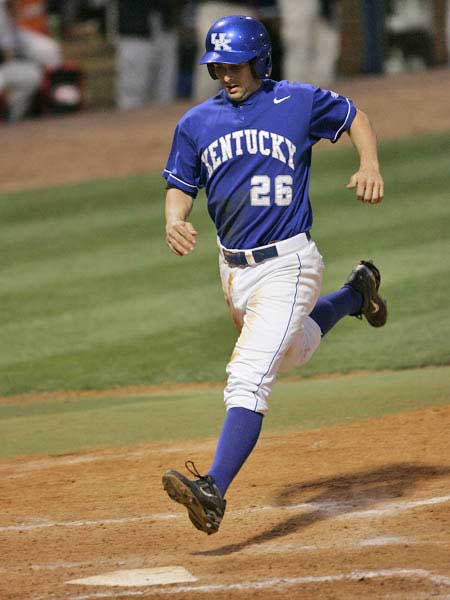 In case you don't have
Chris Johns' weekly preview
post bookmarked, it's worth noting that
the Cats' baseball team will be travelling to the

Dirty

Derby City this evening to take on the Filthy Cards
. First pitch is at 6 p.m., so if you don't have anything better to do, which I know for a fact you don't, head out to Jim Patterson Stadium for the rivalry game. In case you get confused, it's the baseball stadium right across from the discount car lot and 'La Tapatia' Mexican restaurant/shack. The Cats took the first game of the season series in Lexington,
shutting out the then-7th ranked Cards 5-0 earlier this month
. Gunner Glad smacked a two-run homer and three Cats hurlers combined for the 4-hit shutout in the first meeting. Since then Kentucky has struggled a bit, losing six of their last ten, including a 16-run defeat at the hands of Western Kentucky last week. They traded one-run games at Auburn over the weekend, overcoming a two-run deficit with three runs in the 8th to win 8-7 in the first game Sunday and losing 6-5 on a walk-off hit by the Tigers in the second. Auburn took the series, though, as they won the first game of the three-game set on Friday, 13-6. Louisville is currently rated 7th in the RPI, with the Cats 24th. Despite being in the top-25 of the RPI, that's only good enough for ninth among SEC teams and the Cats still have work to do to qualify for the eight-team SEC tournament. Big Blue will be looking for its first season sweep of the dirty birds since 2006, also the year of Kentucky's last SEC championship. In case you can't make it out to Louisville for the game but still want to follow along, CatScratches, the official cornily-named blog of UK Athletics, will be
hosting a liveblog of the game
. No, it won't be as good as a KSR liveblog. You'll just have to tough it out. Go Cats.