LCA vs. Pikeville: Kroger KSR Game of the Week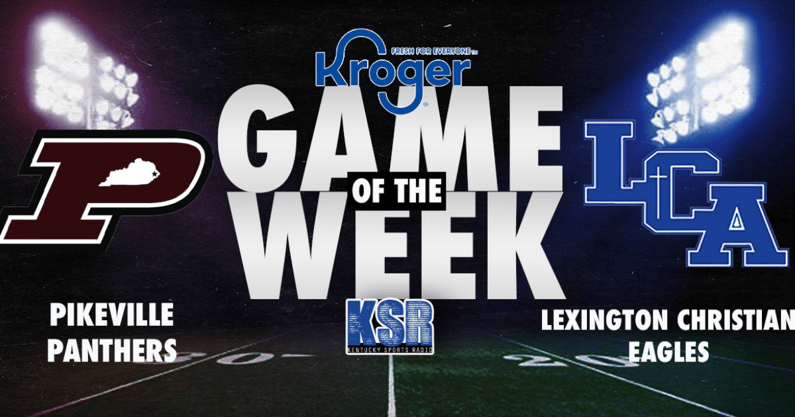 The Pikeville Panthers travel to Lexington this Friday evening for a high-profile matchup against the LCA Eagles. Kickoff is slated for 7:30 p.m. ET in what will be the sixth Kroger KSR Game of the Week this year.
Here are some need-to-know facts about both squads.
LCA (Lexington Christian Academy)
KSR State Ranking: No. 4 (No. 2 — 2A)
Record: 5-0
State Championships: 1 (2009)
State Runner-Up: 2 (2020, 2007)
Last Season: 10-2 (Lost to Beechwood 24-23 in 2A title game)
Coach: Doug Charles
Key Players:
Drew Nieves (QB): 23-40, 400 yards, five touchdowns, one interception (two games).
Mason Moore (WR): 13 rec, 268 yards, three touchdowns — filled in at quarterback for two games — rushed for 368 yards, 34 attempts, four touchdowns.
Xavier Brown (RB): 50 rushes, 385 yards, two touchdowns.
Pikeville
KSR State Ranking: No. 13 (No. 1 — 1A)
Record: 5-0
State Championships: 5 (2019, 2015, 1989, 1988, 1987)
State Runner-Up: 4 (2018, 1991, 1979, 1972)
Last Season: 6-3
Coach: Chris McNamee
Key Players:
Isaac McNamee (QB): 47-70, 630, 10 touchdowns, two interceptions.
Blake Birchfield (RB): 86 rushes, 705 yards, seven touchdowns.
Zac Lockhart (WR): 26 rec, 352 yards, six touchdowns.
LCA vs. Pikeville Preview
The Panthers head to Lexington to continue their undefeated season this Friday against the No. 4 team in KSR's Week Six rankings fresh off a 29-0 shutout against Belfry in the ARH Bowl. Pikeville quarterback Isaac McNamee threw for as many incompletions as he did touchdowns: three. Blake Birchfield, one of the top rushers in the state, averaged 7.5 yards per carry in their fifth-straight victory of 2021.
LCA stomped No. 18 Lexington Catholic in the Holy War 43-7 week five, solidifying the Eagles as the top-ranked team in the Lexington area. Quarterback Drew Nieves returned after a two-game hiatus, throwing for 219 yards and three scores. Mason Moore, a Miami (OH) commit, replaced Nieves at QB while he was out. He was set back out wide in his natural position against Lexington Catholic, hauling in seven receptions for 139 yards and a touchdown.
While both teams head into the Kroger KSR Game of the Week undefeated and ranked in the top-15, LCA has one thing that the Panthers don't: a signature victory.
Don't get me wrong. Pikeville has won against the No. 4 team in 1A (Paintsville) and they've handily defeated the rest of their opponents this year, but LCA's victories are as impressive as any in the state: No. 23 Madison Central (21-12), No. 8 Boyle County (35-28), CAL (No. 2 – 3A, 37-14) and No. 18 Lexington Catholic (43-7). The victory over Boyle County gave the Rebels their first regular-season loss since 2017.
Pikeville will have a huge test on their hands Friday night against the Eagles. With both squads staking their claim as one of, if not the best team in their respective division — the winner will certainly be that much more confident in setting their sights for Kroger Field at the end of the year.
Predictions
Barkley's Prediction: LCA 21, Pikeville 17
Troy's Prediction: LCA 38, Pikeville 21
A Message from Kroger:
We're excited to tell you about something new from our friends at Kroger. Did you know Kroger is America's largest grocery chain that started over 135 years ago? They are doing something they've never done before: bringing fresh groceries right to you with a new service called Hometown Pickup.
That's right, for those of you in Cynthiana, Midway, Eminence, Bedford, McKee, Dry Ridge, Carlisle, Eubank, Georgetown, Mt. Vernon, Jackson, Frenchburg, Irvine, Mt. Olivet, and Paris, Kentucky you can now order all your groceries online and pick them up at a central location in your hometown. No more long drives into the city to get fresh food for you and your family. Now THAT is truly Fresh for Everyone. Thanks, Kroger.
Learn more and place your first order at Kroger.com/hometown.