Lebbeus Overton not hearing from Kentucky as much as he would like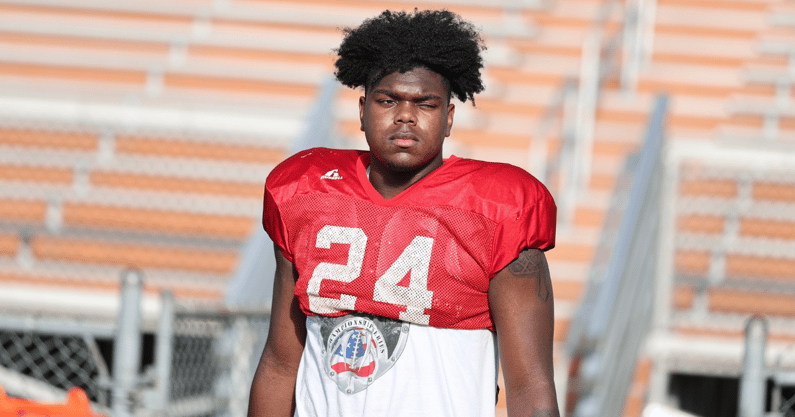 One of the top high school football players in America has a legitimate connection to Kentucky Football, but he's not hearing from the Wildcat program as much as he and his family would prefer.
Lebbeus Overton, a five-star class of 2023 defensive lineman out of Milton, GA, is widely considered as one of the five best high school junior football players in the nation. Kentucky, which is where Overton's mother, Eunice Thomas, starred as a Volleyball player in the '90s, was one of the 12 programs to crack his list of top schools back in the summer. Overton then took a gameday visit to Lexington where he watched Kentucky beat UT-Chattanooga at Kroger Field in September.
But several months later, the connection between Overton and Kentucky has taken a step back.
"I mean it kinda slowed down, it's on and off. It's not as good as I wanted it to be. It's kinda average," Overton told KSR on Monday of his relationship with UK.
Overton doubles as both a basketball player and high-level football recruit for Milton High School (GA). On Martin Luther King Jr. Day, Milton made the trip up to Springfield, MA to participate in the final day of the HoopHall Classic. Milton took on Camden High School (NJ), which features the No. 1 player in the class of 2023 D.J. Wagner, who is a heavily sought-after UK target. Camden came out with the 63-55 win as Wagner finished with 21 points.
Overton, who clocks in at 6-foot-3, 270 pounds, posted two points, six rebounds, one steal, and one block on Monday against Camden. As one might expect from a kid of his physique, he prefers the toughness of football over basketball.
"It's definitely different. It's a little soft for me," Overton added. "But it's still fun, just trying to have fun out there playing two different sports."
Switching back to the gridiron, Overton's top 12 includes Kentucky, Ohio State, USC, Florida, Georgia, Oklahoma, Alabama, Clemson, LSU, Texas A&M, Tennessee, and North Carolina. He said that he intends to drop a top-five relatively soon.
Overton has past personal connections to a handful of those 12 schools, including Kentucky. He was born in College Station, where Texas A&M is located and his dad was once the associate athletic director. Overton later lived in Alabama for a few years and has been in Georgia for the last three. His father also used to play football at Oklahoma in the early '90s and the Sooners are still listed among his favorites despite that program's recent coaching changes. Kentucky, Texas A&M, Alabama, Georgia, and Oklahoma all have unique connections, but that doesn't mean those five will come out ahead of the others.
Georgia is considered the frontrunner for Overton's services at the moment. He lives in the Alpharetta area, is good friends with highly-ranked UGA commits Mykel Williams (a former UK target) and Oscar Delp, and has now taken several trips to the Bulldogs' campus.
That being said, his recruitment is still far from over. Kentucky appeared to at least be in a position to come in as one of his potential top schools, but a recent lack of relationship building is making that tough.
"Right now (UK) text here and there. I wish they would do a little bit more recruitment with it," Overton's mother, Eunice Thomas, told KSR on Monday. "Because you need to know what a kid's heart is. I think a lot of people go assuming a lot, based on the kid's ranking, what they do, where they live. One thing about us, as a family, we want to build relationships, trust, and honesty."
Another connection Overton has to the Kentucky program is linebacker Jacquez Jones, who is his childhood friend and someone he still stays in touch with. Additionally, Overton is familiar with former Wildcat Donte Rumph (2010-13), who is now a football skills trainer in the Alpharetta area and works with Overton.
On top of all that, Overton was impressed with his campus visit to Kentucky back in the fall.
"When I went on campus it was beautiful, good peoples all around," Overton said. "One of my guys plays down there, Jacquez (Jones), the linebacker. He's a childhood friend so being able to see him enjoying himself had really helped me connect with (UK)."
So why, with all of these dots lining up, would Kentucky not exert more effort in trying to further develop a relationship with a top-ranked five-star?
"I've raised that question," Thomas said. "They're not used to having five-stars, they're used to having whatever is leftover afterward and taking those kids and building them. But my son, he's not like 'oh I'm some big player', he wants to go somewhere he can make a difference. So I think that's where they're falling short is looking at what players are trying to make a difference and could make a difference for that program."
Overton himself added that he is unsure as to why Kentucky has slowed its communication. Considering the program is coming off a second Citrus Bowl win in four years and just hauled in its greatest recruiting class in history, now would be a good time to fight above their weight.