LeBron James' Hairline's Wednesday News and Views
Gather around, friends, as we mourn the loss of one of professional basketball's most popular stars and the co-MVP of Game 6 of the NBA Finals:
LeBron James' hairline.
It was discovered by
Business Insider
on Tuesday that LeBron finally gave up trying and cut what's left of his hair down to what is now stubble, leaving him looking like a new man. After years of disguising his receding hairline with the unusually positioned headband, King James is now rockin' the all-bald hairstyle.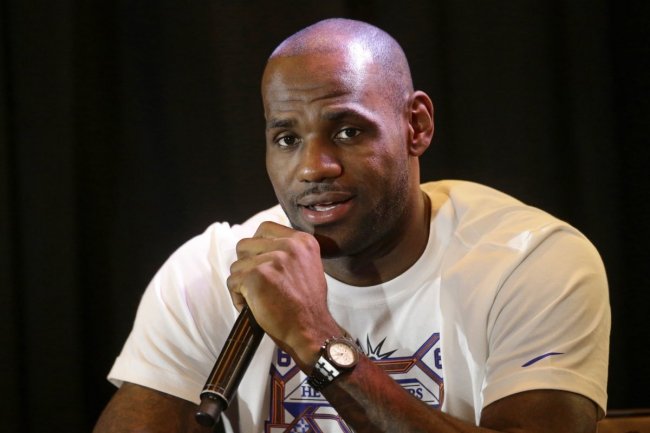 James' new look debuted in the Philippines in late July, where LeBron was headlining Nike's "Witness History Tour" to promote the sport in Southeast Asia. If he continues to keep it shiny up top, Buzzfeed projects LeBron will look like this in 2014: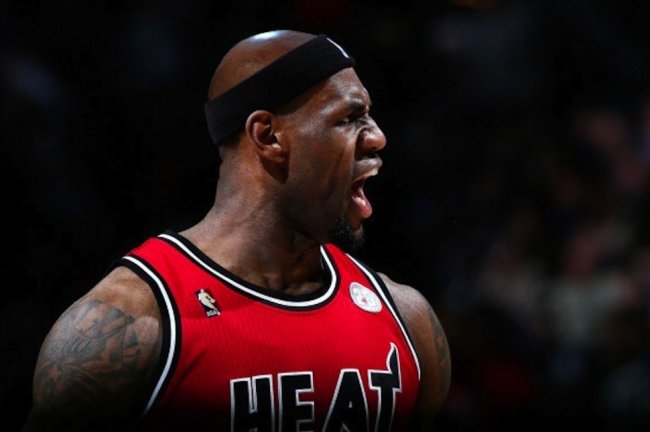 And that, my friends, is the NBA's biggest story from Tuesday. The internet is a beautiful place. So let's use it to talk UK sports...
 Kentucky's 2013-14 basketball schedule is no longer a mystery thanks to a release of the entire
2014 SEC schedule
on Tuesday. UK's conference games are as follows: 01/08/14... vs. Mississippi State, 8:00 p.m. ET 01/11/14... at Vanderbilt, 1:00/3:30 p.m. ET 01/14/14... at Arkansas, 9:00 p.m. ET 01/18/14... vs. Tennessee, 12:00 p.m. ET 01/21/14... vs. Texas A&M, 9:00 p.m. ET 01/25/14... vs. Georgia, 1:30 p.m. ET 01/28/14... at LSU, 9:00 p.m. ET 02/01/14... at Missouri, 1:00 p.m. ET 02/04/14... vs. Ole Miss, 7:00 p.m. ET 02/08/14... at Mississippi State, 1:30 p.m. ET 02/12/14... at Auburn, 8:00 p.m. ET 02/15/14... vs. Florida, 9:00 p.m. ET 02/18/14... at Ole Miss, 7:00 p.m. ET 02/22/14... vs. LSU, 4:00 p.m. ET 02/27/14... vs. Arkansas, 7:00 p.m. ET 03/01/14... at South Carolina, 6:00 p.m. ET 03/04/14... vs. Alabama, 9:00 p.m. ET 03/08/14... at Florida, 12:00 p.m. ET
(You can see the entire schedule here.)
As you can see, Kentucky will play four former SEC West teams in Mississippi State, LSU, Arkansas and Ole Miss, but only Florida gets two shots at the Cats out of what used to be the SEC East. That means
no road trip to Knoxville and no Kevin Stallings in Rupp Arena
in 2014. We do get to see Marshall Henderson in Rupp, though, and yet another game at Auburn Arena for the third consecutive season.
 Big news from the football field on Tuesday regarding the quarterback competition. Following Kentucky's scrimmage in Commonwealth Stadium, the final day of evaluating before WKU prep begins, Mark Stoops not only confirmed Jalen Whitlow and Maxwell Smith are the finalists for the job, but announced
both quarterbacks will play against Western Kentucky
. If you believe having two quarterbacks means you have no quarterback, the news is upsetting. However, there are several ways to look at it and we won't truly know the reasoning behind it until the game. It could be the case that he's setting Petrino up to prepare for two styles: an accurate passer and an explosive playmaker. Or maybe the staff really needs an in-game look at both guys to determine who to move forward with. I assume it's a combination of both. Or maybe Smith is the leader but there will be packages for Whitlow. Or Whitlow's the leader but with little room for error. Regardless of how it truly stands today, it's not exactly what the staff wanted when forecasting the QB battle prior to camp, when Stoops told us they hope to have one guy by the first game. And it is a little troubling that one of the two couldn't emerge as the clear cut favorite. I'd like to think they're both just 
that 
good, but I'm afraid it's more of an inability to separate from the pack.
 While Whitlow and Smith battle it out, there is
a possibility Patrick Towles, the third QB option, will redshirt
. Towles is going to prepare to be the third guy but he's open to the idea of redshirting if playing time isn't in the cards in 2013. Stoops commended Towles for the way he fought for the job and how he handled the news. He said, "Patrick was very good, very mature, handled it very well. It wasn't an easy conversation, because I know how much he cares and how much he put into it. He handled it the right way. And I know it was easy for me because I was very fair in the whole process. I gave him every opportunity to win the job."
 Injuries are the last thing we want to be talking about with just a little over a week before the first game, but it's the second biggest storyline after Tuesday's practice, unfortunately.
Za'Darius Smith and Cody Quinn both sat out another day
and Stoops admitted he's worried about whether or not they'll be back in action by August 31. The two projected starting defenders are battling aggravating ankle injuries that could keep them out of the season opener. Nate Willis also sat out on Tuesday, as did Zach Meyers.
 Newcomer 
Blake McClain saw first team action at cornerback opposite Fred Tiller
in place of Quinn and Willis in Tuesday's scrimmage. The news is interesting considering Jaleel Hytchye was the incoming defensive back with all the hype and potential to earn a starting role. McClain moved from safety, his natural postion, to corner early in fall camp and must be catching on quickly. The position is still a huge concern, though, with Willis and Quinn battling injuries.
 Stoops confirmed
Melvin Lewis is on campus and practicing with the team
, but hinted he might redshirt. Stoops said Lewis looks good but is out of shape after arriving on campus so late. "We're pleased with what we see from him so far," Stoops said of the JUCO transfer. "He does have a redshirt year available to him as well. So we'll see how he progresses."
 In basketball recruiting news,
2015 shooting guard Charles Matthews plans to visit Lexington for the UK alumni game on September 9
. Jahlil Okafor, Devin Booker, Tyler Ulis and Derrick Jones (2015) also plan to be in town that day.
 You should take a minute to read
this article about Julius Randle from Liberty Ballers
, a Philadelphia 76ers fan site. "The Case For Tanking: Julius Randle" suggests Randle could be selected ahead of Wiggins in next year's draft and it wouldn't be the worst idea for the Sixers to tank for a shot at the pick. A Randle-Noel frontcourt? Yes please.
 REMINDER:
the Under Armour Elite 24 game will air on ESPNU at 7:00 ET Saturday night
. Karl Towns had to pull out of the game to be with the Dominican team but there are still several Kentucky targets you should tune in to watch. Emmanuel Mudiay and Tyus Jones are on separate teams, by the way. Malik Newman is playing too. SOLD. That'll do it for tonight. Go Cats.