Liam Coen is playing an active role in Kentucky football offensive coordinator search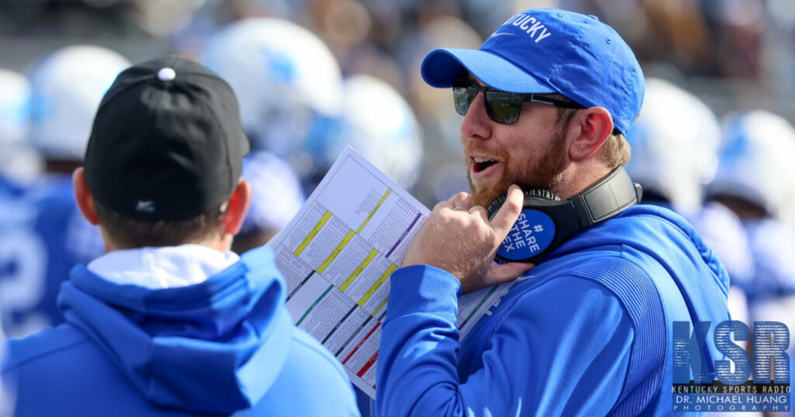 Mark Stoops is receiving some help in his search for a new offensive coordinator. Before Liam Coen leaves Lexington to become the offensive coordinator for the L.A. Rams, sources tell KSR's Matt Jones that Coen is "playing an active role" in the interview process for his successor.
Jones revealed on Thursday's Kentucky Sports Radio that Kentucky has interviewed at least four people for the vacant position. Each candidate has followed up the interview by having a conversation with quarterback Will Levis. Jets QB coach Rob Calabrese is one of the coaches that has been through the interview process. Calabrese is considered the frontrunner at this point in the process. As we alluded to earlier this week, Coen's recommendation put Calabrese in contention for the position.
Coen's involvement in finding his successor is motivated by two factors. First and foremost, he never intended to leave after only one season. He was all in, prepared to help Levis and Co. take their game to new heights, until an opportunity arose that he could not refuse. To make sure he does not leave his players and the Kentucky football team empty-handed, Coen wants to find a successor that will continue using the concepts he implemented in 2021. Even though continuity cannot be completely preserved, the right fit for the job can keep this offensive engine humming without any significant setbacks.
Coen's actions are not entirely unprecedented, even for this coaching staff. Jon Sumrall was hired to be the next head coach at Troy after the conclusion of Kentucky's regular season. He still returned to Lexington to help UK seal the deal in a few recruitments before the Early Signing Period, then coached the Cats one final time in the Citrus Bowl.
Expect Mark Stoops to make a decision soon to wrap up the process prior to spring practice. An official schedule for this spring has not yet been released, but we can tell you it will not begin next week. The new play-caller will have some time to get his feet wet before he goes to work with the players.