Mark Stoops on Liam Coen calling plays from the booth vs. sideline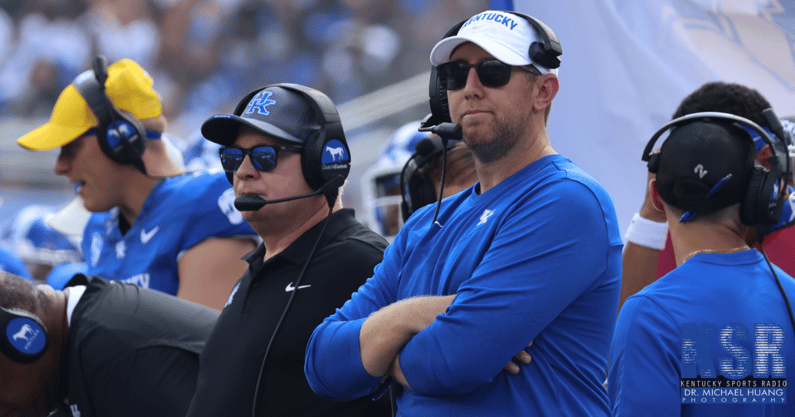 On Saturday, Liam Coen called Kentucky's plays from the booth as he continued to recover from a medical episode six days prior. Will he stay in the booth for the rest of the season or return to his previous spot on the sideline? Mark Stoops says that's a decision that's up to Coen and he'll be fine either way.
"We'll see," Stoops told reporters at today's press conference. "He can make that decision but last week it was best for him and his health. So, how he feels going forward. We'll talk to him."
Booth vs. sideline is a personal preference. Mark Stoops, who started out as a defensive backs coach before becoming a defensive coordinator and eventually, head coach, said there are pros and cons to both.
"There are several things that you have to take into consideration. Being up top, the vision is great. Early in my career, I was up top and the vision was always good, but I was mostly just a secondary coach at that point, not in charge of the whole defense. And then I moved down because of the interaction. So that's the difference, is the interaction. The vision isn't as good."
Subscribe to the KSR YouTube Channel for press conferences, interviews, original shows, fan features, and exclusive content.
After Kentucky's win over Akron on Saturday, Coen said he liked being in the booth, even if it meant not being in the thick of it on the sideline.
"I thought it was good. I thought the guys did a nice job from the sidelines. I thought the players did a great job communicating up to the box. I thought I saw pretty well up there. You miss the emotion but you also kind of like being pulled back from some of the emotion at times.
"We'll evaluate it more over the next couple of days here as a staff and see if that's something Coach Stoops and I and our offensive staff want to continue to do but it was a good time to try it out."
In addition to working in a slightly less stressful environment, calling plays from the booth gave Coen a different perspective, which could prove even more valuable as Kentucky strives to clean up mistakes heading into SEC play.
"Liam and I talked about it," Stoops said. "Without getting into detail, the fact that he was going up, the nice thing for him is he could write down plays in between, he could clearly see and notice the issues. The bad thing is, those players are used to seeing him being in charge and being down there. So, those are things we have to weigh in. For him really, most importantly, is what's best for him and his health."
We'll probably hear more about booth vs. sideline on Tuesday evening when Coen and members of the offense talk to reporters after practice.
Got thoughts? Continue the conversation on KSBoard, the KSR Message Board. New members can try 1 month for $1.
Discuss This Article
Comments have moved.
Join the conversation and talk about this article and all things Kentucky Sports in the new KSR Message Board.
KSBoard