Liam Coen put on a show for high school wide receivers across the country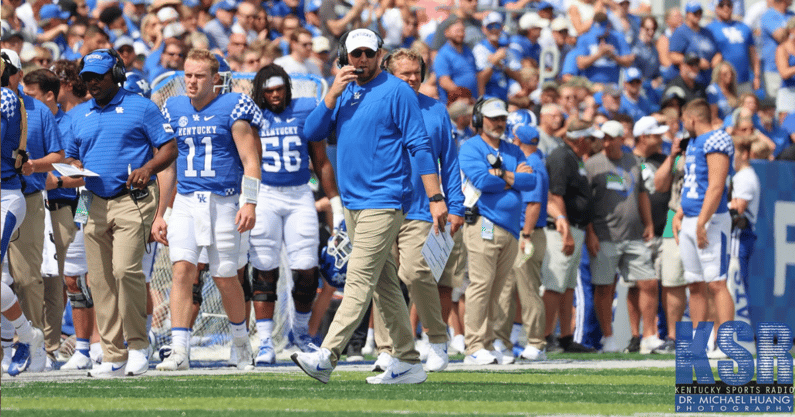 It's tough to recruit four-star talent at the wide receiver position when the offense you're operating will throw for 300 yards once every couple of seasons. Which is exactly why Kentucky head coach Mark Stoops brought in Liam Coen to lead the Wildcat offense into the future–with dreams of slinging the ball around to balance out a lethal rushing attack.
Stoops and company have proven year over year to be capable recruiters in the SEC, competing with (and beating out) powerhouse programs for some of the nation's best high schoolers. One position where that prowess has notably been lacking, however, would be with the pass catchers.
For a program looking to take the next step, the offense needs to be less predictable than it has been, which means more talent spread across the roster.
Kentucky hasn't struck out every single time they've targeted four-star wide receivers in the past, but the batting average is not great. After watching Josh Ali and Wan'Dale Robinson collect 261 receiving yards on Saturday against Lousiana-Monroe, it's beyond clear how important it is to have multiple pass-catching threats on the field.
Long balls, short balls, and everything in between, quarterback Will Levis was spreading the love all over the field. Kentucky recorded three pass plays of at least 50 yards on Saturday. Over the last three seasons, the offense pulled that off just four times.
Now we need to hope that the top recruits were watching, too.
Dane Key sure was, and he might be the most important recruit on Kentucky's Big Board right now.
A four-star wide receiver from Frederick Douglass High School in Lexington, KY, Key is one of the best players in the state and the type of playmaker that can make an immediate impact as a freshman. He's always been Kentucky's recruit to lose for a while now, but the Wildcats track record (or lack thereof) of producing productive wide-outs has done them no favors.
The best way to remedy that would be to throw the ball for over 400 yards for the first time since 2014–where three receivers caught at least three passes–with Key in attendance. Kentucky did just that against ULM.
"That offense was live!" Key, who was in attendance at Kroger Field on Saturday, told KSR through text on Sunday. He also added that he'll be back again this season to attend another game.
Securing a commitment from Key would be huge for multiple reasons. For starters, he's an elite talent right in Kentucky's backyard. Second, the domino has to fall eventually in order to create some momentum. Someone has to get the metaphorical ball rolling. But if Liam Coen wants to bring in fast and talented wide-outs, he has to showcase on the field that he can properly utilize them. Saturday sure was a great start.
There is no timetable as of right now for a decision from Key, who has visited Kentucky multiple times over the summer, but the UK coaching staff has to feel good with where they stand, especially after Saturday's offensive explosion. He's also considering the likes of Michigan, South Carolina, and Oregon.
Let's hope it wasn't just Key who was tuned in to watch Kentucky, either. Let's also hope that the 'Cats put on a repeat performance next weekend in a potentially season-defining matchup against Missouri. Another four-star instate wide receiver, Dakota Patterson (class of 2023) out of Corbin, will be in attendance to see the new Wildcat offense.
The new offense doesn't just benefit the recruiting pitch to wide receivers–quarterbacks and tight ends are going to watch closely too. Now it's a matter of creating consistency.